To address a lack of connectivity between prospective employees and the workforce, Pacific Gateway is opening a new center located at 4811 Airport Way this July. The public agency is also launching a new online platform to allow job seekers to educate themselves on the labor market, freshen up on new trends and market themselves to employers.
"With the use of technology, we can produce more sessions on different [topics] that are in demand, rather than just having a set schedule and physical [in-person] presentations," Nick Schultz, the executive director of the Pacific Gateway Workforce Innovation and Opportunity Network, said. The new space also integrates different platforms. "There [will be] media rooms, video rooms and more access to computers so people don't have to sign up and come in for a workshop at a specific time, but that the workshop can be delivered via those technologies at any point in time." In addition, the various forms of media allow people with a range of learning styles to ingest the information in different ways.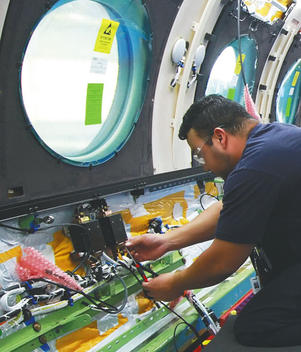 A Gulfstream Aerospace technician makes some adjustments to a corporate jet. According to Nick Schultz, the executive director of the Pacific Gateway Workforce Innovation and Opportunity Network, engineering is a growing sector in the Long Beach economy. Pacific Gateway is a public agency that connects job-seekers to employment opportunities. (Photograph courtesy of Gulfstream Aerospace)
Schultz observed that the Long Beach economy is in growth mode. Expanding industries include health care, trade, transportation, logistics, engineering, computer science and finance. But Pacific Gateway's employer partners have expressed concern that there are not enough competent employees to keep pace.
"As the [past] two years have worn on and we've continued to monitor the numbers, we're hearing less of a conversation about a skill gap, but more so that [companies] aren't even getting as much of a qualified talent pool as they would like to see for their open positions," he said. Schultz explained that a demographic and economic analysis of the region's workforce revealed two issues: a lack of education, and a pool of workers who have some skills but are underemployed and underutilized.
Schultz said the center was able to pinpoint these issues by conducting focus groups with job seekers who came in for services. "We talked to them about their experiences, what they knew about the labor market and how they sourced information about it, how they went about their job search, and what kinds of frustration or pain points they were feeling in that process," Schultz explained. "We thought about our process and realized the programs we have now don't really connect to this pain."
Pacific Gateway received a grant from the Ewing Marion Kauffman Foundation last October for just under $50,000 to study what Schultz termed "the irregular economy." Around the same time that he noticed the Long Beach labor market growing, Schultz also noticed a trend of fewer full-time opportunities in certain sectors. "We came to understand that there were a lot of jobs that didn't allow our residents to earn the type of wages even just to live in a city like Long Beach. [That weren't] full-time with benefits," he said.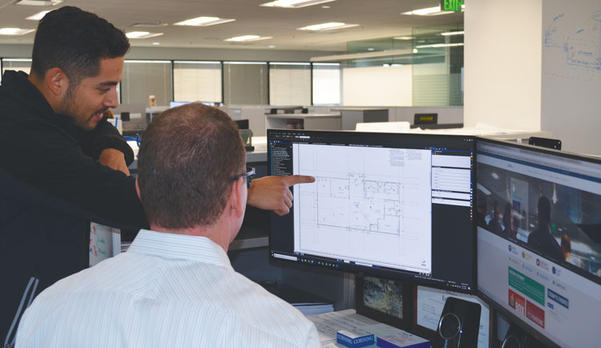 P2S Inc. technology designer Mynor Perez discusses a blueprint with his colleague. Pacific Gateway Workforce Innovation and Opportunity Network is aiming to connect more graduates of Long Beach schools to jobs at local companies such as this one. (Photograph by the Business Journal's Pat Flynn)
Pacific Gateway used the grant funding to conduct outreach to the employers offering these part-time or 'gig' opportunities. Based on the results, the organization is creating a program to connect job seekers to these positions to gain experience with the ultimate goal of landing them full-time jobs. "We wanted to actually see if there was enough demand in the local Long Beach labor market for us to scale up an exchange where we could funnel job seekers through to those opportunities and then monitor the opportunity to connect them to better or full-time [jobs]," Schultz explained.
Schultz projected the labor study would be completed at the end of May and published in August. He found that the demand exists to launch a market pilot of the program, which he hopes to accomplish next January. "We've talked to several other philanthropic sources, like Bloomberg Philanthropies, JPMorgan Chase & Co. and Wells Fargo, as well as our primary funders at the federal and state level about contributing to the next phase or to our test market launch," Schultz said. "I think the opportunity to receive some additional funding to carry on this work – and it is pioneering work – is going to present itself very shortly." He noted that it would cost about $300,000 to implement the pilot.
The Long Beach Fellowship Program, an initiative funded by the Long Beach Community Foundation, is another budding effort to improve employment opportunities. Pacific Gateway has partnered with the foundation to connect employers with the local talent pool from Long Beach City College and California State University, Long Beach.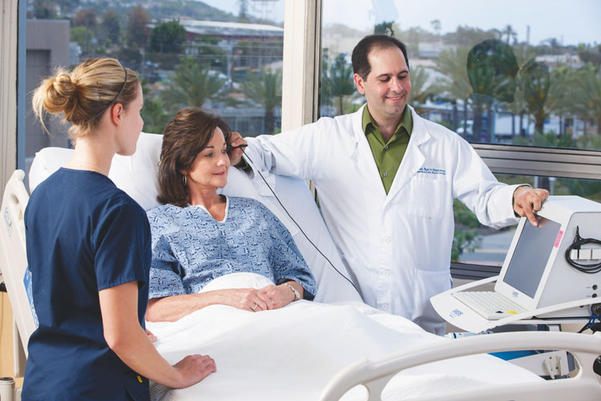 A doctor educates a patient about a treatment at MemorialCare Long Beach Medical Center. Pacific Gateway Workforce Innovation and Opportunity Network Executive Director Nick Schultz aims to conduct a "deeper dive on engagement" to help growing firms meet their employment needs. According to Schultz, health care is an expanding industry in Long Beach. (Photograph courtesy of MemorialCare Health System)
"We'll start small because it's a small investment, but it's going to be a boon to industries and something they'll want," Schultz said. "We'll start with a small group but, when people in those sectors see a . . .[well-known] company or a competitor connect to an opportunity like this, they're going to rush towards it too. The [prospect] was always there; now it's about stepping in as an intermediary or connective tissue between the education on the supply side and the employer on the demand side. We're really excited about where that's going over the next year."
As for any changes to Pacific Gateway programs, Schultz said that, for now, the center has committed to conducting "a deeper dive on engagement." He explained, "We can see inside any given industry sector which firms are driving the growth." Schultz said the organization aims to streamline the process of convening and engaging with those firms to help them meet their workplace needs. Pacific Gateway will then make ongoing adjustments based on employer forecasts over the following year.
"I think people should know that there's a lot going on in Long Beach," Schultz said. "There's an opportunity for people to connect to a growing economy, and to find a living-wage job with benefits. There's support for them to map out that path or transition through our organization and our commitment to the city. We're excited to serve in that capacity."