An upcoming Downtown Long Beach bar aims to combine golfing with beer drinking to create an experience that can be enjoyed with friends and family.
Andrew Esparza is president of Birdies n Brews, an upcoming golf simulation bar at 90 E. 4th St. in The Streets shopping center. Esparza is a first-time business owner who conceptualized the idea with his wife, Jasmine, after a visit to Lake Tahoe last November.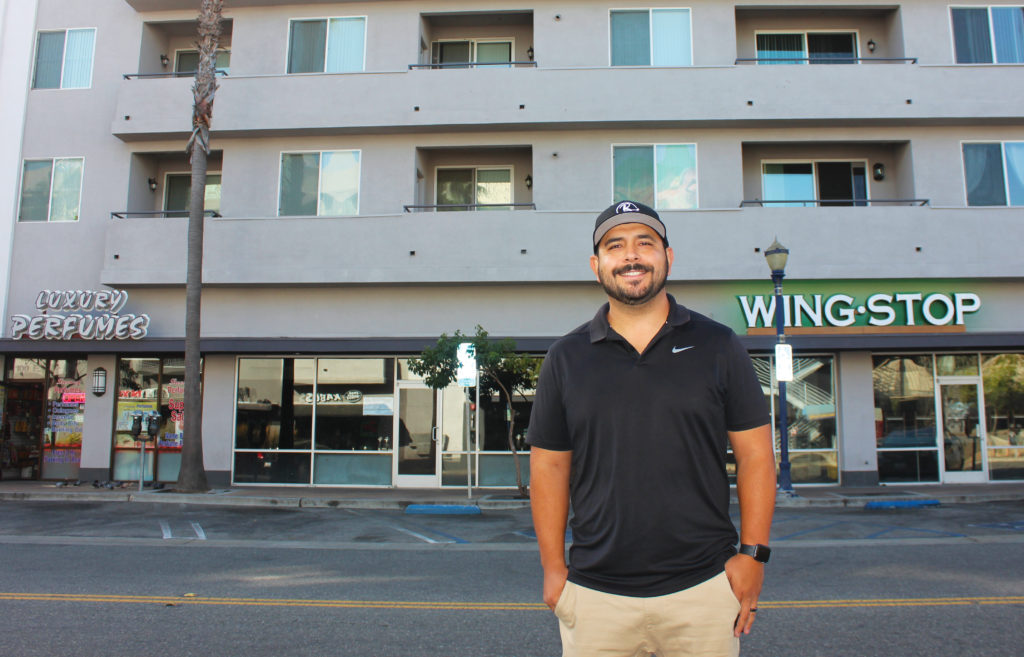 During that time, snowy weather closed down one of the golf courses in Lake Tahoe. Since patrons could not play on the course, a golf simulation game was setup at the course's clubhouse for customers to use. Mesmerized by the simulator's authentic facsimile of the golfing experience, Esparza was inspired to do more research on the technology. If one simulator could draw a crowd of patrons, then an entire concept built around the software could generate good business, Esparza thought. "I'm a huge fan of golf, so I just wanted to create something that's almost a golf lounge," he said.
The Esparzas researched different software companies to implement the golf simulators, ultimately settling on the Detroit-based company Optishot.
Birdies n Brews will feature two separate areas, each outfitted with a golf simulator displayed on a 12-foot projection screen, Esparza said. Patrons will use real golf clubs to swing and virtually play golf at various courses around the world. "There will be a three-camera system directly above where you will be hitting the golf ball, and those three cameras track the golf ball and the golf club head," he said. "It gives 98% or 99% accurate details as far as where that ball is going to go, how far it's going to go and how hard it's hit. It's just like playing at a real golf course, but you're inside."
The bar will only serve beer and snacks, but he did indicate that the food selection was something he would flesh out before opening his bar. Esparza added that patrons will be allowed to bring in outside food from nearby eateries such as Wingstop.
Esparza said he filed for a license to serve beer months ago and hopes to get approval within a few weeks. During this time, he is completing a tenant improvement process, which requires inspectors to observe the building to ensure the site meets safety standards.
The hours are tentatively set for Sunday through Thursday from 9 a.m. to 10 p.m., and Friday and Saturday from 9 a.m. to 11 p.m. The price to use the simulation is a work in progress, but Esparza said he wants to make the experience cheaper than a traditional golf course, perhaps about $40 an hour.
Catherine Morris, a partner in William Morris Commercial who served as the real estate broker for Birdies n Brews, said the bar will complement the various tenants at The Streets shopping center. "Birdies n Brews is the perfect use toward our goal and will help to create the symbiosis of activity we're trying to achieve," Morris said. Morris handles much of the retail leasing at The Streets.
Austin Metoyer, economic development and policy manager for the Downtown Long Beach Alliance, noted that the golf simulation experience will provide a unique form of entertainment for locals. "We believe Birdies n Brews will be a great way for downtown workers and residents to relieve some stress with a cold beer and simulation games of golf," he said.
Although emphasizing the authentic golf experience and beer service at Birdies n Brews, Esparza said the business is tailored to be a family-friendly experience for all skill levels.  He added that Downtown Long Beach is an appropriate place to launch this business concept.
"We chose this location because that's just an ever-growing area," Esparza said. "We wanted to be in Long Beach. It has a good mixture of people and business, so we hope to appeal to all different types. . . . We're really excited, and we think we're going to succeed in this."