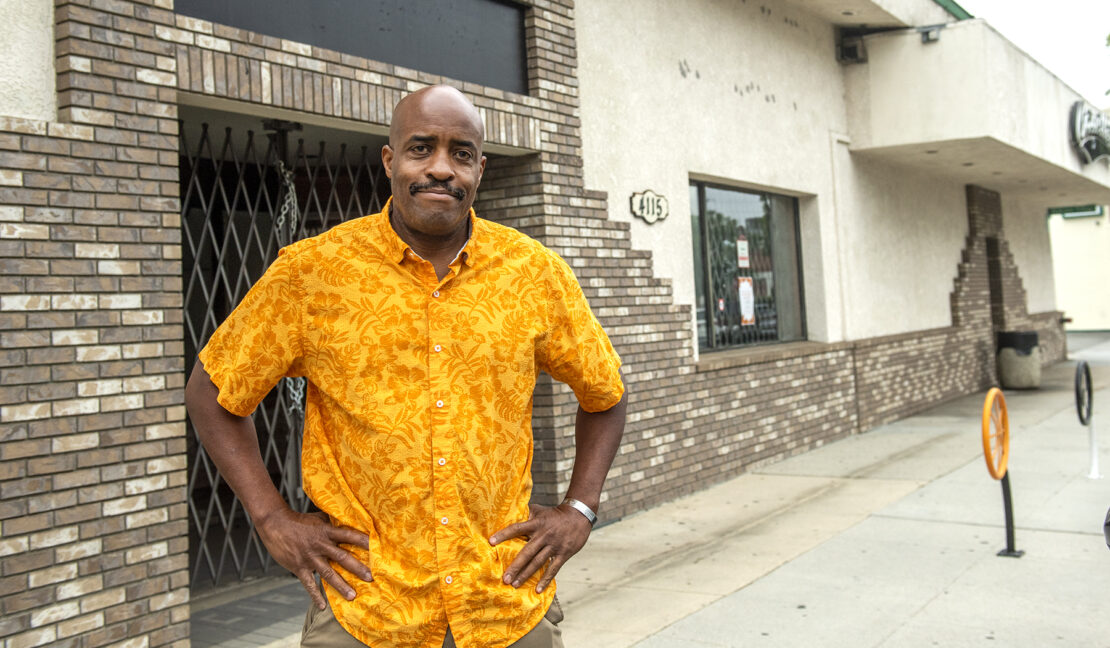 In February 2020, Damon Lawrence was making plans for Long Beach's first grocery co-op. He readied a membership drive to push the organization over the threshold it needed to sign a lease for its own storefront—the vacant commercial space under the Beacon housing development on Long Beach Boulevard.
He was excited. Then the COVID-19 pandemic hit.
The fundraisers and events the group planned for the Long Beach Grocery Co-op were canceled as businesses closed amid stay-at-home orders and the uncertainty of the pandemic set in.
"It was exhausting the amount of work that went into it, and to have that go away was deflating," said Lawrence, the executive director of the co-op.
The future of the co-op was uncertain, but Lawrence wasn't ready to give up on the idea of creating a sustainable and local option for groceries in Long Beach, which was formed in his backyard after the Albertson's near his Rose Park home closed in 2012.
The Long Beach Grocery Co-op group continued to sign up member-owners and search for locations suitable for its storefront.
Nearly two years later, and now with over 800 member-owners, Lawrence signed a lease in October to open the store in a space formerly filled by Cirivello's, a long-time staple of the Parkview Village shopping center at the intersection of Bellflower Boulevard and Carson Street.
"We get knocked off our feet, but we don't get knocked out," he said.
While the pandemic was disastrous for its plans to open at The Beacon, the public health crisis also served as a reminder that community is important, and a community-based grocery option was something that was worthwhile in Long Beach, Lawrence said.
"I think a lot of people started looking at it like we needed to have something that was in our control and have a community space that was for us," Lawrence said.
As the group works with designers and architects to turn the old restaurant into something that will pay tribute to its past while meeting the needs of a community space for the city, Lawrence said there is still fundraising to do.
Co-ops typically open with about 1,200 to 1,500 members, a goal Lawrence is confident the organization can reach. Membership, with a one-time fee of $250 that can be paid all at once or in installments, gives member-owners voting rights and access to discounts and patronage refunds.
The Long Beach Grocery Co-op, though, also needs to raise about $3 million in capital to open the store. The fundraising effort will be national, with the co-op likely seeking investments through Wefunder, a crowdsourcing site for angel investors.
If all goes well, Lawrence thinks the co-op can open by October 2022.
While the new location in East Long Beach does not meet one of the original goals of the co-op, to bring fresh food options to an underserved part of the city, it could provide an opportunity to work with nearby college students at Long Beach City College.
The location will have a full kitchen, and Lawrence said the co-op might try to partner with the college's culinary program to give work experience to students and possibly sell items they make in the store. The co-op still plans to offer local products from vendors who can't find shelf space at corporate grocery stores.
Lawrence said the co-op will likely be able to employ 30 people once it opens, but there are already plans to expand its footprint.
He said he'd like to open at least two more stores, with North Long Beach and the Downtown area being prime targets if the Long Beach Grocery Co-op grows in the future.
"It's been seven years of hard work for a lot of Long Beach citizens," Lawrence said. "For us to get to this point is amazing."
With a site in hand, grocery co-op begins 'all out blitz' to double membership