Job hoppers. This is a term often associated with Millennials, even though a 2017 Pew Research Center study found young people between the ages of 18 and 35 in 2016 were job-hopping at a slightly lower rate than Gen Xers in 2000. Regardless of the proverbial butting of the generational heads, one thing is clear: employers are finding it difficult to attract and keep young people for one reason or another. Just as this is true in the private sector, so it is in the world of nonprofits.
"Younger generations volunteer and manage differently," Marcelle Epley, president and CEO of the Long Beach Community Foundation (LBCF), said. "We all know that. And it's a top subject of conversation amongst employers: how to attract and retain college students and Millennials to the workforce and keep them around for an amount of time that is beneficial for the organization and for the employee."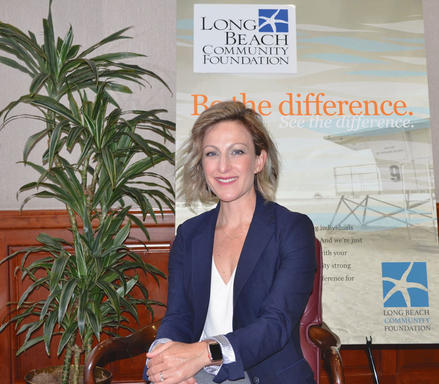 Marcelle Epley, president and CEO of the Long Beach Community Foundation, said Millennials are the most globally aware generation with the desire to make meaningful change in the world. She explained that these qualities make work in the nonprofit sector ideal for them as it combines their desire to save the world with their need to make money. (Photograph by the Business Journal's Pat Flynn)
Younger generations often hop around to different causes and frequently do not have the discretionary income to make financial contributions to those causes, Epley noted. Because of this, nonprofits and their boards need to really think about what they want from youth, she said. Fundraising? Volunteering? Fresh ideas? What Millennials lack financially, they make up for by being social media savvy and being able to rally together for a cause, she added.
Service and volunteering are typically more ingrained in Millennials than in previous generations because most were required to complete a certain number of volunteer hours to graduate from high school, according to Michelle Byerly, acting executive director of The Nonprofit Partnership. The key for continued engagement from young people is to ensure they feel connected to the story and mission of an organization, she explained.
Continued youth involvement with the Long Beach Ronald McDonald House is maintained through strong word-of-mouth promotion at California State University, Long Beach (CSULB), and Long Beach Polytechnic High School, according to Development Director Rebecca Jackson Lai. At Poly, a Ronald McDonald House Club was established several years ago by the daughter of a supporter and it continues at the school today. At CSULB, fraternities and sororities are a primary target for outreach, as they are often required to serve the community, Lai added.
Because young people have a different work style than the generations that came before them, Epley said nonprofit staff and boards need to give up some control and abandon the "this is how we've always done it" mentality. She explained that young people like to be in charge and that to keep them engaged it is best to give them a goal and allow them to get to the finish line in their own way, which is often more creative.
Only about 30% of leadership positions in the nonprofit sector are filled internally, about half as much as in the private sector, according to Byerly. In the case of LBCF, the organization has two full-time and one part-time positions, along with its 14-member board of directors. Due to its small staff, Epley said the best way to get young people involved is through one of its seven committees, such as the asset development and professional advisor committees.
"It gets the individual involved at a level where they can take time to understand the organization. At the same time, they can create maximum impact by advising with ideas, new energy and a different outlook," Epley said. "We have an advisory boardmember on a committee who is a Millennial and it just so happens that individual comes up with some of the best ideas and has the most energy . . . on that committee. It has been very beneficial for us."
Succession planning should be a top priority for nonprofits, but oftentimes does not get the attention it requires because organizations might lack the resources to make it a focus, Byerly explained. To assist the nonprofit sector, The Nonprofit Partnership offers an Emerging Leaders Program to train and groom the next generation of nonprofit leaders, particularly those who wish to become executive directors.
Throughout the six years since Emerging Leaders began, Byerly said 75 people from the Greater Long Beach Area have gone through the development program. She explained that it was designed to focus on skills such as working with boards, development strategy, strategic planning, leadership and communication, and financial acumen.
Aside from building up these leadership skills, Byerly said the program also allows young people to engage with one another and begin building a network within the nonprofit sector. While young professionals focus on their work, they often do not have the opportunity to network, Byerly explained.
"The last component of that program is a mentorship. Participants are matched with someone in the nonprofit arena who does leadership development or has been an executive director so they have a connection to someone who can guide them through their journey," Byerly said. "This program has been utilized by nonprofits as part of succession planning. Even in Long Beach, some of our current nonprofit leaders came from that program."
Long Beach Ronald McDonald House (RMH) started the Red Shoe Society in 2012 to engage young professionals between their early 20s to mid-40s. In the beginning, the society was small, with few membership mixers and volunteer opportunities. However, the group has grown to more than 115 members who participate in two special fundraising events each year and attend mixers and volunteer opportunities year round, Lai said. The Red Shoe Society has its own board, which Lai said RMH will look to when board seats need to be filled.
In past years, Lai explained that the Red Shoe Society's annual gala was heavily promoted on social media, specifically Facebook and Instagram. However, for this year's gala, she said she noticed a desire by young professionals for simpler forms of communication for event promotion.
"We've really seen a shift in this last 12 months that Millennials and younger groups are moving more toward short, simple text message type apps," Lai said. "So, one of the things we're looking at is being able to do batch text messages to our Red Shoe Society constituents. E-mail blasts still work, too. But for the most part we're finding we're not having as much engagement on social media."
Young people are also looking for easier ways to donate to nonprofit organizations, Lai noted. Because of this trend, she said RMH is looking at utilizing Pledgeling, a digital platform that has raised millions of dollars for thousands of nonprofits. Between app-driven donating and text message correspondence, Lai said technology is the key to engaging and retaining Millennial interest in the nonprofit sector.
The Assistance League of Long Beach currently has 850 members, making it the national organization's largest chapter, Executive Director Annette Kashiwabara said. The Long Beach chapter has four auxiliary groups, including Assisteens, which is made up of high school students. Each auxiliary group has its own governing body, with the Assisteens being overseen by an adult coordinator who represents them on the Assistance League board.
"Assisteens are learning leadership skills. They attend conferences and have sessions where they learn how to lead meetings and they learn about Robert's Rules of Order. They are getting an idea of what it's like to be involved in a governing body and to participate actively as a boardmember," Kashiwabara said. "We've had a couple boardmembers who were once Assisteens way back when."
To appeal to Millennials' desire for episodic volunteering, Kashiwabara explained that the Assistance League is shifting away from long-term volunteer commitments to short-duration opportunities. One example is the Operation School Bell program, which provides free school uniforms, backpacks and supplies to 10,000 Long Beach Unified School District students each year. Volunteers can help pack the donations or help deliver them to students at their schools, no long-term commitment required.
Sheryl Pearl, the incoming strategic planning chairman on the board, said one of the keys to retaining young professionals at the Assistance League is the guided approach the organization has for advancement. Pearl joined the Assistance League as part of its Rick Rackers auxiliary, of which she eventually became chairperson. In this role, Pearl served on the board. She said that people pursuing leadership at Assistance League are never alone and are always teamed up or job shadowing to help guide them into higher levels in the organization.
When speaking as to why outreach to young professionals and drawing them into the nonprofit sector is important, the leaders agreed that the main reason is because they are the future of the country, nonprofit and otherwise. Epley noted that Millennials are the most globally aware generation ever, adding that they have achieved the highest rates of graduating from college. She said most Millennials desire to make a meaningful change on some level, be it in their own community or at a national or even global level, although working in nonprofits is often not something they consider. But the inclusion of young professionals in organizations now is equally as important as in the future, Byerly added.
"Diversity is important . . . because it changes the conversation. And it's important that we are engaging them in a way that doesn't make them a token individual," Byerly said. "We need to change our perspectives a little bit. We're asking young people to be on the board, we're asking them to volunteer, we're asking them to be leaders because they are the future and they have a different perspective. They are more innovative."