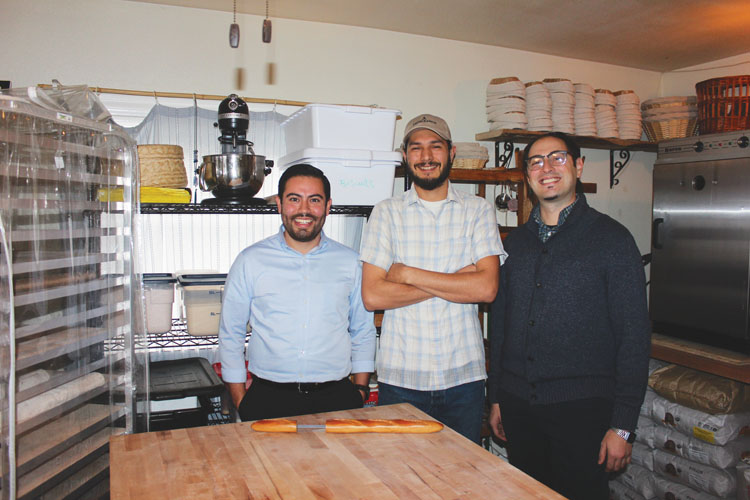 Growing Long Beach Is Presented In Partnership With The Long Beach Economic Development Department
Through a unique program offering 0% interest loans – half crowd-funded and half paid with matching dollars – Long Beach baker Arturo Enciso was able to raise $10,000 to help meet growing demand for his homemade breads.
What began six years ago as a hobby for Enciso – making bread and pizzas for friends – quickly turned into a passion. "I would travel to take baking classes in L.A., Vermont. I went to Spain. I wanted to get as much information as I could," Enciso told the Business Journal at his in-home bakery on Chestnut Avenue. As a cottage industry baker, Enciso holds a special license that allows him to sell his creations from his home.
Enciso's creations are based off European-style breads such as rustic loaves and baguettes. He is also inspired by his Mexican heritage. "I have a lot of family members that worked at bakeries, and now they see me having this passion so they tell me stories," he said. "I try to bring those breads back to life for them and try to share it with people who are my customers." Enciso focuses on naturally leavened  breads made from wild yeasts that he cultivates himself, organic ingredients and freshly milled flour.
Enciso began Gusto Breads by offering subscriptions to Long Beach residents. "I created a system where four weeks of bread would be $30-something dollars, and I'd even deliver it, too," he recalled.
Soon, restaurants began inquiring about his breads. It got to the point where Enciso was hand-mixing enough dough to make 200 loaves – a time-consuming process for a baker working on his own.
As he began researching ways to afford a special mixer that would enable him to produce more bread, Tony Damico, co-director of the Long Beach Fresh, approached him about the Kiva Long Beach program.
The City of Long Beach Economic Development Department partnered with Kiva after meeting with local small business owners who expressed that access to capital was their greatest challenge, according to department Project Manager Eric Romero. Kiva is a national nonprofit that underwrites 0% interest loans to entrepreneurs (who do not have access to traditional forms of lending) through a combination of crowd-funding and matching dollars. In Long Beach, matching dollars are provided by the Los Angeles Local Initiatives Support Coalition (LISC).
The Kiva Long Beach program issued its first loan last May, and has since helped 13 local entrepreneurs, Romero said.
The economic development department vets trustees for Kiva loan recipients. Trustees are Long Beach community members designated as reliable sources to vouch for loan recipients to Kiva. Damico became one of these trustees last year, and reached out to Enciso, who he knew through his efforts to support the local cottage food industry, about the program.
"Trustees are able to give their endorsement and sponsorship for a borrower in the Kiva network. And in doing so, that enables them to be able to receive matching funds from LISC and other foundations," Damico explained.
"Initially a trustee will do an assessment," Romero said. "They will talk to us and let us know that they are interested in endorsing a borrower. . . . Kiva makes the final decision whether or not someone gets funded, and how much they get approved for." The longest period of time for loan repayment through Kiva is 36 months, Romero noted. "The trustee takes on no legal or financial responsibilities if someone doesn't pay back their loan," he added.
After Kiva approved Enciso for a $10,000 loan to purchase a specialized dough mixer, he raised half the amount in just 28 hours – the fastest fundraising a Kiva Long Beach loan recipient has accomplished to date.
Now, Enciso continues his subscription service, supplies breads to five Long Beach restaurants and participates in a farmers market. Eventually, he hopes to operate a full-service bakery, and to begin offering tortillas. "My vision is [a place] where people can come get a loaf or fresh tortillas and also have a place to come sit and eat," he said.
Enciso said he would recommend Kiva Long Beach to others. Romero said that the program is "our effort to try to support entrepreneurs to successfully start up or scale up."
To learn more about Kiva Long Beach, visit longbeach.gov/economicdevelopment.