A more balanced market coupled with strong demand growth means 2018 should result in a stable and positive year for oil, according to Matthew Smith, director of commodity research for ClipperData, a crude oil analysis firm.
"The start of this year looks exceptionally different from where we were at the start of 2017," Smith said. "At the start of 2017, we had the beginning of the OPEC production cut deal. The market was very much out of whack – we were oversupplied, we had burgeoning inventories – but a combination of factors have meant that we start 2018 looking very much more balanced."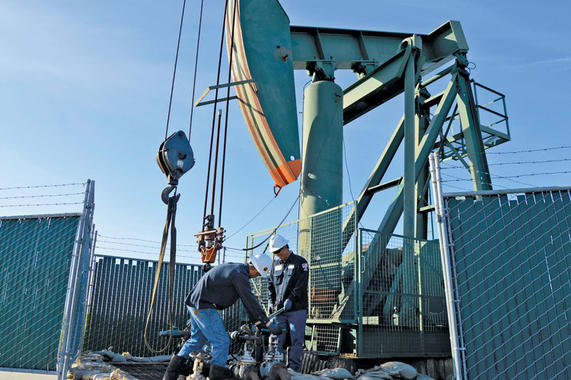 A more balanced oil market and demand growth should result in a positive year for oil, according to industry experts. Pictured are Signal Hill Petroleum employees. (Business Journal photograph)
Market growth is typically driven by emerging markets, such as developing countries, rather than developed nations such as the United States, Europe and Japan, according to Smith. However, he said that the market is experiencing much more growth in Europe than in years past. With current demand levels, Smith said growth production is about 1.5 million barrels per day, which is higher than it has been for a number of years.
The balancing of market prices at a sustainable level is being achieved through the efforts by the Organization of the Petroleum Exporting Countries (OPEC), and more specifically Saudi Arabia, to draw down oil inventories. Smith said the region still has some way to go but that it is on the right track. However, a more balanced market means oil prices are more likely to be affected by geopolitical events, such as a power plant explosion in Libya or unrest in Nigeria.
"The downside for the consumer in the U.S. is if prices continue to tick higher, that will translate to prices at the pump," Smith said. "So, if we do see geopolitical tension rising up and putting a premium on oil prices, those will ripple through to U.S. gasoline prices."
Smith said U.S. production is going to continue increasing in response to export demands. He noted the increase is due in large part to U.S. oil selling at a discounted rate when compared to global prices. The current global price of oil is around $67 per barrel, about $7 per barrel more than U.S. oil.
"We're right at that $60 mark now and that has been considered to be the top [price] of the so-called 'shale band,'" Smith said. "We shouldn't see prices pushed too much higher here because U.S. production will be incentivized to increase so much that the extra supply that comes to market, in theory, keeps the lid on prices. The last time we were up at this level was in 2015, so we're going to have to see if that level holds."
Editor's note: The following are guest perspectives by industry executives on the outlook for oil in 2018.
Robert Barnes
Executive Vice President Operations, California Resources Corporation
The City of Long Beach's operation of the world-class Wilmington Field has generated $4.8 billion in revenues for the State Lands Commission, the city and its residents over the past 15 years and sustains a diverse workforce of over 1,000 good paying, middle class jobs from a range of educational backgrounds. California Resources Corporation, the state's largest oil and natural gas producer on a gross-operated basis, has proudly served the city in developing the field and demonstrated our ability to manage activity levels with fluctuations in commodity prices. Looking ahead, inventories in the oil and natural gas sector are being drawn down due to solid demand and current global undersupply of crude oil. The recent strengthening of commodity prices provides a boost to the Wilmington Field and the local economy through sustained capital investment, employment and services provided by people from the community.
California's chronic dependence on energy imports continues, accounting for over half of the net energy imports into the entire United States. California currently imports 67% of its crude oil demand, 90% of its natural gas and even 32% of its electricity. Most of the 25 billion gallons of oil Californians consume annually comes directly from foreign countries that don't apply California's safety, labor, environmental or human rights standards. Given Californians' enormous need for energy as the world's sixth largest economy, the city and CRC are ideally positioned to continue supplying reliable, affordable and responsibly produced energy for years to come.
In an ever-changing and uncertain world, increasing California's energy supply is the most sustainable way to ensure that all Californians have access to affordable and reliable energy. By continuing to support California's energy self-sufficiency in 2018, the City of Long Beach and CRC will be a driver to increase jobs, infrastructure investments and tax revenues.
Ralph E. Combs
Manager, Regulatory & Government Affairs, The Termo Company
We are obviously pleased that the oil market has improved over the last year and we expect prices to remain within the high $50's to mid $60's per barrel range for 2018 (all prices are expressed as West Texas Intermediate or WTI). We need to remain cautiously optimistic and not get too excited, though. There are so many factors that could change the outcome. Will higher prices bring more U.S. drilling or will rising drilling costs curtail it? Will OPEC and Russia hold steady on production curtailment through the end of 2018 per their agreement? What will happen in Iran? Will Venezuela collapse? Is the rising Chinese demand real? And those are just for the first half of this year!
We do plan on drilling at least one well in California this year, and possibly up to three. We will certainly use this uptick in prices as an opportunity to do work that we have been putting off until prices recovered. We have already restored many of the budget cuts that we made over the last few years, and I think overall, we feel the future is bright. I certainly hope Long Beach feels the same way.
Our projection for the price of oil at the end of 2017 was $54.10 (so we missed it a bit) and when we surveyed the group last week, the consensus for the end of 2018 is $68.40. There may be a little bit of cognitive bias going on there though, so ask us again at the end of 2018 and we will see how we did!
Bob Dowell
Director, Long Beach Gas & Oil
The Long Beach Gas & Oil Department (LBGO) is optimistic for 2018 regarding oil operations and oil price. We oversee the production of about 30,000 barrels of oil per day and anticipate the production volumes to remain level. The fiscal year 2018 city budget price for oil is $45/barrel, and today oil is selling for approximately $63/barrel. The improvement in oil price will allow for additional investment in the oil field by drilling new wells and other types of investment well work. We will also maintain investment in infrastructure through capital projects and maintenance programs. In addition, we continue to work together with the Port of Long Beach to help bring to fruition port projects. It is critical to coordinate oilfield operations with the port's long-term business planning.
LBGO is always looking for ways to innovate the oil operations. Through substantial investment, LBGO has eliminated the use of potable water from downhole operations. The majority of water used in our oil operations is produced water from the oil field and reclaimed water purchased from the city's water department. We are also exploring battery storage to support alternative energy and lower electrical costs for our operations. LBGO remains committed to working closely with state regulators that approve the projects we conduct. Last year, LBGO completed a thorough review of the oil fields abandonment liability to ensure we are setting aside sufficient funds. As a prudent operator, it is critical to properly plan for the eventual abandonment of the oil field, which we predict could begin in 2035 based on current estimated and forecasted oil prices. Until the end of field life, we will continue to have world-class oil operation with an excellent safety and environmental record.
Catherine Reheis-Boyd
President, Western States Petroleum Association
The oil and gas industry helps power California's economy, particularly in communities like Long Beach with significant industry footprints. And, while oil and gas will be essential to the energy mix for the foreseeable future, we're also entering a period of significant changes in the ways energy is produced, distributed, consumed and managed.
Our industry has a responsibility to engage fully in facilitating this energy transformation because millions rely on us to fuel daily life. Oil and gas companies also directly employ 370,000 Californians in good-paying jobs, and support 1.7 million jobs in other industries that need and use our products. We contribute $148 billion in direct economic activity and $55 billion in state and local taxes that pay for schools, infrastructure, public safety and many more services. Our commitment is clear.
We can chart the energy horizon successfully only with all parties at the table, setting differences aside, and finding common ground that benefits the people we all serve. Our actions can profoundly impact social justice, the environment, our shared prosperity, our overall health and well-being, as well as important issues like energy independence and national security.
Rather than standing apart in the public policy arena, we can work cooperatively to develop new approaches to energy equality and access to energy for everyone, improve air and water quality, address climate change, support state and local economies, support families and communities, and invest in innovations that make oil and gas cleaner, safer, more usable and more affordable.
Our industry already invests in promising alternative fuels, energy sources and ongoing research and development into truly sustainable energy strategies that will complement the steady access to petroleum we've enjoyed and will continue to enjoy for so long.
We can agree to support each other instead of competing, and come together as a community of leaders to shape the energy future. If we miss that opportunity, we'll face even more challenges to our health, our prosperity and our access to safe, affordable and reliable energy.