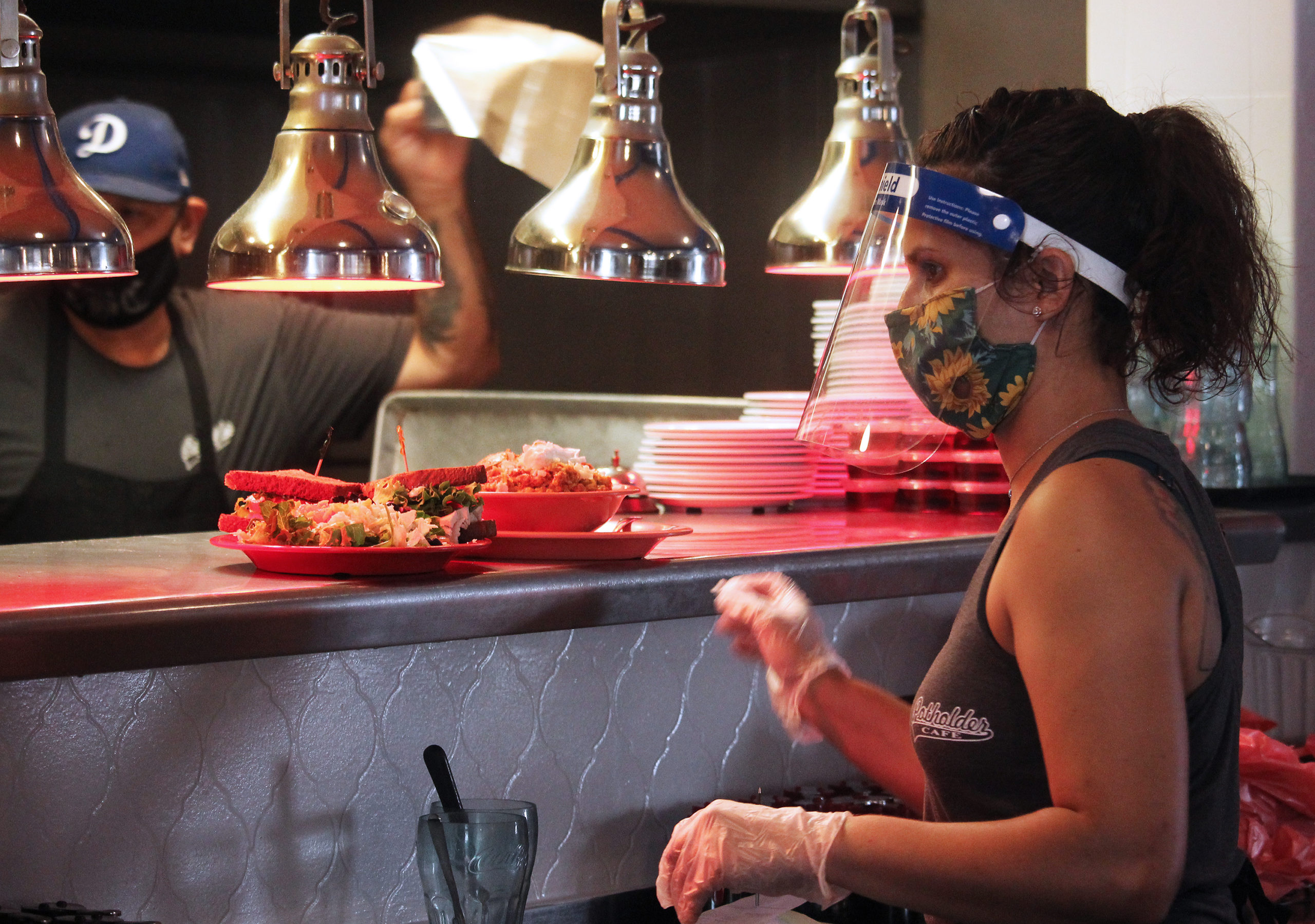 Understaffed businesses are still struggling to hire, even as the temporary increase in unemployment benefits has expired. And the likely reasons, experts say, point to longer term challenges for the hardest hit industries.
Even before the extra unemployment benefits expired in early September, there were signs of deeper problems in areas like the food and hospitality sectors. In June and July, for example, 26 states ended the federal enhancement to unemployment benefits—but only eight have seen food and hospitality jobs return to pre-pandemic levels, according to Nick Schultz, executive director of the Pacific Gateway Workforce Investment Network.
"I think it still boils down to health and safety," Schultz said.
"The indications were there before that the benefit wasn't what was keeping people away from jobs in certain sectors," he added. "People are unsure, they aren't comfortable. For what they can earn in certain jobs, it's just not worth it."
E.J.'s Pub General Manager Corrie Matthews said safety is the main factor keeping staff out of restaurants, since food service requires so much face time with customers, especially at a sports bar that often has customers sitting for hours at a time "yelling at TVs."
Before COVID-19, the Bixby Knolls establishment had about 40 people on staff during peak sports seasons, according to Matthews. At the lowest point of the pandemic, she had only eight employees. Now, with baseball playoffs fast approaching and football in full swing, only 22 people are working at the sports bar, despite Matthews spending hundreds of dollars advertising available positions.
"It's been a challenge," she said. "In late August, we had a few candidates trickle in, but I'm still not getting [applications for] dishwasher, minimum wage or even higher positions at all."
If she were able to fill all vacant positions, Matthews said sales would likely increase by around 25%. But at current levels, the restaurant simply cannot serve more customers, she said.
At hotels, though, safety concerns are not what is keeping staffing below pre-pandemic levels, according to Pete Hillian, a spokesman for the Long Beach Hospitality Alliance, which represents most of the city's hotels.
"We estimate that, as an industry in California, we lost about 90,000 hotel workers permanently," Hillian said. "A majority of this is not as tied to unemployment benefits as others may have been saying. Our hard-working folks had to find work elsewhere, so they moved or moved on to different industries."
Most hotels are operating at lower occupancy rates than normal, particularly during events such as the recent Acura Grand Prix of Long Beach, Hillian said. Operators do not want to put themselves in a position to overwork employees or underperform for guests, he added.
"It's going to be a while before we can get back to pre-pandemic levels because of our lack of employees," Hillian said.
In August, Long Beach's unemployment rate decreased to 10.2% from 10.7% in July, according to the California Employment Development Department. While the rate is far better than the historic 19% in May of last year, Long Beach continues to trail behind Los Angeles County, which saw a decrease from 10.2% to 9.7%.
The city's unemployment rate could have been even lower, however, August also saw a decrease in the labor force from 328,900 in July to 235,600. "It's a product of a couple things," Schultz said. "People are exhausting benefits and not indicating they're looking for work, but also gig workers aren't counted in those statistics."
Prior to the pandemic, Schultz said gig workers accounted for about 25% of all employment. Over the last 18 months, though, gig employment has exploded, he said, increasing by at least 10%, if not more.
And while employment is expected to increase over the next couple months due to seasonal hiring, unemployment will likely go back up after the holiday shopping rush, Schultz said.
"I anticipate our number will get worse before it gets better," he added. "I don't think we'll get under 5% again until the beginning of 2023."
In Bixby Knolls, meanwhile—a business community known for working together—the staff shortages have brought increased competition. Matthews said prospective employees will go to multiple nearby restaurants to see what each pays, essentially creating a bidding war for staff.
"They're playing that game and they can right now," Matthews said. "It's a waiting game at this point. We don't know what the end of the benefits means. I feel like it's going to take a few months for it to really hit home."