The Long Beach Environmental Services Bureau is helping local businesses transition away from using food and beverage containers made of expanded polystyrene (EPS) foam – a non-recyclable, non-compostable material – with its Foam Free LB campaign.
The campaign followed the passage of a June 2018 ordinance that banned EPS packaging as well as polystyrene filler and coolers. Separated into three phases, the ban established an 18-month timeline for businesses to make the change. "Most cities across California and other jurisdictions tend to just have a deadline date and everybody has to be on board," Erin Rowland, waste diversion and recycling officer for the environmental services bureau, told the Business Journal. "Long Beach took a unique approach in an effort to make the switch easier for the business community."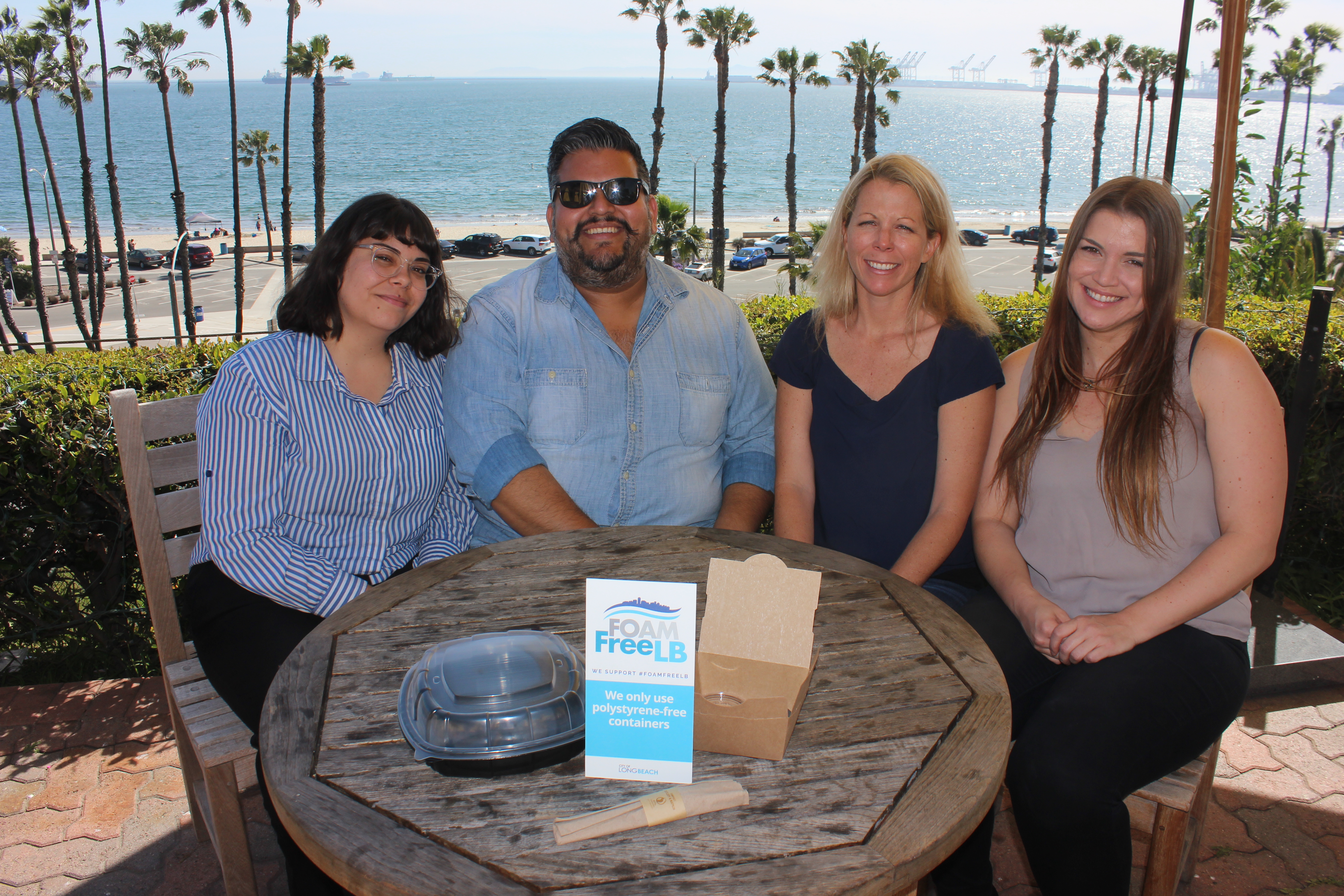 The first phase of the ban, occurring between June and September 2018, affected Long Beach government departments, city-owned and leased properties, and businesses that contract with the city. Prior to the Phase 1 deadline, environmental services staff visited the city's busiest facilities, such as the Aquarium of the Pacific, the Queen Mary, the convention center, the airport and parks, to help eliminate foam containers and replace them with recyclable alternatives. "Our city council felt it was important for us to lead by example, which is also part of the phased-in approach. It allowed our city facilities to get in compliance before we asked the rest of the business community," Rowland said.
Environmental services went beyond the requirements of the ordinance by replacing the Styrofoam coffee cup lids offered in government buildings with recyclable plastic lids. "That's a really easy switch and there isn't a cost difference," Rowland said. "It's one of those low-hanging fruit we prioritized with our city facilities and with the foam free recognition as well."
In March 2019, the next phase of the EPS ban extended to large food providers such as franchise restaurants, grocery and convenience stores, food trucks and the Long Beach Unified School District. "In July 2018, we did a direct mail to all of the food service restaurants in the city telling them about the ordinance," Rowland said. A postcard was mailed to all fast food businesses in the city in February 2019, which will be followed by another mailing this summer, she added.
The EPS ordinance will take full effect on December 3, 2019, to encompass restaurants with 100 seats or fewer. By the end of this third phase, the ordinance also prohibits retailers from selling toys with polystyrene filling. "That's a pretty unique component to our expanded polystyrene ordinance compared to other cities," Rowland said. "A lot of toys have expanded polystyrene in them. It's not always obvious, nor is it labeled." Rowland's bureau has been fielding calls from toy manufacturers to help them understand how to bring their products into compliance by the end of the year.
About 80% of restaurants affected by the EPS ban have 100 seats or fewer, which is why they were given the full 18 months to make their transition, Rowland said. "Our team has gone to over 150 restaurants in the last few months, just talking to them about the ordinance, getting them engaged, asking them questions."
The foam free program recognized owners and establishments that made the transition ahead of the December 3 deadline. These businesses became eligible for financial reimbursement for purchasing non-EPS packaging and were promoted by the bureau through its website, social media and some paid advertising. As of this writing, 45 businesses have met the requirements for reimbursement, Rowland said.
The response to the EPS ban has been varied in the business community, but many businesses have embraced it as part of the city's larger goal to reduce waste and encourage sustainability, Rowland said. "In the City of Long Beach, we're lucky that we have a lot of businesses that have always been foam free or made the switch five years ago," she continued. "Some restaurants are really excited about it. They see the health benefits for their patrons. They see the reduction of litter as a really positive thing."
The industrial chemical used to make polystyrene and other plastics, styrene, is recognized by the National Institute of Environmental Health Sciences (NIEHS) as "reasonably anticipated to be a human carcinogen." According to the institute, some occupational studies have shown that workers exposed to styrene have a higher risk of developing cancers such as leukemia and lymphoma. In animal studies, styrene caused lung tumors to develop in mice. Other U.S. cities that have banned EPS include New York City, Seattle, Portland, Miami Beach, Nantucket and Washington, D.C. "We want to have a healthy city with healthy residents," Rowland said.
Because polystyrene does not decompose but only breaks down into smaller pieces, it easily accumulates in streets and water. "It will never degrade in our lifetime. It just becomes litter," Rowland said. "We see it on our beaches and we see it in our streets and our parks and all these places that we like to be in. I think Long Beach sees this as a real opportunity to be a leader and recognize that there are alternatives to these products."
Long Beach restaurants certified as foam free by the environmental services bureau receive a letter from the mayor and a decal to display on their property. The bureau has also donated paper straws to these facilities, as the EPS ordinance also mandates that restaurants should no longer provide customers plastic straws or utensils except by request. "Some businesses are definitely concerned with the cost of the transition, and we've tried to work with them to make sure we have alternatives," Rowland said.
Instead of polystyrene containers, the environmental services bureau recommends restaurants use aluminum or paper. Recyclable plastics labeled as types 1, 2 and 5 may also be used. The bureau also actively encourages residents to bring their own to-go containers with them when they dine out through its "Choose to Reuse" campaign.
"I think we have a lot of residents and businesses, especially being on the coastline, that really see the impact of litter on our beach – especially with the recent rains we've had," Rowland said. "People see it and experience it and it motivates them to think about alternatives and other practices to be part of the solution every day."