For Long Beach-based FCI Management, finding candidates with backgrounds in the specialized field of energy solutions often isn't a simple task. But with help from Pacific Gateway, a local workforce development center dedicated to meeting the employment needs of individuals and businesses, FCI has been able to more easily screen and hire qualified jobseekers. Through its On-the-Job Training program, Pacific Gateway also covers some of the cost of on-the-job training for these employees while they become acquainted with their work.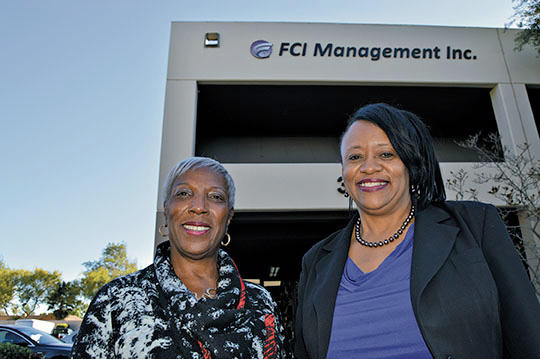 Patricia Watts, left, president and CEO of FCI Management, hired her assistant, Carla Warren, with the assistance of Pacific Gateway, a local workforce development network administered by the City of Long Beach. Warren has worked at FCI for about two years. (Photograph by the Business Journal's Larry Duncan)
Patricia Watts, president and CEO of FCI Management, said her firm first began working with Pacific Gateway about five years ago. The workforce development organization serves the communities of Long Beach, Signal Hill and the Los Angeles Harbor area.
"I was very familiar with workforce development centers and I knew they offered an opportunity for us to get qualified candidates," Watts told the Business Journal.
"This is kind of a non-traditional company if you will, so [because of] the products and services that we provide and the knowledge base that we are looking for, we often have to train the people who are coming into our work environment," Watts explained. "So that was appealing to me, to be able to have the assistance that Pacific Gateway provides with on-the-job training and some other services to help us get the right skill sets and the right employees."
Nearly two years ago, Watts was seeking an executive assistant and called upon Pacific Gateway to help her find a good candidate for the position. "They do the screening and then they send us the ones they feel are most qualified for the position, and then we do the interviewing," Watts said of the hiring process. "It certainly saves us time in bringing in potential candidates to get the right candidate. From a productivity standpoint, that is a value-add."
Watts hired Carla Warren through Pacific Gateway's On-the-Job Training program, which covered a portion of her wages while she was in training. "She had a little bit of background in the industry," Watts said. "She is a quick learner and she works with me really well. Her personality and everything is a fit for the culture of our company."
After Warren completed the On-the-Job Training program, Watts hired her on full time. In January, she will have worked at FCI for two years. "[She handles] my scheduling, my calendars and all of the activities I participate in. I really rely on her to help me keep things focused," Watts said.
Delores Banks, human resources liaison and consultant for FCI, said the company has also taken part in Pacific Gateway's Summer Youth Jobs Program, which covers the wages of local youth while they gain work experience. "It was an opportunity to help young people getting out of high school to get experience working in a business environment," Banks said.
"We love working with Pacific Gateway and will continue to work with them," Watts said. "Over the years, we look forward to a continued relationship."
For more information about Pacific Gateway's employment services, call 562/570-3700.