When Grow Mortgages, a Long Beach-based mortgage provider and real estate services company, was looking for an entry-level candidate to help with a special project, Pacific Gateway's Hire-A-Youth program proved to be the perfect avenue. The city-run organization is dedicated to helping local businesses and individuals meet their employment needs.
In July, Grow Mortgages began planning a mail campaign to owners of foreclosed properties in neighborhoods near its Carson Street office, according to Kirsten Green, administrative assistant. "We have a service here in the office that we update and look at every week that gives us a list of foreclosures in the area," she said. "What we wanted to do was provide our information and [explain] ways we could help turn their foreclosures around," she said of the campaign.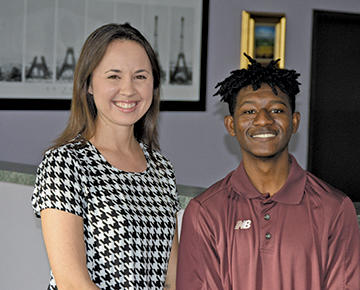 Kirsten Green of Grow Mortgages said Evander Brown, hired through Pacific Gateway's Hire-A-Youth program, has done excellent work assisting with a company mailing campaign. For more information about Pacific Gateway's employment services, call 562/570-3700. (Photograph by the Business Journal's Larry Duncan)
The company decided to include a hand-written note with each mailer for a personal touch. Due to the time-consuming process of handwriting notes rather than printing a form letter, Green and her employer decided it was best to bring on someone solely dedicated to completing this project.
Green called Pacific Gateway for hiring assistance and was put in touch with Karla Corona, who oversees the organization's youth jobs programs. "I explained to her what our project was and that it was time-consuming for me, so I needed someone to come into the office quickly because we wanted to get the project going," Green said.
Corona suggested Pacific Gateway's Hire-A-Youth program, which pairs local youth seeking work experience with area employers, and pays wages for about 100 hours of work. The program seemed ideally suited for what Grow Mortgages was looking for. "We wanted someone who was looking for an entry-level position or had any interest in our type of industry. So we thought maybe a younger person would be best suited for that," Green said.
All Grow Mortgages had to do was tell Corona what the company was looking for, and Pacific Gateway was able to quickly find a suitable candidate. "Just a couple of days after I gave her the application, she called me back and said that they had someone who was interested in the position, and we went from there," Green said.
Grow Mortgages hired Evander Brown, a local high school student with an interest in real estate, to take on the mailing project. After he completed his hours and went back to school, Green and her employer decided to bring him back on as an intern. "We really enjoyed having him in the office. He was responsible and really great, so we just thought, he had experience with the position before so let's go ahead and see if he is available now."
Brown started his position as an intern in December 2015. "He is very responsible. He is very good at taking charge and getting the project finished on time," Green said.
Green said that if her company ever needs to fill a position in the future, she'll reach out to Pacific Gateway again, and added that the organization's staff is friendly and helpful. "We have had a really positive experience all around, especially with the quick turnaround time," she reflected.