After oil prices plummeted in 2014, eventually falling below $30 per barrel, Signal Hill Petroleum (SHP) sidelined its two drilling rigs. The rigs have sat dormant for four years waiting for oil prices to recover and spur renewed investment. With oil prices rebounding – an average of around $70 per barrel for West Texas Intermediate (WTI) crude oil during August – one of the company's drilling rigs will likely begin drilling new wells this year, according to SHP Executive Vice President and Chief Operating Officer David Slater.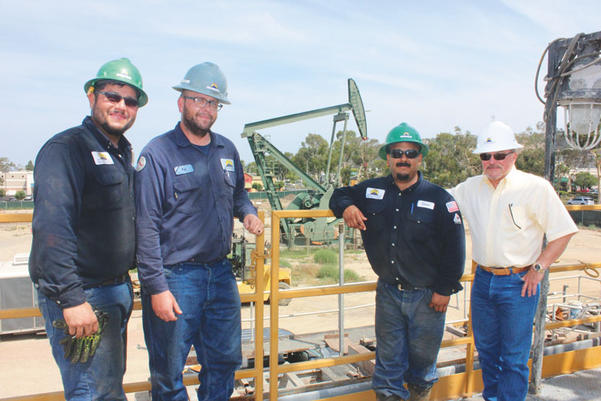 After almost four years of inactive drilling rigs, Signal Hill Petroleum is preparing to remove one of its drilling rigs from mothballs to drill new wells in the fourth quarter of this year, according to Executive Vice President and Chief Operating Officer David Slater. Pictured from left: Richie Diaz, rig hand; Pat Hurley, drilling coordinator; Steve Clavijo, rig hand; and Slater. (Photograph by the Business Journal's Brandon Richardson)
"Our oil and gas business has been very robust this year. When we have strong cash flow, we reinvest in the infrastructure for our business," Slater said. "We've been busy primarily upgrading and replacing our surface facility equipment like pipelines and tanks. We are working to bring one of our two drilling rigs out of mothballs and we anticipate drilling some new wells in the fourth quarter." At this time, Slater said the company has plans to drill two or three wells this year.
SHP is currently in the process of re-permitting all its water injection projects, which is required by a mandate from the California Department of Conservation Division of Oil, Gas and Geothermal Resources. Slater described the process as "daunting." However, he added that SHP's primary need is to operate its injection wells to increase efficiency. Once the re-permitting process is completed, Slater said the company could drill up to a dozen wells, primarily injection wells. Water injection is the process of introducing water into an oil field to increase pressure in order to stimulate production.
Currently, SHP has around 250 active wells and around 140 inactive wells. However, inactive wells can be brought online to replace another if mechanical issues arise, Slater explained. SHP operates 83% of the oil wells in Signal Hill. Within the last 10 years, the company has abandoned 100 wells and drilled or re-drilled 48 wells.
Due to the nature of the oil industry – namely its reliance upon an ever-declining resource – and a lack of drilling, production has decreased slightly. However, Slater said SHP has been successful in minimizing production decline by investing in its current wells through repairs and maintenance. He expects 2018 production to be similar to last year, which was around 1.1 million barrels.
"There's plenty of oil here, it's just keeping maintaining the wells because they degrade over time," Slater said. "We've got 50 to 100 more years of oil here."
Signal Hill Petroleum maintains a strict schedule of routine checks for its operations, particularly those in the direct vicinity of homes and businesses. Slater said the company's goal is for zero defects in all of its equipment at all times, which is why complete tear-down inspections of beam pumping units (pumps used to mechanically lift oil out of a well when pressure is low) are conducted every 18 months. These inspections are much more frequent than the industry standard, he added.
SHP tests its pipelines more frequently than required by state or federal law, Slater said. To test the lines, they are first flushed and cleared of all oil and gas. Then pressure above normal operating levels is applied using clean water to check for leaks. In the last 15 years, Slater said almost all instances of pipeline issues were caused by third-party damage, often during road work and construction.
The Southern California oil industry has experienced a wave of pushback from anti-oil groups claiming that living near oil operations is adverse to a person's health, Slater said. The oil industry, including SHP, is collecting air quality data around its operations in an attempt to counter these claims. All of SHP's systems are sealed to ensure little to no impacts on air quality, Slater added.
"We're fighting innuendo with facts and also working closer with SCAQMD [South Coast Air Quality Management District]," Slater said. "In the last year, we've worked with research scientists who are working with new remote monitoring technologies. Our west unit facility has had virtually every technology in the world parked at our fence line beaming into the facility, as SCAQMD wants to get a track record of running these new technologies."
SHP has tested real-time sensor technology in and around its facilities to identify leaks. On a quarterly basis, the firm tests 75,000 different components through a third-party technician to ensure there are no leaks and that all systems are functioning properly. Slater said the company will continue to experiment with new technologies to ensure as much data is being collected at its facilities as possible.
The latest technology introduced to SHP operations is called FLIR (short for Forward-Looking Infrared), Slater said. This thermal-imaging instrument allows operators to identify micro leaks. Slater said SHP has used the FLIR system to conduct a full audit of its facilities to scan for micro leaks. Several micro leaks were found, which Slater said were the equivalent of the small amount of gas expelled when a lighter fails to ignite.
"Now we're doing an ongoing sweep of our facilities using this technology," Slater said. "Our goal is to be 100% sealed and leak free – keeping all of our product where it should be, in the tanks and the pipeline so we can sell it."