As rental rates and home prices continue to rise in Long Beach and much of Southern California, some local employers are facing concerns from prospective employees about the cost of living. While employees relocating from higher-priced beach cities or from the expensive Bay Area are quite happy with housing affordability in Long Beach, for those coming from rural areas or out of state, or who are just entering the labor market, it's a different story, executives told the Business Journal. With a national labor shortage, employers are taking note and acting to assist workers.
About 30% of employees at Long Beach-based software company Laserfiche live in Long Beach, according to Laura Victoria, director of human resources for the firm. "It's a selling point for us that employees are able to live close to work," she said. "But, with the increase in the cost of housing, particularly over the last two or three years . . . it's taking its toll."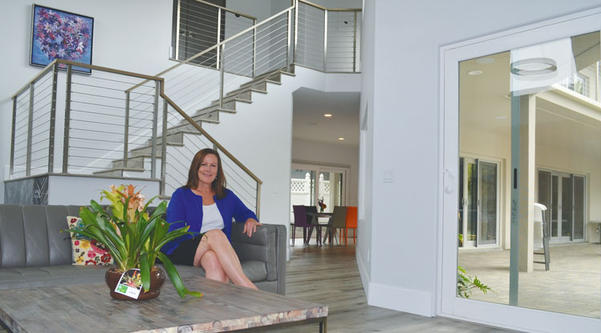 Laura Victoria is the director of human resources for Laserfiche, a Long Beach-based technology company with offices in Bixby Knolls. She is pictured at a home built by the firm to house new employees moving to the city from outside the area. The idea is to provide employees with a place to stay while they navigate a tight real estate market. (Photograph by the Business Journal's Pat Flynn)
Victoria observed that it is common for one-bedroom apartments in Long Beach to rent for $1,700 a month, a rate she called "shocking." "I have another employee who is renting an apartment in Belmont Shore who is paying $2,000 a month for an 800-square-foot, one-bedroom apartment," Victoria said. " Another employee had to move recently when her one-year lease came up and the property management company jacked up her rent $500. She moved out of Long Beach, unfortunately. And that's what we would like to avoid as an employer," she said.
"We want to see employees . . . be able to live nearby and have a reasonable commute to work," Victoria said. "So we have a very vested interest in seeing what we can do to help with the shortage of housing in Long Beach."
The vacancy rate of all apartment units in the city is about 5%, according to multi-family real estate firm Stepp Commercial. The inventory of homes for sale is also quite low, with all listed on the market expected to sell within about 2.7 months, given current demand, according to Long Beach-based Main Street Realtors.
Laserfiche has invested in company-owned housing to provide new employees with a place to stay while they are navigating the local real estate market. "Especially when employees are coming from out of the area, we will let them stay there for several weeks or a couple of months while they kind of get on their feet and look for a place to live in Long Beach," Victoria said. She noted that the City of Long Beach should consider all types of new residential developments to help alleviate the housing shortage.
Kevin Peterson, CEO of Long Beach-based engineering firm P2S Inc., said that the issue of housing affordability often comes up during his firm's hiring process.
"The cost of living always affects us hiring from outside the area," he said. "One thing that we have done is try to assist them with housing in terms of [suggesting] areas to look at where other employees have had success. When onboarding someone who is coming in from out of state, our HR department spends a lot of time assisting them on areas to look and setting them up with realtors," he said. While employees coming from out of state aren't wrong about the higher cost of living here, Peterson noted that they often overestimate the difference.
About 70% of P2S employees live within 10 miles of the Long Beach office. Living near the workplace improves work-life balance for employees, he noted. These employees tend to be more active in the Long Beach community, perhaps because they have more free time since they do not have to commute, he speculated.
Asked if any locally based employees had expressed concerns about the rising cost of living, Peterson said, "I do hear it indirectly. It's not causing any of my employees to get kicked out of their housing or anything like that. But it's obvious to me that we need to increase the number of housing units in the local area. That's my opinion as an employer."
High-density housing in a suitable area such as downtown would be one solution to creating more housing, Peterson said. He also thinks there is a need for low-density housing as well. "I would also like to see Cal State Long Beach do more housing for their students," he said. "Long Beach City College could do the same thing – look at building some housing projects for students that are affordable. That would help the overall demand in the city for people who aren't students, because students are taking up some of the housing, too, and driving up cost."
MemorialCare Health System is one of the largest employers in Long Beach, with more than 8,600 employees. The nonprofit health care provider operates two hospitals in the city – Long Beach Medical Center and Miller Children's & Women's Hospital – as well as several outpatient clinics and imaging centers. Long Beach Medical Center Chief Operating Officer Ikenna "Ike" Mmeje said that, as a large employer, MemorialCare has an appreciation for the importance of affordable workforce housing.
"It is more of a challenge for us to recruit talent from outside of California, because we know that California is just more expensive than other states – in particular, other states that don't have state income tax," he said. "As the situation arises, we look at a number of different ways that we can address cost of living and relocation needs. We do offer relocation benefits and packages. Sometimes, we evaluate the relevance of sign-on bonuses if that helps to place an individual," he said. He added that the human resources department also evaluates increases in the cost of housing as they reassess salaries and wages for existing employees.
When hiring, the hospitals typically focus on Los Angeles and Orange Counties in part because the cost of living is similar, Mmeje noted. However, some positions, particularly those within a medical specialty, require casting a wider net, he explained.
Mmeje moved to Southern California from the Central Valley in August of 2017. Although he and his family have been looking for a home ever since, it wasn't until this July that they succeeded in finding a home to purchase in Long Beach. "We partnered up with local resources, but there wasn't a great abundance of supply for what we were looking for. And prices, we noticed, have been on the higher side," he said. "That was something that we had to grapple with – the cost of living difference between a rural area to a larger population base."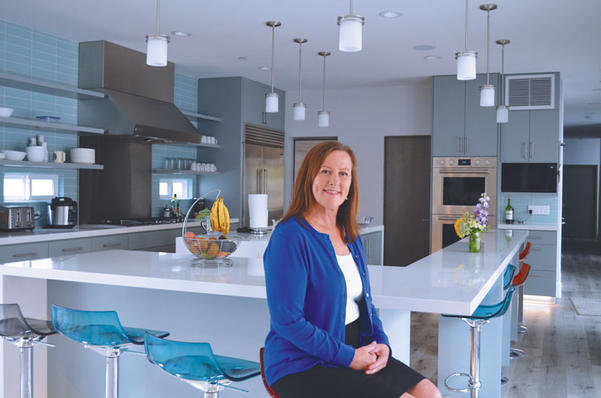 Laserfiche's corporate housing for employees offers all the comfort of home, including a kitchen big enough to accommodate several residents at once. The dwelling, located near the company's offices, provides temporary housing for new employees as they look for a place to rent or buy in the area. (Photograph by the Business Journal's Pat Flynn)
Mmeje said MemorialCare supports more housing in Long Beach – particularly affordable housing for working professionals. "We invite any way that we can introduce more affordable housing options for our team members."
For some employers, the cost of living in Long Beach is a selling point when hiring new employees. Vince Passanisi, president of Marisa Foods and owner of Santa Fe Importers in the Westside, said that he hears a lot of positive things about Long Beach, both from friends looking to move into the city and prospective new workers.
"I have recently hired some key employees for key positions, and they are just dynamite people. . . . They have moved to Long Beach because for them it was a little more affordable than other parts of L.A.," Passanisi said, noting that these were management and bookkeeping positions. "I am happy; they're happy. I mean, geez, wouldn't you love to have a five-minute drive to work?"
Mitchell Redden, who oversees mortgage lending for Wells Fargo's region running from Long Beach to La Jolla, noted the company is hiring quite a bit in the Long Beach area as it expands in the market. While he observed that housing affordability and availability is a challenge in Southern California, he pointed out that in Long Beach there are more opportunities, due to the variety of neighborhoods and price points.
Redden noted that, while single-family home prices have been escalating quickly in Long Beach, the rate of escalation is beginning to taper off. "Inventory is about the same because new homebuilding is so slow. But what we're seeing is the lift of pricing, house over house, has slowed down," he said. He clarified, "Prices are still increasing, but the pace of increase has slowed."