Although more single-family homes hit the market in Long Beach in July, the overall inventory of homes for sale is still well below what is needed to meet demand, according to local real estate executives. As a result, the median sales price of homes continues to increase throughout the city.
In June, the number of new listings decreased 8% compared to the same month in 2017, Phil Jones, owner of Long Beach-based Coldwell Banker Coastal Alliance, said. The number of pending sales decreased by 47% in June, and closed sales decreased by 28%.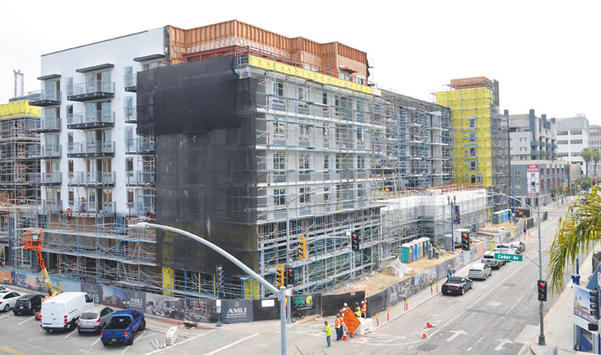 Scaffolding has come away from portions of Park Broadway, a seven-story, 222-unit residential building under construction at 245 W. Broadway. The development by AMLI Residential features groundfloor retail space to include an art gallery, cafe and bike kitchen. (Photograph July 25 by the Business Journal's Pat Flynn)
July's figures, which are not yet available, should show an increase in listings, according to Jones. "In the last couple of weeks we have seen more inventory," he observed, noting that he has seen more listings added to group home tours for prospective buyers in recent weeks. The number of days homes are staying on the market has been identical in July as compared to June, indicating that the added inventory still isn't enough to meet demand, he explained. "I think the listings coming on the market will be absorbed really quickly because of demand being so pent up," he said.
According to Geoff McIntosh, owner of Main Street Realtors, the median price of a single-family home in Long Beach was $619,000 in June of 2017. This June, the median price hit $670,000. "People can't afford what they could have a year ago at this time," he said, noting that rising interest rates are compounding the issue.
Rates for home mortgages have been on the rise due to the Federal Reserve's actions to raise the federal funds rate, which dictates interest rates. Rate increases have remained modest, with a bump of one-quarter of 1% in June. The Fed has announced it intends to do so again twice this year. Mortgage rates are also closely tied to the 10-year treasury bill yield, which, as Jones pointed out, has been fairly stable in recent months, oscillating between about 2.8% and 3%.
McIntosh does not expect rising interest rates to have much of a slowing effect on the single-family market in Long Beach because demand remains high. "The fact of the matter is we don't have enough housing to supply the number of residents that we have in the area," he said. "And as long as we have that disparity between supply and demand, it's going to keep putting upward pressure on prices and it's going to keep inventory low."
Jones agreed that home prices would continue to increase, including within the condo market in Long Beach. "Pending sales are down 56% in the condo market, and inventory is down 16% compared to last June," he said. The median price of Long Beach condos has increased about 9% over the last year, he noted. McIntosh cited the median price as $378,000 as of June.
Both McIntosh and Jones emphasized that low inventory and high demand would continue to drive up prices unless more housing is built to accommodate need. "I think the reason we'll see prices continuing to rise is because California has such a housing crisis," Jones said. "We have needed to build 180,000 new units a year to keep up with the population growth. And we have been building less than 80,000 because of overregulation. The California Environmental Quality Act needs reforms – there are abuses of it that are slowing down building. We are just not a very builder-friendly state right now." The California Environmental Quality Act requires detailed analysis of the potential environmental impacts of new real estate developments before approvals are given.
McIntosh pointed to NIMBYism – the "Not In My Backyard" philosophy – as a roadblock to creating new housing. "In Long Beach particularly, I think that the NIMBYism is the biggest problem. Everybody agrees that we need more housing, they just don't want it in their neighborhood," McIntosh said. "And, as local politicians look at these things, they tend to be influenced by the concern of being reelected. And, if their constituents are saying, 'I don't want this built in my neighborhood even if at a macro level it's better for the residents of Long Beach,' the politicians will vote against it."
Another potential threat to the housing market is Proposition 10, a November ballot initiative that could repeal the Costa-Hawkins Rental Housing Act, which exempts single-family homes and condos from rent control, Jones pointed out. "It would take away so many of the protections against rent control, and rent control isn't the answer. It just exacerbates the problem. Builders shy away from coming in," he said. A recent attempt to put a rent control initiative on the ballot in Long Beach has been shelved, but Jones said the attempt put off potential homebuyers and investors. "People were shying away from Long Beach because of the rent control possibility," he said.