As national and regional economic growth continues, Long Beach's hospitality industry is benefiting. Hotel managers are reporting strong occupacy and room rates, and the sector is experiencing an injection of investment with new hotels planned and underway in the airport area and downtown.
Occupancy of Downtown Long Beach hotels held strong through the first quarter at a rate of 80.7%, according to Bruce Baltin, managing director of CBRE Hotels. "I can't say for sure it's an all-time high, but I would expect it is," he said.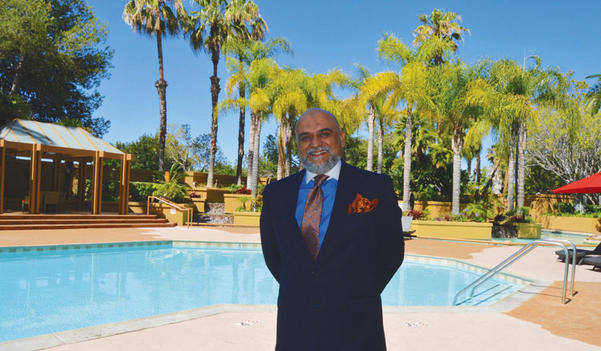 Imran Ahmed, general manager of the Long Beach Marriott, said the hotel's guests are typically visiting Long Beach on corporate or government business. The hotel, adjacent to the 405 Freeway, features 308 rooms, a large outdoor pool and event space, meeting rooms, and the new Tamarindo's Margarita Bar & Cantina. (Photograph by the Business Journal's Larry Duncan)
Baltin attributed the strong figures – which well surpass the national hotel occupancy average of 65.5% – to Long Beach's strong position as a leisure and convention destination.
"The convention center renovations that have been done in the last several years have done very well. They have been well received," Baltin noted. "A walkable hotel supply and a strong convention center and a good convention bureau I think bodes pretty well for the near-term future."
The strength of the market has led to investments in new hotels in the city, with at least one planned in downtown at Ocean Boulevard and Pine Avenue and others in the works. Inland, a new Hampton Inn & Homewood Suites is under construction at Douglas Park, while a Staybridge Suites is planned adjacent to the renovated Holiday Inn Airport Hotel.
Baltin said the new hotels are needed. "At 81% [occupancy], we're well above the national average. And conventional wisdom is that with occupancy at 70%, there is room for additional supply," he said. "Long Beach is well in that range. And frankly, I think additional hotels downtown would help the convention center."
Mark Becker, area vice president and general manager of the Hyatt Regency Long Beach and Hyatt Centric The Pike, views the new hotels as a positive addition to Long Beach, so long as demand remains strong. "We certainly don't feel the market is saturated. I think it gives the CVB other alternatives to help fill guest rooms for citywide conventions," he said.
The Regency, which is located adjacent to the Long Beach Convention & Entertainment Center, is benefiting from a strong convention calendar this year, according to Becker. "We're having a year that is a little bit better than we had projected at both hotels," he said, referring both to occupancy and average daily room rates.
So far, it appears that 2018's convention and meeting bookings are pacing behind 2017, which is a concern for Becker. "We're keeping our eye on that, and we're certainly doing everything we can to help the CVB close on citywide business," he said, noting that convention business does tend to dip every other year.
"The Centric is a little bit different of a mix and, certainly, we do more individual travel and leisure business at Centric than we do group [bookings]," Becker said. "But believe it or not, with the space we have available, we are seeing small, corporate in-house pieces of group business."
Becker said improvements to the Queen Mary, which is beginning full renovations, and other investments in the city will further the appeal of Long Beach as a destination. However, he did mention one failed initiative in the past year that disappointed him.
"I was personally a little disappointed in the decision regarding JetBlue," he said, referring to the Long Beach City Council's decision last year not to pursue a request by JetBlue to add international flight service at the airport. "I think anytime you can increase air lift into your city, it only helps from a visitor perspective. I certainly appreciate the reasons why that wasn't done. . . . To me, anytime we get an opportunity to increase traffic into our great city, I see it as a real positive thing."
At the Hilton Long Beach, located adjacent to One World Trade Center, occupancy is down a bit so far this year, according to General Manager Greg Keebler. "Occupancy is down very slightly, and [the average daily room] rate is holding flat," he said. "We do expect to have a little bit of a slow summer but a very strong fourth quarter and, most likely, will end up achieving our goals by year end."
Keebler observed, "I think in most cases people are really waiting a little bit more before they make their travel plans. Not as much advanced planning seems to be going on for leisure travel."
The Hilton primarily hosts business travelers and conventioneers, Keebler noted. "I think the planners who see everything that Long Beach has to offer are extremely excited about bringing their business here," he said. "I think our future years are going to continue to get stronger because of the work that has been done by the city and by the CVB and [CVB President and CEO] Steve Goodling." Additionally, he pointed out, the World Trade Center is finishing up renovations on its plaza, which is connected to the Hilton and should benefit the hotel.
Across the Queensway Bay Bridge, the Hotel Maya, a DoubleTree by Hilton Hotel, is experiencing increased occupancy and average daily room rates, according to Kristi Allen, general manager and vice president of hotel operations for Ensemble Real Estate.
"We are seeing some occupancy growth. Not dramatic, a couple percentage points up in occupancy. Our rate growth is stronger than our occupancy growth," Allen said. The rate of growth in the hotel's occupancy is flattening out because the market tends to top out at an occupancy of 80%, she explained.
"The Long Beach market is at the top of its game right now, I think," Allen said. "I think the industry average of 5% growth is healthy. . . . The 5% growth doesn't bother me when we're running 80% occupancies."
The Maya is primarily a leisure, staycation-oriented hotel on the water, and as such it does well in the summertime. "We hire about 50 seasonal employees from May through September," Allen said.
Allen cited improvements to the convention center, the renovation of the Queen Mary and developments throughout the city as evidence that Long Beach is "moving in the right direction." She credited Mayor Robert Garcia and Goodling with bringing positive attention to the city in recent years. "With those two together, I think we're really seeing strong growth in the hospitality industry," she said.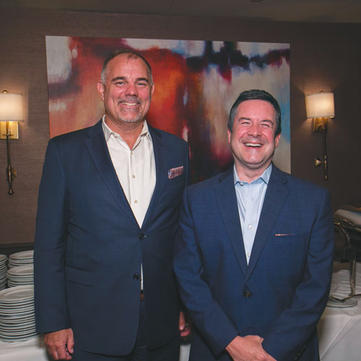 Stephen Sowards, left, the new general manager of the Queen Mary, joined Long Beach Area Convention & Visitors Bureau (CVB) President and CEO Steve Goodling and his staff during the CVB's annual trade mission to Washington, D.C., earlier this month. City hotel managers often take part in the trip to help attract convention business to Long Beach. (CVB Photograph)
Down the road from the Maya, the Queen Mary – a floating historic ship, attraction and hotel – is getting a facelift. "The entire ship is going to be renovated," General Manager Stephen Sowards, who is employed by management firm Evolution Hospitality, told the Business Journal.
Sowards started at the Queen Mary in April. He has a 26-year history in the hospitality industry. Prior to joining the Queen Mary, he served as president of the JRK Hotel Group. "And prior to that, I spent six years as senior vice president of finance and general manager with Viceroy Hotels. And before that, 19 years with Marriott and Ritz Carlton. I have been doing this for a while," he said.
The ship's smokestacks are currently being painted. "Then on July 10, we will start to do the sides of the ship. It will take us about four [to] six months to get the exterior done," Sowards said. Renovations to Sir Winston's restaurant have been completed, and renovations to the Promenade are underway.
Sowards hopes renovations to the ship's hotel rooms, which are slated to be returned to "their original historic state" will begin by this December. The ballrooms, meeting rooms and corridors will also be renovated, he noted.
"The hotel is doing better than it has done in previous years," Sowards said. "We are currently about six points in occupancy better than last year." Average daily rates (ADRs) charged for hotel stays have also increased a bit compared to last year, but Sowards speculated that there likely would not be significant rate growth until hotel room renovations are completed.
Two of the city's major inland hotels, the Holiday Inn Long Beach Airport and the Long Beach Marriott, are both reporting increased occupancy so far this year. These hotels and others in the area principally serve business and corporate travelers, as well as some transient guests generated by airport traffic.
Occupancy at the Long Beach Marriott was up 7% through May compared with the same time period last year, according to General Manager Imran Ahmed. "We had some additional groups that our sales department went after and booked that we did not have last year," he said but noted that transient stays have decreased by 3% to 3.5%. "It's just the government travel has slowed down from last year," he said of the drop.
"Revenues are better, but [on] ADR we are taking a $5 hit every month," Ahmed said. Despite higher occupancy, rates have decreased because the occupancy has primarily been generated by group bookings, which are made at lower rates, he explained. Despite that, Ahmed foresees "healthy growth year over year in occupancy and rate and revenue."
Ahmed has concerns about the new hotels being built in the area. "If the market remains the way it is right now, we will be OK. But if there is any downturn, we will all be suffering," he said.
Demolition of the old wings at the Holiday Inn Long Beach Airport and construction on the new Staybridge Suites will begin sometime this fall, according to Holiday Inn General Manager Mooyon Kim. The Staybridge Suites, which is to be owned and operated by Intercontinental Hotel group, will feature 125 suites with full kitchens, he said. "As part of the project, we are expanding our pool and the common areas as well," he noted.
Occupancy at the Holiday Inn is up 15% over last year – an increase Kim attributes in part to word spreading about the hotel's renovations, which were completed in 2015. Its new top floor restaurant, Vue Bar & Restaurant, opened this year. He estimated that the hotel's ADR increased by about 10%. "And overall, the RevPAR, the revenue per available room, also went up," he added.
While most of the hotel's guests are corporate travelers visiting Boeing, area aerospace companies or the regional headquarters of Mercedes-Benz USA at Douglas Park, Kim noted that some transient travelers book rooms overnight before heading out on Carnival Cruise Line trips. Carnival plans to expand its presence in Long Beach by swapping out one of its vessels with a larger ship, a move that Kim expects will benefit his hotel.