After experiencing a stronger than expected year, hotels in Long Beach are projected to see stable occupancy levels and a slight rise in average daily room rates (ADR) in 2016, according to hotel managers and hospitality industry experts.
The overall occupancy rate for Long Beach hotels this year is expected to be about 76.8 percent, according to a recent forecast by PKF Consulting, a hospitality research firm and a division of commercial real estate company CBRE, Inc.
The occupancy rate is just 0.5 percent higher than last year but still exceeds expectations and is the highest the city has seen in many years, said Bruce Baltin, senior vice president of PKF Consulting.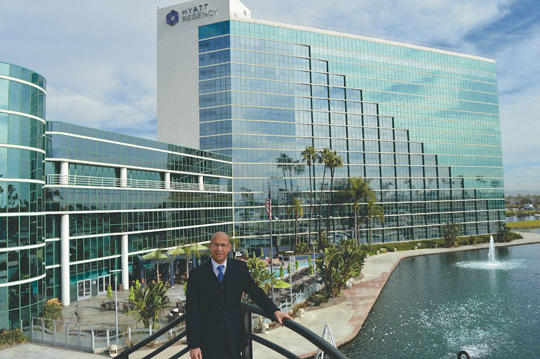 Tim Meyer, pictured at right, is general manager of the Hyatt Regency Long Beach, located at 200 S. Pine Ave. and adjacent to the Long Beach Convention & Entertainment Center. The hotel offers 528 guestrooms, the most of any hotel in the city, and 20 suites. Meyer also oversees the nearby Hyatt the Pike Long Beach at 285 Bay St. It has 138 guestrooms, 11 suites and a specialty premier suite. (Photograph by the Business Journal's Larry Duncan)
The forecast for next year is that occupancy will flatten out, staying in line with industry trends of business falling off after an odd year. Long Beach's ADR, which is estimated to have increased by 10.9 percent by the end of this year, is projected to rise by 6.5 percent in 2016, Baltin said.
"We kind of think that Long Beach is at a ceiling," he said. "Although [occupancy] could go higher, there's no basis to indicate that it will . . . It certainly is [at] a peak."
Baltin said hotels are expected to increase room rates next year partially because Long Beach is still a "good value" for visitors compared to other destinations, even within Los Angeles County.
He attributes the strong occupancy this year to successful efforts by the Long Beach Area Convention & Visitors Bureau (CVB) to market Long Beach as a destination city.
In addition, $40 million in renovations at the Long Beach Convention & Entertainment Center, including the new Pacific Ballroom that features a tension-grid system and moveable floor-to-ceiling curtain walls for accommodating a variety of different groups and events, has also attracted new convention business, Baltin said.
"It's a very attractive convention center for medium-size groups at this point," he said.
Baltin added that an increase in leisure travelers and international business throughout L.A. County in addition to more port-related business and growth in other industries has helped boost hotel occupancy in the city this year as well.
Some developers are looking to build new hotels, including possibilities downtown and a new hotel slated for the Douglas Park area adjacent to the Long Beach Airport; however, nothing is definite yet, he said.
Many hotels throughout Long Beach have invested in renovations, partially to justify higher room rates, as demand continues to be strong, Baltin said.
Hyatt The Pike Long Beach, for instance, is finishing a new fitness center in coming days at a cost of nearly $500,000, said General Manager Tim Meyer, who also oversees the Hyatt Regency Long Beach.
The hotel has already completed new interior designs and painting while adding new pool furniture this year, he said. Meyer said the hotel contracted an artist to paint new artwork "unique to the hotel" that will be installed today, December 8.
As for business, Meyer said occupancy at the hotel has increased this year over last year, adding that, "2015 has been a very good year in Long Beach."
Looking long term, he predicts sales will grow further as the city officials are committed to support the industry to "keep Long Beach a spotlight in California as one of the leading cities in the market" while revitalizations move forward downtown and around the convention center.
"I think the city is still on the cusp of some really positive changes that will continue to influence our industry long term," Meyer said. "You can see it and feel it."
Kristi Allen, general manager of Hotel Maya – a Double Tree by Hilton, located across the harbor at 700 Queensway Dr., said the hotel fully renovated all guest rooms this year, adding hardwood floors, hand-carved wood doors and double-paned, fully retractable windows and doors.
She said the hotel also completed a $4 million renovation that included building a new event space called "Lagunita," a 6,800-square-foot waterfront event pavilion, and a 10,000-square-foot outdoor event space called "Vista del Mar."
Allen said demand this year was partially driven by corporate business that has picked up significantly since the recession.
"You could tell that companies were spending money again on meetings and events as well as business travel," she said.
While the hotel is mostly considered a "stay-cation destination hotel" for the L.A. and Orange County areas, it has seen corporate and group market return in full swing this year, Allen said. As for next year, Hotel Maya is pacing "extremely strong" to see its "best year ever," she said.
Long Beach overall, however, is still considered a "second-tier" city in the hospitality industry when compared to Los Angeles and San Diego, for instance. This is the reason why hotel room rates are nearly $200 more in those "first-tier" cities, Allen said.
Still, even though Long Beach doesn't have the same rate structure, it shares the same costs that continue to rise, including those in benefits, health care and, possibly, wages, she said. As unions push to increase the minimum wage in Long Beach, hotels could lose business to other first-tier cities if rates rise too high, Allen said.
She added, however, that Long Beach has great potential, especially with new developments in the works near the Queen Mary and downtown in addition to rebranding the Pike as an outlet mall.
John Jenkins, general manager of the Queen Mary, which has been taken over by a new master lessee, Los Angeles-based Urban Commons, LLC, said the ship's hotel has seen occupancy a little stronger this year than in 2014. He added that the hotel had decent growth in its room rates as well.
For next year, Jenkins said the hotel will continue to see growth in its group market while continuing to see demand from national and international tourism driven by the ship's events and attractions.
With the new master lessee coming on board, the ship is considering renovations to the hotel possibly next year, with the possibility of new events to be announced in the first quarter, he said.
In Downtown Long Beach, meanwhile, the Courtyard by Marriott is expected to have completed the multi-million-dollar room renovation by Christmas, said the hotel's general manager, Silvano Merlo.
The renovations are part of plans to reposition the hotel to attract a younger clientele, with a nautical theme and hardwood floors to give it more of a residential look, he said.
"The ownership has decided to take a bold approach into repositioning," Merlo said. "We want to appeal to a specific clientele . . . It's not your stereotypical branded hotel concept."
He said the James Republic restaurant of the hotel has become an anchor to the East Village Arts District since opening in 2013. Merlo said the repositioning also included renovations to the hotel's lobby last year.
Holiday Inn Long Beach Airport, meanwhile, is undergoing a more long-term renovation project that includes "reenvisioning" the hotel's iconic landmark tower built in 1968, said the hotel's general manager, Robert Smit.
"We're making the hotel more relevant in today's market," he said, adding that renovations will continue for the next two years.
Smit said the hotel has plans to demolish a portion of its west-wing, exterior corridor building next year. Construction will then begin on a 125-room Staybridge Suites, 14,000 square feet of new meeting space and a new restaurant and bar concept. Smit said he expects the new hotel rooms to be completed by the end of 2017.
The Holiday Inn, meanwhile, has been under renovation since April, with many rooms out of service, which has decreased occupancy, he said. Still, Smit said occupancy and room rates should increase next year.
"We're anticipating a very good 2016 as we finish renovations," he said. "Once we complete the whole campus, this will be a really exciting place to have a function, a stay, or leisure activities . . . We have all the corporate amenities."