Over the last decade, Solar Source has installed photovoltaic solar systems on roofs throughout Southern California. According to its founder and president, Jarrod Osborne, the company operates across a roughly 100-mile radius from its headquarters in Long Beach.
Solar Source handles solar contracts for residential, commercial and nonprofit clients, though residential is by far its largest sector. This year has been a particularly busy one for the company, Osborne said. "We have twice as much business under contract since July as we did going into July," he told the Business Journal.
Osborne attributed growing demand to the power of referrals. "It's our relationships we've made over time," he said. "Everyone wants to work with people they can trust, and they know the job will get done right and at a fair price."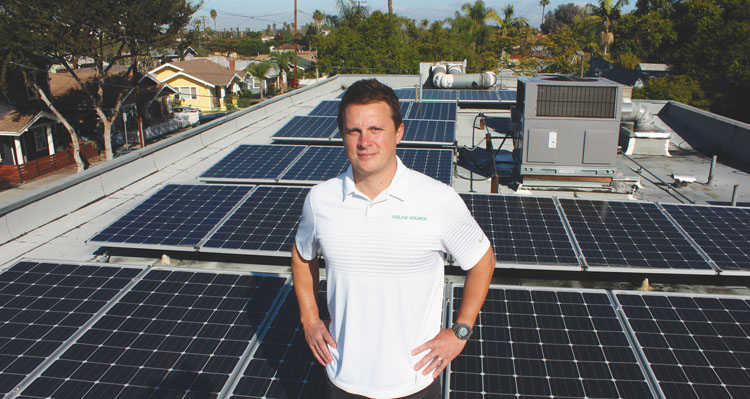 Not Just Environmental But Also Economical
There may be another important factor behind the recent surge in contracts, Osborne said, and that's the sunsetting of the federal solar tax credit.
The solar tax credit allows both commercial and residential clients to deduct 30% of the cost of installing a solar system from their federal taxes. Unless renewed by Congress, this deduction is slated to decrease to 26% for systems that begin construction in 2020, and 22% for systems that begin in 2021. After 2021, the residential credit ends and the commercial credit drops to 10%.
Osborne is hopeful that the tax credit will be renewed before 2021, as it has provided a major incentive for residents and businesses to make the transition to cleaner, renewable power. "It's huge for the business owner, it's huge for the homeowner," he said.
More importantly, he added, it's important for homeowners and businesspeople who want to own their systems and save on their electric bill.
If the option is between leasing and buying a system, Osborne opined, buying is currently the better option. "[With] most leases, the monthly payment agreed to increases by two to three percent a year," he said. "Someone could find themselves, in year 10 or 12, with a monthly payment equal to what they started with."
Most of Solar Source's clients use financing options provided by their home equity lender or the company's primary solar lender, Mosaic. "They offer our customers a 20-, 15- and 10-year fully amortized loan," Osborne said, which comes with no prepayment penalties and a fixed rate.
A 20-year amortized bank loan saves customers more money in the long run than renegotiating a lease contract after 20 years, he explained. By financing through a property secured loan, Osborne said it is possible for clients to create a positive cash flow from day one. "You could go from a $200 a month bill to a $115 a month bill to the bank," he said. "So instead of paying Edison, you're paying the bank, and you own the system over time."
For residential clients that pay up front, Osborne estimated that the return on investment may take as few as four years, depending on the type and location of the system installed. Commercial customers typically see a return in less than four years, he went on, because in addition to the 30% tax credit, businesses are able to take advantage of depreciation deductions from both state and federal taxes. These deductions allow taxpayers to recover the cost of property or assets they've purchased and used in their business.
When preparing for a commercial project, Solar Source analyzes a building's power usage data, notes when peak demand occurs, and then sizes a system to target the highest return on investment. That doesn't necessarily mean "the perfect 100% offset" for how much power a building uses in total, Osborne said. "We're actually targeting what's going to give you the fastest payback and the highest return in cash."
Long Beach Streamlines Solar Permits
Osborne founded Solar Source in Long Beach in 2007. The fact that the city is "a very pleasant place to do solar residential business" was more of a bonus than a prerequisite, he said. For him, Long Beach is home. Osborne attended college at California State University, Long Beach, where he met his future wife. Now, the family has two children, and both husband and wife work locally. Most of Solar Source's 12 employees are also residents of the city.
"I absolutely love Long Beach," Osborne said. "Anyone I meet outside Long Beach, I'm always trying to recruit them and show them how amazing this city is."
As to its solar policy, Osborne commended the city for its streamlined permitting process. Under Long Beach Municipal Code 18.77, permits for residential systems less than or equal to 10 kilowatts (kW) may be reviewed, approved and issued over the counter on the same day. These projects undergo a single inspection "that can be scheduled and conducted at the convenience of the applicant," according to Long Beach Development Services.
A 10kW solar system is able to produce between 29 and 46 kilowatt hours (kWh) per day, depending on local weather conditions and the position and number of panels installed. An average U.S. household uses 11,000 kWh of energy each year, according to the United States Energy Information Administration. That's approximately 917 kWh per month and about 31 kWh per day. These numbers illustrate how an average household could potentially offset its daily and yearly energy needs with a 10kW system.
Making these systems easier to permit and install is a great way for Long Beach to reach its sustainability and clean energy goals, according to the development services website. It's also part of a larger statewide goal to develop 12,000 megawatts of small-scale, localized renewable power by 2020.
"Long Beach does a fantastic job with the permitting process," Osborne said, comparing it favorably to other cities and counties where permits take two to four weeks for similar installations. Though State Assembly Bill 2188, passed in 2015, mandated local governments to implement more streamlined permitting processes, Osborne said many cities have yet to become fully compliant.
"Seal Beach, for a couple years after [2015], was also not in compliance," Osborne said. "We had multiple conversations with them, and Solar Source was able to get their building department to completely change the way they process residential solar permits." When Solar Source was asked to be the first company to pull a permit under Seal Beach's new process, Osborne said he and his crew were elated.
For Solar Source, a typical residential installation takes about two days at minimum, and five days max. "Real small systems like 12 panels would be almost a day," Osborne said.
But installing a solar system entails more than just throwing a few panels on a roof. The placement of those panels determines how much energy they can absorb in a day, so careful attention is paid to the angle of the array and obstructions that might cast shade on it. There's also aesthetics to consider, which is of great importance to Osborne. He's a firm believer that solar panels should beautify the neighborhood, and not offend the neighbors.
Osborne and his company make it a point to work with clients until a system provides the best balance of design, power offset and return on investment. "It's something I take really personal," Osborne said. "When our company designs a system . . . we're not just trying to slap as many panels up there as we can. If we can't do it in a way that's aesthetically pleasing to the customer and the neighborhood, we're going to advise against it."