Millennials will overtake the baby boomer generation as the largest age cohort in the United States by the end of this year, according to Pew Research Center. And, over the next few years, the millennial generation – people born between 1981 and 1997 – stand to benefit from what a recent LinkedIn study called "a massive generational transfer of at least $59 trillion in personal wealth." As this generation gains the upper hand both in number and through the wealth it wields, financial services providers are investing resources and energy into determining what millennials want and need from them.
"They are a force to be reckoned with, if you will – and in a positive way," Roger Ballard, CEO of NuVision Federal Credit Union, said of millennials. The credit union is based in Huntington Beach and has about 5,000 co-op branches nationwide. "We really need to understand their needs and make sure we are serving them well."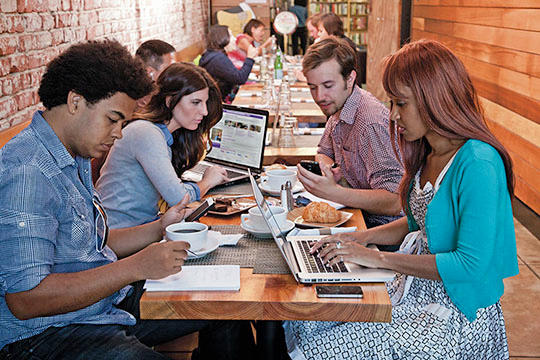 (Photograph provided by the Downtown Long Beach Associates)
The 2015 North America Consumer Digital Banking Survey by the global consulting group Accenture found that millennials spend $600 billion each year within the United States. Financial institutions hoping to help manage that spending power and wealth must be willing to change, according to the report.
"Banks that try to retain millennial customers by serving them like they have served their parents and grandparents do so at their own peril," the Digital Banking Survey stated. "Millennials are a wholly new kind of banking customer. Their life experiences color their banking experiences. They are digital natives."
According to the Millennial Disruption Index (MDI), a three-year study of how millennials will impact various industries, the banking industry is the most likely to experience disruption. The survey used to compile the Disruption Index had more than 10,000 respondents from 73 companies across 15 industries.
About 68 percent of millennials believe that in five years, the methods we use to access money will be totally different, according to the MDI. Seventy percent of millennials believe that within the same time frame, the way we pay for things will be completely different, and 33 percent believe banks won't be needed at all. In the short term, the survey found that one in three millennials would consider switching banks within the next 90 days.
Wells Fargo has a team devoted to researching the desires and needs of millennials both from a client and employee perspective, according to Ben Alvarado, president of the bank's Southern California Region. Perhaps unsurprisingly, Wells Fargo has found that millennials place great importance on technology when it comes to banking.
"What we find is that millennials want to bank with a company that is highly innovative," Alvarado said. "We are constantly looking at our online systems and our apps to make sure they are user-friendly and that our technology is up to speed, if not ahead of the pack."
In assessing the needs of millennials, Long Beach-based Farmers & Merchants (F&M) Bank also identified technology as key. "We really looked at how do we accommodate them and give them the technology they need in order to be able to bank with us, and still do it in a way that is accessible for them," Valerie Magness, first vice president and banking branch administrator for F&M, told the Business Journal.
"We don't perceive that a millennial would want to come into the bank even to open an account," Magness said. "Basically, they want to do everything by their phone, their iPad or their PC, but primarily their phone. That is their point of contact."
NuVision's research into what millennials want from their financial services providers has concluded that mobile banking services, more so than online banking via web browsers, are the way of the future. "We think mobile [banking] is eventually going to take over in terms of our volume of transactions, largely driven by millennials," Ballard said. Millennials desire mobile banking services for convenience – to be able to bank anywhere at any time, he explained.
Cody Brown, a 28-year old living in Baton Rouge, Louisiana, who uses Long Beach-based Bryson Financial for his financial planning needs, said accessing mobile and online financial services is very important to him. "I go online several times a week on to my accounts, just checking things and maybe doing some transactions and moving some money around," he said. "I pay most of my bills online."
Wells Fargo, F&M and NuVision, among many other financial institutions, offer mobile apps for their clients to make deposits, pay bills and more. They also make mobile payment options available to their clients through increasingly popular products such as Apple Pay and Google Wallet.
A recent study by social network LinkedIn of the financial habits of affluent millennials – those holding more than $100,000 in investable assets, excluding real estate – found that one-third of these affluent millennials use Apple Pay or Google Wallet. "We think, in time, there is going to be more growth in digital wallets," NuVision's Ballard said, referring to mobile payment methods.
Alvarado said Wells Fargo is also turning to technology when it comes to supplying millennial clients with information. "We set up a variety of educational videos around how accounts work and other banking tools," he said, explaining that the bank has found that millennials find watching videos to be a convenient method of learning.
Wells Fargo also now supplies its new clients with their account information kits, which are many pages long, electronically. "They can receive it on their mobile device at the time of opening the account," Alvarado said. "It saves paper. It's a green option for our customers, and that is something we find is of interest to millennials, and that they appreciate."
F&M has found that millennials prefer to communicate electronically, as well. "Probably text is number one, and e-mail is second," Magness said. "Those are our sources of communication with those individuals."
Aside from simple, easily accessible online and mobile services, financial institutions have found that one of the most important factors to a millennial in selecting a financial services provider is trust. In general, "there is a trust issue" among millennials when it comes to financial institutions, according to Ballard.
Trent Bryson, CEO of Bryson Financial, observed that, when it comes to the financial services industry, millennials' trust issues appear to be a result of the times. He suggested that the Great Recession might have impacted how millennials view financial institutions. "When the financial crisis happened, nobody blamed those that were applying for loans they couldn't afford. They blamed the financial institutions that gave them the loans," he noted. "A millennial doesn't have the same trust that a baby boomer would, so they are huge on transparency."
"The biggest thing is the trust factor, and that's what helps me sleep at night," Brown said of what he looks for in a financial services provider. That's why he selected Ryan Niedbalski of Bryson Financial, a friend since high school, to be his financial planner.
"He is a very smart guy and I know he will improve as his career goes along," Brown said. "Like I told him a couple times . . . Hey, could I have maybe gone with somebody else who was more experienced and be getting better returns right now? Who knows. That's very subjective," he continued. "But I tell you what, it helps me sleep at night that you have my best interests at heart, and at the end of the day you're not going to screw me."
Brown's trust is upheld through weekly conversations with Niedbalski about his finances and plans for the future, both which are highly important to him. Research has shown that, in general, millennials place great emphasis on saving, working hard and living frugally to achieve financial success. And 51 percent of millennials say they conduct their own research and make their own investment decisions when it comes to their personal finances, according to LinkedIn. In other words, millennials want more control of their finances, LinkedIn's study concluded.
"When we are talking to millennials about things like financial services and products, it's not 'trust and find out later,' it's 'I want to know more, I want complete transparency on how everything works and what it costs' and that sort of thing," Bryson said.
While baby boomers often hire financial planners and then step back and let them work, millennials are more hands-on, Bryson explained. Millennials "want to be more active in the decision-making on a day-to-day basis," he said.
"They are looking for financial institutions who will treat them as individuals and not a number," Ballard said of millennials. "Most of all, what we think millennials are really looking for is a financial institution they can trust."
Appealing To The Millennial Workforce
Financial institutions aren't just concerned about the needs of millennials as clients; they are also keenly interested in their needs as employees. And with reason: this year, millennials surpassed generation X as the largest generational component of the U.S. workforce, according to Pew Research Center.
"What we have learned from some of our studies and research is they want to have a clear guide to what lies ahead," Alvarado said of millennials. In other words, they want a clear sense of their career path when they start working at a new company. "We do this for everybody, but we know it is extra important to our millennials that they have a very clear career path and plan, and that the plan is being visited regularly," he explained.
Also very important to millennial workers, according to Wells Fargo's research, is knowing that they work for an organization with a strong corporate conscience. For this reason, Wells Fargo educates new hires right off the bat about its community and environmental efforts.
"We talk about increasing energy efficiency by 40 percent by 2020 and reducing greenhouse gas emissions by 35 percent," Alvarado said. "Enterprise-wide, we have $100 million set aside for community grants to foster environmental innovations, for example, the Solar Decathlon in Orange County, which Wells Fargo is sponsoring." Wells Fargo also gives employees 16 hours off if they want to dedicate time to volunteer work.
Ballard said NuVision has been making a concerted effort to understand the desires of its millennial employees, which may differ from those of previous generations of workers. "I think they are looking for interesting work," he said.
"It's not just a job to them, it's something they can really enjoy doing and apply some creativity to," Ballard continued. "If we can give them some opportunity to provide influence within the organization . . . about how we might better serve members or improve processes, that's really important to them as opposed to just having a rigid job description."