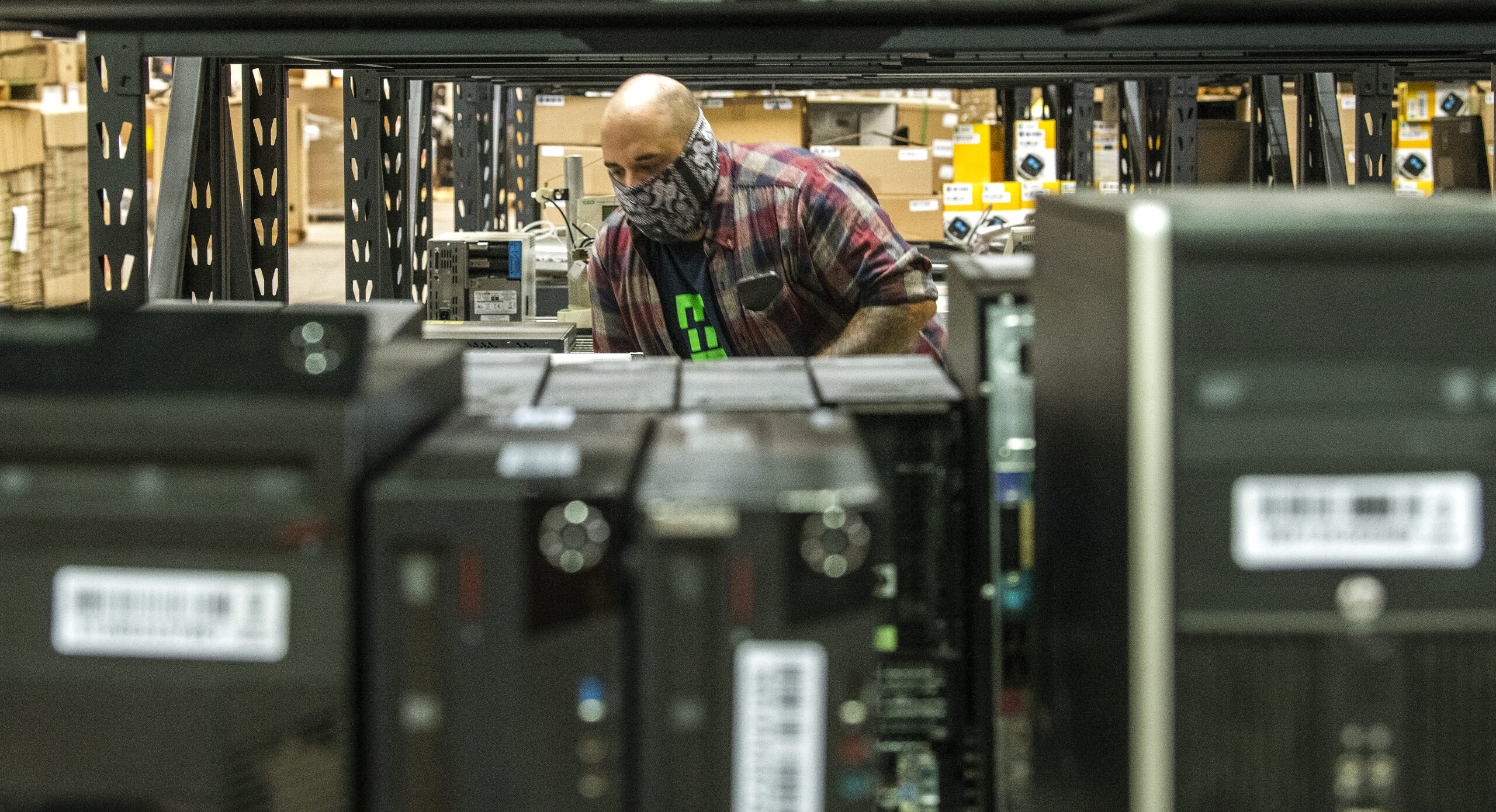 With the pandemic forcing school online, a harsh spotlight was shined on the digital divide, with many children in disadvantaged communities having little to no computer or internet access. Cities, school districts and organizations like Long Beach-based Human-I-T have worked toward digital inclusion but there is still a long way to go.
Founded in 2012, Human-I-T has "one solution for two problems," according to Director of Programs AJ Middleton. The nonprofit collects electronic waste from across the country—including computers, servers, printers, phones and other electronics. Donations come from large corporations, city governments, private individuals and anyone else looking to get rid of old electronics, Middleton said.
Donations that are in bad shape are disposed of in an environmentally responsible way. Items that can be refurbished are then redistributed back into disadvantaged communities at little to no cost. But the hardware is only half the battle.
"Everything is moving more and more online, even before the pandemic," Middleton said. "Applying for jobs, school work, telehealth, all of these things live online or are made significantly easier if you are able to access them online."
One of Human-I-T services is providing internet hotspots for $15 per month for low-income families and individuals. But the nonprofit recently announced it is participating in the Emergency Broadband Benefit Program to provide internet access for free while funding lasts.
Funded by $3.2 billion through the federal Consolidated Appropriations Act, which established the Emergency Broadband Connectivity Fund after becoming law this year, the EBB program provides eligible households with discounts of up to $50 per month for broadband services. The program also offers a one-time discount of up to $100 on a laptop.
Through EBB, Human-I-T is offering a laptop and home internet bundle for as low as $105. The EBB program runs for six months or until funding runs out, whichever comes first, Middleton said. In California, 25% of school-age students and almost 40% of low-income students did not have reliable internet access last semester, according to the company.
One of the nonprofit's most recent local programs was a partnership with the city of Long Beach, which used CARES Act funding to supply Long Beach residents with Microsoft surface tablets and mobile hotspots.
"Giving someone a computer really isn't enough. It's just a tool," Middleton said. "So we want to provide them with other resources like literacy training."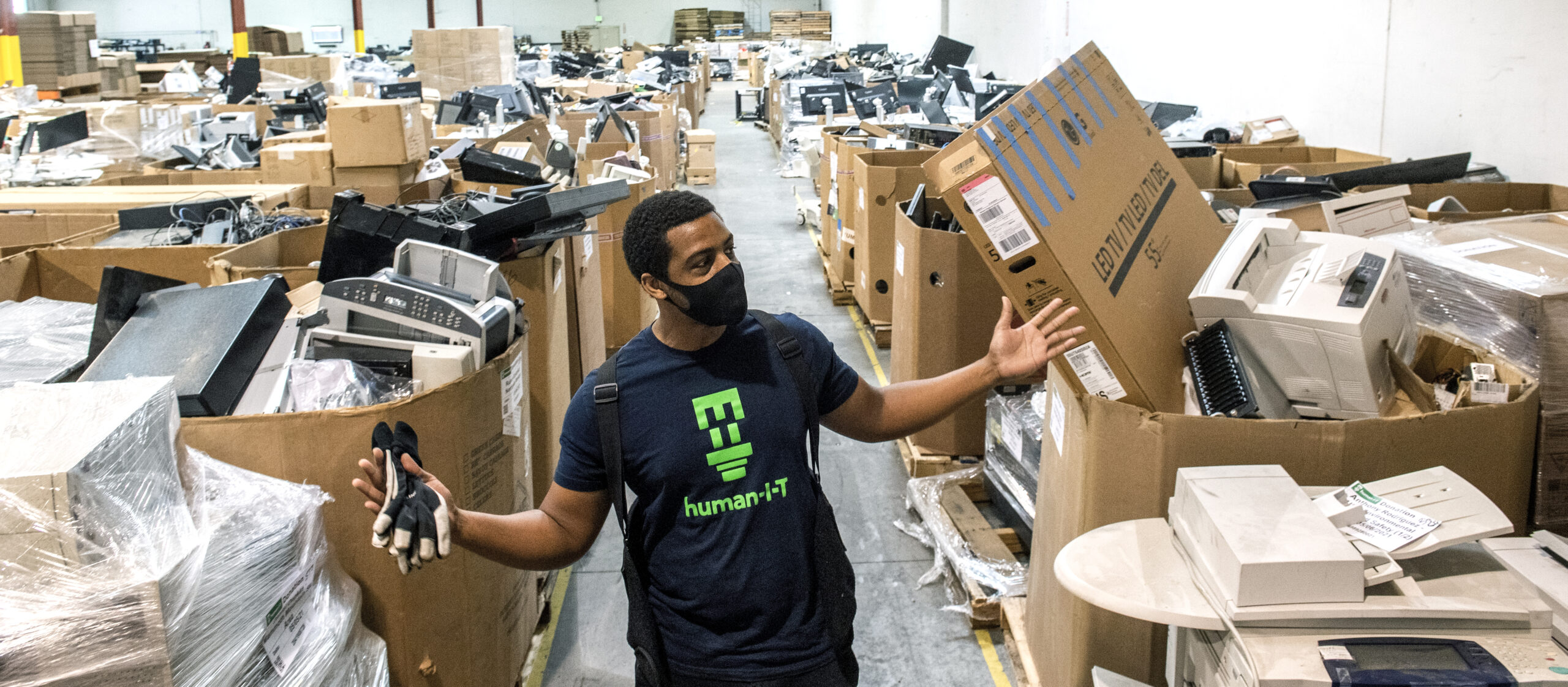 Because of the heightened urgency to connect families to the internet, while most businesses and nonprofits struggled through the pandemic—many not making it through—Human-I-T thrived. Over the past year, the nonprofit expanded, opening a facility in Detroit, its first outside of California.
Between Detroit, its warehouse in Bell and its Long Beach headquarters, Human-I-T staff has grown to 160. Middleton said that two-thirds of the staff joined the nonprofit amid the pandemic, with more on the way.
Monetary donations account for only 1% of Human-I-T's revenue, according to spokesperson Padric Gonzales. Upsell services, including data destruction for businesses and agencies that donate equipment, is a major source of income for the nonprofit. Additionally, some refurbished equipment, such as medical, can be sold for a small profit, Gonzales said.
In 2020, Human-I-T generated $18 million in donations—monetary and goods—and grant funding, according to Gonzales.
Human-I-T does not have any immediate plans for further physical expansion, Middleton said, noting that Detroit was a natural move as it is one of the most disconnected cities in the country.
Literacy training, a service the organization launched a year ago, already has supported about 2,200 people, Middleton said. To date, the nonprofit has helped connect about 68,000 households to the internet and has distributed about 70,000 devices.
"A lot of us take for granted our laptop, home internet, our smartphone, but … many are not connected," Gonzales said. "It's common for people to dismiss, 'Well it's only 15% of people who don't have access.' But 15% of millions of people, that's a huge number."