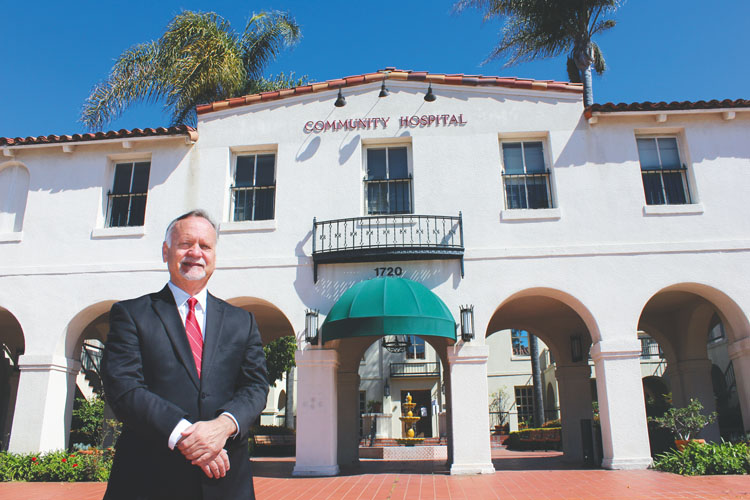 Although 4th District Councilmember Daryl Supernaw knew when he took office in 2015 that Community Hospital was located on an earthquake fault and that plans were needed to bring it up to state seismic code, he had no idea that the hospital's operator would eventually decide to close the facility rather than commit to upgrading it. Still, he knew challenges were on the horizon. So, almost as soon as he took office in 2015, he began preparing.
"We all knew that there was this June 2019 deadline. So when I took office in 2015, that was something that was definitely on my radar," he said. "In 2015, I started meeting with Matthew Faulkner, the president of the Community Hospital Long Beach Foundation. He and I met and discussed this deadline and what the plan was going to be," he recalled.
"From that point, early on, I knew that there were possibilities, there were configurations that would work to maintain its status as an acute care hospital," he said, noting that he had been talking to long-time hospital staff about the matter. "In California, in order to have an emergency room, you need to have an acute care hospital. And there are eight basic components in an acute care hospital. And those services have to be maintained," he explained, referencing state standards.
In 2016, Supernaw decided to take action. "I knew at a certain point this was going to take some money, so we cut down our operating expenses for the council office," he said. The councilmember began operating his office with just one staff person, and for a time, a paid intern.
"I knew I still had to provide all the services I was obligated to provide to the community," he said of his decision to cut back on personnel costs. "So it made us work even harder to do that to make sure we were on record for always answering calls and serving the community." He added, "My offer to the city manager's office was, whatever you need, we have money that we can donate to this cause."
In November 2017, the hospital's operator, MemorialCare Health System – which operates Long Beach Medical Center and Miller Children's & Women's Hospital – announced that it would be terminating its lease for Community Hospital within 120 days. The health system claimed that state regulators had confirmed the hospital would not be able to meet compliance with seismic standards by the June 30, 2019, deadline.
City management approached Supernaw about his offer, explaining that any funding he could provide would be best used towards a city-commissioned seismic study of the site to determine if the hospital could, in fact, be retrofitted. Supernaw gave $150,000 from his office's operating fund to commission architecture firm Perkins + Will to conduct the study.
"What we didn't know as a byproduct of that is that OSHPD and others have a great deal of respect for Perkins + Will," Supernaw said, referring to the Office of Statewide Health Planning and Development, which oversees seismic ratings for hospitals. "The fact that we were using them is huge. So I feel I really got a lot of bang for the buck."
The 27-page report concluded that the hospital could indeed be saved by retrofitting the historic portion of the structure and locating acute services – albeit reduced in scope – within it. Additionally, a power plant on site would have to be moved to the same side of the fault line as the hospital.
Ray Burton, chair of the Community Hospital Long Beach Foundation, said that the Perkins + Will report was critical to ultimately securing a replacement operator for the hospital. The findings of the report led the foundation to offer a $1 million grant to the city to help reopen the hospital, which closed in July 2018 when MemorialCare exited its lease agreement. The details of that grant are currently being hashed out, Burton noted.
"I feel like Daryl had the attitude of 'not on my watch,'" Burton said. "That he to the best of his ability would not allow the hospital to be closed if there was any possible way to keep it open. And, frankly, I kind of adopted that mantra as well."
Supernaw and the foundation have co-hosted several community meetings since the 2017 closure announcement, and the councilmember has kept his constituents informed with as many as 65 updates on the matter in his weekly newsletters, he said. Asked if his constituents knew what he had done behind the scenes to save Community Hospital, Supernaw said, "Well, they probably wouldn't know very much. It's just my philosophy that as an elected, they put their trust, their faith in me."
On March 12, the Long Beach City Council approved an interim lease agreement with a new hospital operator, Molina, Wu, Network LLC. The two entities are now working together to obtain state permits and meet requirements to reopen the hospital, including seeking an extension for seismic upgrades.
"I can't say enough about city staff. The job that John Keisler did was amazing," Supernaw said, referring to the city's economic development director, who led negotiations with MWN. "It's astounding to me that he wasn't a hospital expert going into this thing – probably had never dealt with a hospital. Nor had I. To get up to speed and know the intricacies is just amazing to me that he has done that, and done such a great job at it," Supernaw said. He added that his colleagues on the council also all supported him in ensuring that the hospital in his district – which serves all of East Long Beach and some of West Orange County – would reopen.
Through the interim lease agreement, the city has committed to paying $1 million annually for five years, and $2 million annually after that, for a total of $25 million toward the hospital. A long-term deal is currently being negotiated. Supernaw noted that the city has an annual budget of about $3 billion, and that it would be a good candidate to receive grants to offset its costs. "Remember, we're a city with an airport and a port. We have vulnerabilities that the Feds would recognize [and] the state would recognize that we might need all the medical help we can use here. So I think we're a great candidate for grants to help defray that cost," he said.
"I think we're on the right track," Supernaw said. Then, reflecting: "I never flinched, I never gave in at all, I never was discouraged. I just kept at it."