After the Brent and Western Texas Intermediate (WTI) crude oil benchmarks reached a four-year high in October, the Energy Information Administration expects prices to remain steady into next year. Prices are forecast to average $74 per barrel (bbl) by the end of 2018, a marked improvement over 2017's $54.25 bbl.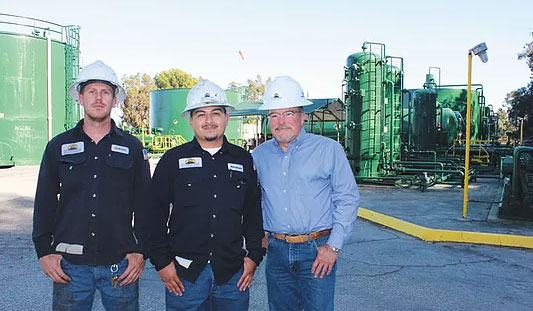 The oil and gas industry is a major employer in California, responsible for 1.6% of California employment and 2.2% – or $33 billion – of its labor income, according to an analysis by the Los Angeles County Economic Development Corporation. The industry generates $26.4 billion in state and local tax revenues.
"We are in a good economic environment for oil and gas production. Prices are up," David Slater, executive vice president and chief operating officer at Signal Hill Petroleum (SHP), told the Business Journal. After deactivating some of its rigs during the 2016 slump, Slater said he is excited to get SHP's larger rig, Rig No. 6, back online.
Operating mostly in a three-square mile area of the Long Beach Oil Field, SHP employs 100 workers and oversees 476 wells, 276 of which are currently active. The company produces some 3,100 barrels per day.
Though Slater is optimistic about the future, he said that the company never forgets it is in a commodities business.
"We have no control over the price of our product," he emphasized. "The only thing that we can control is the cost to get it out of the ground. So we're very focused on that."
When prices fell sharply in 2014, the company pulled back on discretionary spending and was forced to downsize its workforce. "It's always painful," Slater acknowledged. Now, with prices up and expected to remain steady, SHP is rebuilding its drilling team. "We're actively recruiting and hiring right now," he said with a smile. "If you know anybody, send them our way!"
Thus far, SHP has drilled to depths of over 14,000 feet and has yet to find the bottom of the reservoir. Slater called the Long Beach/Signal Hill oil field "amazing," with new technology giving the company a whole new perspective.
"Acoustic imaging and 3D seismic [technology] allows us to better understand what the earth looks like," he said. 3D seismic imaging technology sends multiple sound waves into the ground to create detailed images of what lies beneath the surface, including places where oil might be trapped.
"That keeps our industry able to cost-effectively find more oil and keep producing it," Slater said.
Communication & Community
Both the California Division of Oil, Gas and Geothermal Resources (DOGGR) and the South Coast Air Quality Management District, which regulate well operations, have referenced SHP as a model facility, Slater said. He credited his company's efficiency and community relations.
Because SHP operates throughout the 2.2-square-mile City of Signal Hill, its top priority is reducing impacts, such as noise and smells, for its neighbors.
"There's no small complaint," Slater said. "A call to our company with a complaint – be it an odor, a noise, traffic interference – and 20 people are immediately notified. One of our supervisors will say, 'Okay, I'm on this, we're dispatching people.' And there's a constant communication, reporting back, until we get the problem solved."
It's that kind of communication and community involvement that Catherine Reheis-Boyd, the president of the Western States Petroleum Association (WSPA), believes has been missing from the industry's media equation.
"One thing that we are trying to do a much better job at is really connect with communities in areas that we operate in – and areas that we don't – in a much more human way," she said. WSPA put this concept into action when Assembly Bill (AB) 398, an extension of California's cap-and-trade program, and AB 617, an air quality management bill, were under consideration by the state legislature. Both bills were signed into law in July 2017.
"Many people thought it was odd that the oil and gas industry supported an extension of the most aggressive climate change policy in the world," Reheis-Boyd said of AB 398. But the industry would get nowhere opposing California's rigorous environmental ambitions, she added. That's why WSPA wants to keep the table open for negotiation, to work with, rather than against, the regulators. "If you just had the cap, it would be unsustainable," she said.
In cap-and-trade, the "cap" is the upper-limit to the volume of emissions a company is allowed. The "trade" is how companies can buy and sell allowances for those emissions, which gives operators flexibility when it's more cost-effective to drill. Companies with lower emissions can sell their excess allowance to companies facing higher costs. "For businesses, trading is a mechanism," Reheis-Boyd said, "a market mechanism, that allows the business flexibility and . . . choices to keep the costs down."
Higher Global Oil Prices Lead to Higher Investment
"When the LBBJ asked us about the price of oil back in January, we predicted it would be around $68 a barrel at the end of 2018," Ralph Combs, manager of regulatory, community and government affairs at The Termo Company, told the Business Journal via e-mail. "So far, so good."
Termo, an independent oil and gas producer, owns 26 wells in the Long Beach and Signal Hill area, 21 of which are currently active. With oil hovering around $70 per barrel, the company is moving forward with operations they had postponed over the last couple years. It is working to reactivate several of its idle wells.
"We are hiring people and growing our business, so that is good for us and Long Beach," Combs said. "Our capital budget this year is more than double what it was last year," Combs said, "so we are busy."
Combs, who started working for Termo at the age of 16, said the biggest change in the company is its emphasis on safety and environment. "We were strict about it then; now we are order of magnitudes stricter."
Bob Grundstrom, leader of the Los Angeles basin for California Resources Corporation (CRC), said his company also puts a premium on environmental safety. "'California is not just part of our name," Grundstrom said. "It is part of our heritage. Being Californian drives the mindset behind how we operate. Our singular focus on this great state, its rules and regulations, in addition to its tremendous resources and people, is a significant advantage for CRC."
The largest privately-held mineral acreage holder in California and its largest oil and gas operator, CRC employs approximately 4,000 workers. Since its formation in 2014, the company has generated over $1.4 billion in state, local and payroll taxes and State Lands Commission revenues. Over the last 15 years, CRC's unique production sharing contracts in Long Beach have earned the city and state more than $4.7 billion from local oil production.
CRC is continually investing in drilling and production technologies that minimize its footprint and more efficiently pump from the state's reservoirs.
"By applying new data analytic tools like machine learning, we're developing predictive technology for more routine tasks that free up our engineers' time and allows geologists to focus on high-value development opportunities," Grundstrom said.
Both Grundstrom and Reheis-Boyd discussed the unique upward mobility that the oil industry provides.
"We are able to employ people who are straight out of high school who have no training," Reheis-Boyd said, "and we're able to provide opportunities that are unheard of." Grundstrom said that one-third of the oil and gas workforce has only a high school degree, and the average salary of a person working in the industry is over $84,000. For comparison, the National Center for Education Statistics reported that, in 2015, median earnings of adults aged 25 to 34 who held only a high school diploma was $30,500.
"CRC is a champion of working families," Grundstrom said. "Individuals who do not have a college degree can earn well above a living wage and support a family."
Long Beach Energy Resources: 2018 A Strong Year
The year-over-year rise in oil prices has been a boon to the City of Long Beach Energy Resources (LBER) Department, which had budgeted oil at $50 bbl for fiscal year 18. "We're forecasting actual oil prices for 2019 somewhere in the mid-seventies," Bob Dowell, the director of LBER, said. "Seventy- to seventy-five dollar range is what the analysts are saying. Thus far, 2018 has averaged about $68.50 [on the WTI crude oil pricing benchmark]. Wilmington refineries tend to pay two to three dollars more than those prices, so you can kind of see the neighborhood of where they've been."
In all facets, Dowell added, it was a strong year for LBER. His department met and exceeded most of the goals and targets that were established at the start of the year (the city's fiscal year runs from October 1 through September 30). Oil production met its target of 10.2 million barrels of oil produced, and LBER completed its Advanced Meter Infrastructure (AMI) project for its natural gas distribution. AMI is an integrated network of smart meters, communication collectors and data management systems that improves reading accuracy to 99%, reduces carbon dioxide emissions and saves on costs.
"We're very fortunate to have some of the expertise and technology that we have," Dowell said, "and a very strong system for the residents both within Long Beach and Signal Hill."
LBER oversees oil operations in the Wilmington Oil Field, at one time the third-largest producing oil field in the United States. The majority of revenue from its more than 2,000 active wells is transmitted to the state, but the city estimated that it would receive $10.69 million in the Tidelands Operating Fund and $8.91 million in the Uplands Oil Fund for fiscal year 2018. "While FY 18 books haven't been finalized," Dowell said, "we fully expect to hit the budgeted numbers and most likely slightly exceed them."
The Wilmington Oil Field assets have declined over time, but advancements in technology have enabled operators to pump more efficiently and prolong its lifespan, Dowell said. He reported that current economic projections show an end-of-life for the field in about 17 to 20 years.
LBER, formerly Long Beach Gas & Oil, has been operating for almost 50 years with assets spread across the city, and including the THUMS oil islands. Strong oil prices, Dowell said, encourage further exploration. "If oil was $20 a barrel, it would change the economics of those operations pretty drastically," he added. "Stronger oil prices have certainly extended the life of that field."
Like Slater, Dowell is proud of the city's drilling record and its adherence to California's stringent environmental and operating regulations. "Because of that," Dowell said, "and because of the environmental stewardship that the operators all take very seriously, there's an outstanding record of the oil and gas industry within the cities of Signal Hill and Long Beach."
On "the other side of the house," as Dowell put it, LBER oversees natural gas distribution. "We've had pretty good gas prices," Dowell said, but higher summer temperatures raised demand for electric generators that power air conditioners. July 2018 was the hottest month in state history, according to the National Oceanographic and Atmospheric Administration. Consequently, Long Beach is entering its winter with the lowest amount of gas in storage since 2005. LBER is a customer of the Southern California Gas Company, where storage levels and fields have been reduced. The company experienced pipeline issues last winter, which Dowell hopes will not be repeated.
"That's a little concerning," Dowell said. "If it's a very cold winter, we might see an increase in natural gas prices." For now, Dowell forecasts prices will stay at about $3 MMBTU (one million British Thermal Units) for Long Beach and Signal Hill. "Residential folks shouldn't see much change in their gas bills going into winter."
Dowell concluded by reminding city residents to always call his department's 811 number before digging on their property. "You'd be surprised at how many instances there are of people digging into their own service lines," he said. "Even in construction areas. There are contractors that go out there and start trenching and digging without notifying us and having all the utilities marked. It happens more than you'd think."
Looking To The Future: Declining Production And Consumption
Despite the ongoing boom in U.S. oil production, California production continues to decline. At its 1985 peak, the Golden State pumped out nearly 1.1 million barrels of crude per day. That output steadily declined 56% from 1985 to 2017, according to data from the U.S. Energy Information Administration (EIA). Meanwhile, oil production in the rest of the U.S. increased more than 147% between September 2007 and July 2018, according to Gordon Schremp, senior fuels specialist with the California Energy Commission.
"California's decrease in the state crude oil rankings is not due to a faster decline rate than other areas," Schremp wrote in an e-mail to the Business Journal. "Rather, it's due to the fact that oil production has rebounded in other states to allow some of them to pass California." New advancements in hydraulic fracturing and horizontal drilling have made it possible to mine the shale formations in the Permian Basin beneath Western Texas and Southeastern New Mexico, he noted. California's Monterey shale is thick and, due to its geology, not as easily cracked by horizontal drilling technology.
Excluding federal production figures for the outer continental shelf, California was ranked third in domestic production as of January 2010. By July of this year, when total U.S. oil production tallied a record 10.964 million barrels per day, California had fallen to fifth place. Alaska is expected to surpass California later this year, Schremp said, after maintenance on the Trans Alaska Pipeline is completed. Soon, Colorado may also overtake California.
Despite its declining production, California retains the third-largest share of petroleum reserves in the country, according to the EIA.
Though the most populated state in the nation, and boasting its largest economy, EIA reports that California "has one of the lowest per capita total energy consumption levels in the country." The state's "extensive efforts to increase energy efficiency, along with the implementation of alternative technologies, has restrained growth in energy demand," EIA wrote in its October 2017 state energy profile analysis. Per capita energy use in California's residential sector is lower than that of every other state but Hawaii.
In its 2018 California Gas Report, the Southern California Gas Company (SoCalGas) projects that total gas demands will decline in Southern California at an annual rate of 0.74% from now to 2035. This is due to a combination of several factors, including modest economic growth, mandated energy efficiency from the California Public Utilities Commission, tightening standards, decline in commercial and industrial demand, and conservation savings linked to AMI. SoCalGas notes that this slightly more pronounced decline from the 0.7% projection made in 2016 is due primarily to stricter goals on the energy efficiency portfolio. Long Beach's gas use is expected to decline from its 2017 level of nine Bcf (billion cubic feet) to eight Bcf by 2035.
In September, outgoing Gov. Jerry Brown signed Senate Bill 100 into law, setting a target for the state to use 100% carbon-free electricity by 2045. He also signed an executive order (B-55-18) to put California on the path to full carbon neutrality by 2045. The order is aspirational and sets no definite mandates for how it will be achieved.
"That's tricky," Bob Dowell said. "I think there's probably more questions than answers with that. And there are some significant technological advancements that have to be made for that to be fully met. We'll have to have some resiliency of our grid observed." Dowell believes that there's still an opportunity for the state to utilize natural gas and bio gas rather than a fully renewable mix.
For Catherine-Reheis Boyd, the zero emissions policy of SB100 is not entirely practical. Neither, she noted, was proposed legislation that would have banned the sale of internal combustion engine cars by 2040. That bill was held in committee and never made it to a full vote of the legislature. "There's this sort of false belief that a sustainable energy future can be achieved without oil and gas," she said. "The federal government estimates that we're going to continue to make 80% of our energy needs mix through 2040 through our industry, through fossil fuels."
The state is at a tipping point, she said. To grow beyond the old conflict of industry vs. environmentalists, Californians need to reframe the process as a collaboration. "We can either plan for our future intentionally or deal with this in a real, constructive way, or accidentally, which will have all kinds of consequences that aren't helpful. It's a different way for all of us to look at it, but it's absolutely necessary if we're going to get to any kind of sustainability going forward."