As the state takes steps toward establishing a cleaner and more efficient freight system, it opens the door for employment opportunities in fields that range from management and public policy to engineering and computer science, according to Center for International Trade and Transportation Executive Director Tom O'Brien.
O'Brien is conducting a study on the workforce implications of the California Sustainable Freight Action Plan, a widespread policy effort to address the state's economic, environmental and transportation needs. It was developed in response to a 2015 executive order from Gov. Jerry Brown, according to the state's website for the plan.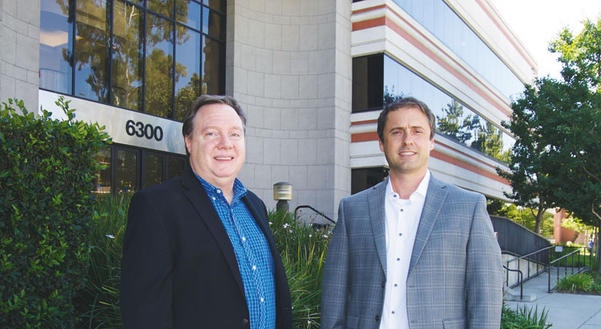 Dr. Thomas O'Brien, left, is the executive director of the Center for International Trade and Transportation (CITT) at CSULB and an associate director for the METRANS Transportation Center, a partnership of USC and CSULB. Dr. Tyler Reeb is director of research at CITT and associate director of the Southwest Transportation Workforce Center. (Photograph by the Business Journal's Larry Duncan)
The plan sets forth goals to meet by the year 2030. These include engaging more than 100,000 freight vehicles capable of running without emissions, improving freight system efficiency by 25%, and establishing benchmarks for competitiveness and economic growth.
"We hear a lot from employers that there's a need for people with critical and analytical thinking skills that take a wide approach to problems," O'Brien said regarding what it will take to make the plan's goals a reality.
O'Brien envisions opportunities for graduates from supply-chain programs whose expertise ranges from the economics of freight movement to the engineering of electrical systems.
The South Bay Workforce Investment Board (SBWIB), a social service and employment agency,  is helping to develop a program that will incorporate apprenticeships into training for aerospace engineers.
"It's unique because you don't usually think of engineers as being apprentices," SBWIB Executive Director Jan Vogel said. "But we think it will be a good template for other occupations and other employers who would like to do similar things." He added that it is a "short jump" from aerospace to civil engineering, which would directly benefit the California Sustainable Freight Action Plan.
The intention, Vogel said, is to give employers the opportunity to customize the apprenticeships based on the skills they need to create a "career pathway."
Vogel said his organization is in the process of submitting the program application to federal and state officials. Partners include the manufacturing training program Tooling U-SME, West Los Angeles College and El Camino College.
Trucking is another trade that may undergo some modifications as more jobs utilize automation and technology.
"The drivers of the trucks could potentially go away if there's a demand for more autonomous vehicles," O'Brien said. "It won't happen in the short term, but it is something the industry is looking at."
He said a potential solution is to broaden the base of training for truck drivers so they are more adaptable in the future.
"What if the people who operated the vehicles got additional training in maintenance, robotics or information systems? Because the vehicles are going to rely on advanced communications. There's ways to develop skills, but you have to be able to look beyond traditional career pathways. If you're pursuing a commercial driver's license, you're limited in what you can do because the training is so specialized."
O'Brien clarified that this is a long-range consideration since truck drivers are the biggest lead for employment according to short-term labor market data, he said.
Chris Shimoda, director of policy for the California Trucking Association, expressed a similar viewpoint. "A 21-year-old, at the minimum age to obtain a commercial driver's license, is very unlikely to lose their job in their career lifetime."
Shimoda said the current stage of development for automated technology in trucks is at the same level as that in cars, the driver-assist level.
"The most likely outcome of progressively automated functions is the need to have a driver behind the wheel to operate the system," Shimoda said.
O'Brien said any trepidation from certain industries regarding environmental regulations stems from uncertainty rather than the changes themselves.
He reflected, "Everybody wants clean water and air. The question is, how are the changes implemented over the time period. Does the industry have some opportunity to adjust? Is the technology feasible but commercially viable? What's the true cost of the regulations over time?"