Although Kent Peterson does not officially take over as chair of the board for the Long Beach Area Chamber of Commerce until July 1, he is already making moves to grow the organization's membership, put a heavier emphasis on small business, and create a more engaged and active board.
Peterson is a longtime Long Beach area local and businessman. His family moved from Wichita, Kansas, to Cypress in 1969 after his father snagged a job at McDonnell Douglas in Long Beach. He and his family still live in the area. "I have three sons. . . . And my wife I met when she was still in high school. I had just graduated high school," Peterson said. "We got married as soon as I graduated from Cal State Long Beach."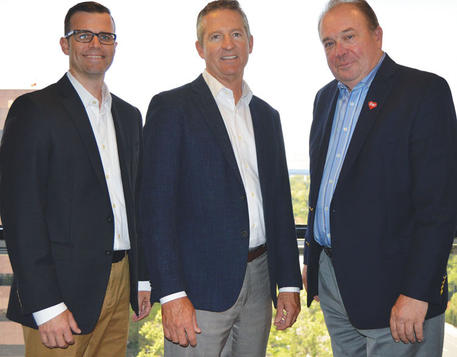 Kent Peterson, center, of P2S Engineering is pictured with chamber staffers Jeremy Harris, left, senior vice president, and Randy Gordon, president/CEO. Peterson will be installed as chamber board chair during the chamber's 126 Annual Gala on June 22. (Photograph by the Business Journal's Larry Duncan)
Peterson noted that he and his identical twin, Kevin, whom he co-founded Long Beach-based P2S Engineering with, grew up with an entrepreneurial spirit.
"We started our first business at 14 [years old] painting houses because our mom said, 'Get out of the house and go do something. Why don't you go paint houses in the neighborhood, and you guys can just start up your own business,'" Peterson recalled during an interview at the Business Journal's offices. That was his first venture with Kevin. "Always had it in our blood," he said.
Both Kent and Kevin attended California State University, Long Beach (CSULB), where they studied engineering. At age 17, Kent went to work for a local engineering firm run by John Sosoka. Kevin went to work for Sparvan, another local engineering company. The firms eventually merged, bringing the brothers together in the workplace.
It wasn't long before the twins put together their own business plan and set out with Sosoka to form P2S Engineering in 1991.
"We might have gone six or seven months without even drawing a paycheck," Peterson recalled. "I mean, here we are, 27 with young families [and a] mortgage for the house. It was like, OK, let's figure it out. We're going to have hot dogs, pinch our pennies and recycle the cans. That seems like just yesterday, but it has now been 26 years."
In the first year, the firm grew to 25 employees. Now, P2S has about 175 employees with plans to grow to 300 within five years, according to Peterson. A satellite office in San Diego employs 20 people.
As chair of the chamber, Peterson plans to place an emphasis on small business outreach and mentorship, in part by drawing upon the experience of the board. "My priorities are kind of multipronged, but there is certainly a big focus that we've made in the last few years about small business, you know, trying to take it to another level," he said.
The first step: "We are starting a new small business council," Peterson said. "And we are defining small businesses as 25 people or less." Wayne Slavitt, owner of Mobül on Bellflower Boulevard, is chairing the council.
At the chamber's annual retreat, the board decided to commit to mentoring any new small business owners who become members, Peterson said. To start that process, boardmembers have been surveying local small businesses, both members and nonmembers, about their two biggest challenges.
"It depends a lot on where you're at in Long Beach with your business. But if we're talking about the downtown businesses, it's parking and homelessness problems," Peterson said of the responses. "A lot of people talk about affordable housing for their employees if they want to live close. Several came back and said the slow permitting process that the city has. And certainly, the common theme was labor cost increases, insurance costs for health insurance, and the access to capital."
Peterson has personally advocated for the city's 10-year economic blueprint to address creating "a better incubator system within the city to attract, encourage [and] support entrepreneurs that have business ideas and want to start something." The chamber has committed to participating with the Long Beach Council of Business Associations    in the implementation of the blueprint by acting as a kind of concierge for small business services and support, he noted.
As chair, Peterson is overseeing a 51-member board, a number set by the organization's bylaws. "I have run a lot of boards and nonprofit boards over the years, and the one thing that frustrated me a little bit when I got on the chamber board is it seemed like a board that was reported to as opposed to a board that acted," Peterson said. "And it's difficult when you have a board of 51 to really do that. . . . I mean, you get these brilliant minds around the table, and they want to be engaged. They don't want someone just reporting to them to tell them what's going on. It's like, use my mind."
In Peterson's opinion, 51 members are too many for a board. "It is in the bylaws, but bylaws can always be changed by the membership," he noted. The majority of boardmembers are not small business owners, but as Peterson pointed out, that is in part because most small businesses owners do not have the time to participate. The chairs of the chamber's various councils are all automatically appointed to the board for their terms.
"But as far as the rest of the boardmembers, the leadership cabinet has certain functions they are doing, whether they happen to be in charge of membership or . . . business development. I don't think they are engaged enough. [That] has been my experience," Peterson said. "And the engagement has to be driven by the chair. The chairman of the board that really says, 'This is what I expect you to do, and this is how I want to use this board.'"
As chair, Peterson is also prioritizing growing chamber membership. "One of the things that we definitely are on track right now to improve is the quantity of members," he said.
In the past year, the board reached out to businesspeople about their challenges and why some did not renew their memberships. "A lot of times it was like, 'Well, I am not really seeing what the chamber is doing for me other than the fact that they are a voice for the business community.' A lot would say, 'I don't have time to deal with this,'" Peterson said.
"If you can provide what they are looking for, I think you have a better chance of getting members. Even if you don't get the member, you have a better chance of connecting with people and making Long Beach a better business environment," Peterson said of the outreach.
"We're trying to grow our finances so we can get better at doing our membership promotion," he added.
The Long Beach Young Professionals group of the chamber, which is for local professionals under age 40, has been doing well and has about 175 members, according to Peterson. "It's getting them to understand the different businesses that are happening, to understand as a young professional in your 20s and 30s what it means to network with these other businesses, what it means to the other people in Long Beach," he said of the group.
When it comes to city relations, Peterson said he has met several of the councilmembers but hopes to meet with the remaining ones as chair.
When asked what city policy he would like to change, Peterson addressed the city's requirements for contracting out for services. In one instance, seven out of 15 companies that submitted applications for a contract were from Long Beach, but none of those were shortlisted by the city, according to Peterson. P2S raised the issue with councilmembers before the contract was agendized for a city council meeting.
"So when it came time to approve the contracts, it came up. And the city councilmembers rightfully raised their hands and said, 'Why aren't there any Long Beach businesses?' And they had no real answer. And [the council] went back and said, 'We want you to go back and relook at this,'" he recalled.
The Port of Long Beach, which is run by the city's harbor department, has a good system for contracting out locally, however, he noted.
Asked whether the chamber is doing anything to reach an end to labor disputes led by the union Unite Here at the Westin Long Beach and Renaissance Long Beach hotels in downtown, Peterson said the chamber's Hospitality Alliance has been working on the issue.
"We're paying for videos to be made to kind of shoot responses out there on Twitter that are [of] actual employees of these hotels saying, 'This a great job, and I work here. And the benefits are good,'" he said. "I mean, it's basically trying to counter the black smear that the unions are doing at the same time. I don't know how you get rid of them."
As chair of the board, Peterson does not chair the chamber's political action committee (PAC), dubbed the Long Beach Jobs PAC. "The PAC is a completely separate entity," he said.
"Financially, the funds are independent. It's all separated. It's not part of the chamber budget," Peterson said. "Now, the PAC will report to the chamber board and they will make some recommendations, and then the chamber board has to decide what we're going to support and not support in terms of our voice. But the chamber board makes no decision on what dollars go behind what candidates."
Overall, Peterson wants to ensure the chamber engages business owners in Long Beach and understands its obligation to the Long Beach community.
"If I look at what Long Beach is today and even compared it to 1981 when I started working here, it is very vibrant," Peterson said. "There are a lot of things happening, and it's exciting. . . . I look at the community, and I have to just say in awe, there's the residents, the civic leaders, the business leaders that have been here for generations and had the foresight and the vision of what this community needed to be and to follow through with those action plans to get us to where we're at today."
He added, "We need to continue to make that happen – now and in the future – and have some vision of what we really want this community to be."