The mitred parakeet is a staple of the Long Beach community, with flocks frequently spotted soaring over various neighborhoods. The bright green birds with red faces—and the ruckus they cause—pushed graphic designer Christopher Diaz to launch a new clothing company aptly named Squawk.
"The parakeets are famous in Long Beach, they're kind of an icon. So I was inspired to create some cool shirts," Diaz said. "I wanted an original design that I would wear myself and I knew my friends would want to wear, and it just kind of escalated from there."
The vision for a clothing company began to take shape for Diaz last year. While the coronavirus pandemic has created new challenges for every facet of life, Diaz said it was the perfect opportunity to hunker down and get his brand off the ground. He still holds his day job as a graphic designer with Costa Mesa-based EnGenius Technologies while creating designs and managing Squawk during his off hours.
Diaz has done work for several major apparel brands and retailers, including Billabong, Quicksilver, PacSun and Skechers. Having designed for such prominent companies, Diaz said he felt ready to take on the industry on his own.
Two weeks ago, Diaz officially launched his website with five shirt designs, a hoodie, a windbreaker, a pair of socks and, in true coronavirus-era fashion, a face mask.
Blank apparel is purchased by Diaz from a company in L.A. but he has his merchandise printed at Overcast Design and Print, a screen printing company located on Long Beach's Westside.
"I'm proud to be from Long Beach. I wanted to bring business to the city," Diaz said. "This brand is about pride for Long Beach, so I wanted to keep it here."
The screen printer is still working with Diaz to bring his favorite design to life: a denim Hawaiian-style shirt with a parakeet print. He said there are a couple other designs that have not yet been released.
 

View this post on Instagram

 
Squawk has quickly become a family endeavor, with Diaz enlisting his mother, Arlene, and his sister Diane—who live together in a Long Beach house—to act as his warehouse and distribution team. His full stock is folded, packaged and stored in their spare bedroom, and they handle the shipping of orders.
Diaz said he is happy with his life's current trajectory and that he is optimistic about the future of his brand but noted it was a long road to get to this point.
"This November will be my fifth year of sobriety. I used to drink a lot and I'm just grateful to be alive," Diaz said. "I've been through a lot. A lot of things have propelled me in this direction."
Now 45 years old, Diaz was born and grew up in the Boyle Heights neighborhood of East Los Angeles. When he was 5, his family—his mother and two older sisters—moved to Long Beach, where he has stayed except for a couple years while attending Otis College of Art and Design and a five-year stint in Orange County while working for Billabong.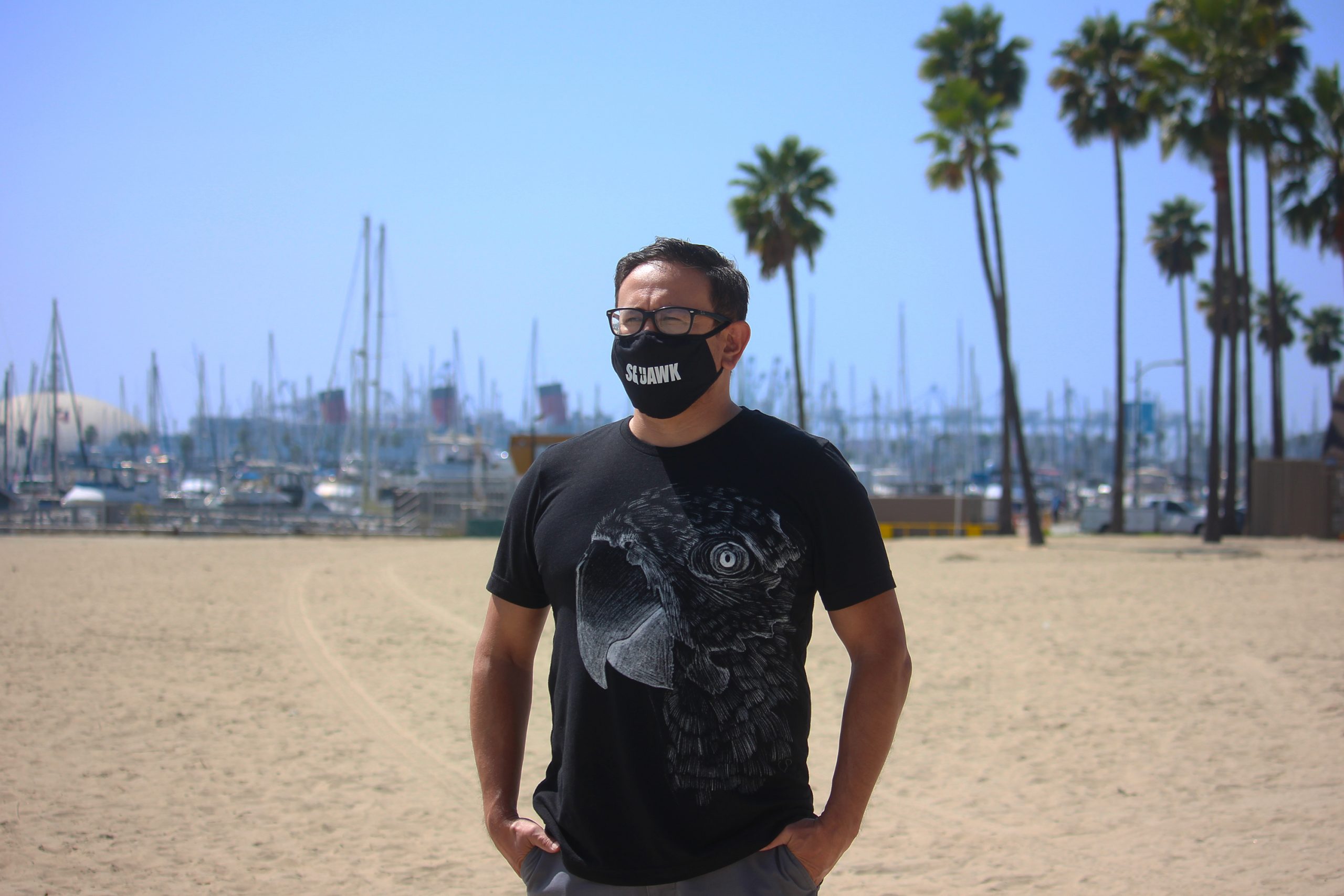 Prior to attending Otis, where he obtained a bachelor's degree in graphic design, Diaz attended Long Beach City College. He has recently returned to the community college to take photography classes. Diaz also recently was accepted to a master's program for integrated design, business and technology at USC.
Though juggling a full-time job, going back to school and operating a new business is a challenge, Diaz said he is confident in his product. It doesn't hurt that work and school are currently also online, he added.
"Clothing is tough but I've got some original ideas and I've got some original work," Diaz said. "I think people are going to love it."