Want to hear directly from the business owners we interviewed? Check out the latest episode of the Long Beach Business Podcast below.
Walking down the western part of Anaheim Street, just before the thoroughfare crosses the Los Angeles River, one can't shake the feeling that something is afoot. Once dominated by industry, low-profile watering holes and a rough reputation, the corridor has attracted a slew of new businesses in the past couple of years, including a brewery, new bars and a climbing gym.
Kyle Flavin, owner of The Hawk on Anaheim Street and the recently opened Darlings on nearby Long Beach Boulevard, said the economic potential of the neighborhood was part of the reason he and his business partners decided to invest in Central Long Beach. "We felt like there were a lot of really interesting businesses that were going to file in along this strip on Anaheim," Flavin explained.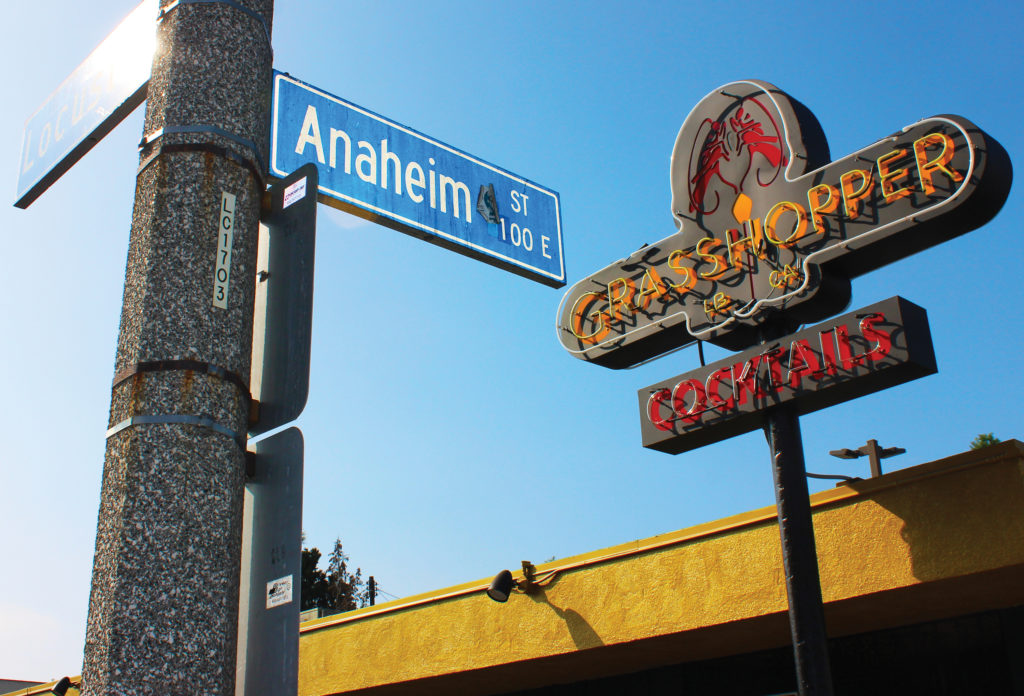 The influx of new businesses in the area suggests that Flavin was onto something. Just in the past few months, two new businesses – a cocktail bar called The Grasshopper and the Long Beach Rising climbing gym – have opened across the street from each other. Together with the Trademark Brewing company, which also opened its doors this year, the businesses form a new entertainment hub on the corner of Anaheim Street and Locust Avenue.
Before opening his two bars, Flavin did his research, reaching out to the city's economic development department and the Willmore City Heritage Association to find out more about the neighborhood's past – and its likely future. "We liked this side of town, we wanted to invest in this side of town, due to some of the things that we had studied . . . the growth that could potentially happen over here," he noted. "We fell in love with what was going on over here. We felt there was an energy, we felt there was a dynamic buzz that continued to build."
That buzz seemed familiar, Flavin said. "I used to work in Downtown L.A. right when the Arts District was thriving, and it's interesting how businesses and artists always seem to congregate in an industrial area, because of the low rent and the ability to do something like music, art or culture, and not really be disturbed," he noted.
Lower real estate costs and the neighborhood's unique mix of industrial and residential properties were what attracted Grayston Leonard, owner of Long Beach Rising, to this part of town. "Every single business's biggest hurdle is overhead," Leonard explained. "And for us, because this wasn't a developed area, we could afford it."
The climbing gym is located in the historic Packard Building, which was renovated by local developer Millworks. Formerly a showroom for a car manufacturer, the building offers the ample space required to set up climbing walls, while glowing with an airy historic charm. "The fact that [this building] was still standing was huge, and the fact that we could afford it was incredibly enticing," Leonard noted.
Now, Leonard is hoping to collaborate with neighbors like Trademark Brewing to come up with event concepts that make use of their combined spaces and shared parking lot. After seeing innovative multi-use concepts such as Badeschiff in Berlin – a beach bar, music venue and nightclub that features a swimming pool floating on the Spree river – and the Brooklyn Boulders climbing gym in New York, which regularly hosts live music and other events, Leonard felt inspired to bring something similar to Long Beach. "So the question is: How do you work within what you're allowed to do while at the same time trying to stretch it a little bit?" Leonard explained.
While local zoning codes and permitting requirements can make implementing out-of-the-box ideas tricky, Leonard hopes that together with the entrepreneurs around him, he can create a unique destination that adds to the neighborhood's resources and brings in clients from all parts of Long Beach to this part of town.
But an influx of businesses attracting a new clientele to the neighborhood can also spark fear of gentrification and displacement. Ron Smith owns the Long Beach Kickboxing Center, which has been in the neighborhood since 1987. Smith is hopeful that the new establishments will bring business to the area, but he also has his concerns. "You wind up having mixed emotions. You like the new businesses and the facelift, but you wonder about the people it affected negatively," Smith said. He is especially worried on behalf of the many homeless residents who have long sought refuge in this part of town and might soon have nowhere to go. "That's the only thing I worry about, the increasing homeless situation," he noted.
When asked about the issue of gentrification, Leonard's response made it clear that he has spent a lot of time pondering his role in that process. "Everyone wants to be that person who brings something new to an area that's positive and find a way to integrate with [the existing neighborhood]. And you don't want to be the gentrifier," Leonard said. "We inevitably are." As a young person starting a new business, he didn't have the necessary funds to set up shop in one of the city's more established business districts, he explained.
But, Leonard noted, more economic activity in the area has already sparked investment in public infrastructure by the city. An alleyway behind his business that had been unpaved since the city's founding was finally paved. Sidewalks are being power-washed. Soon, Leonard hopes, there will be more streetlights and trash cans in the neighborhood. And despite some critics, he noted, the response from the community has been largely positive. "Most people [who] have come in and interacted with us are extremely happy we've actually done something," he said. "These buildings were vacated and abandoned for a really long time."
Flavin echoed that experience. "We expected more adversity, maybe apprehension or resistance to what we were doing. But we felt like it was pretty well embraced," he noted. "On this side of town, people are encouraged and they're looking forward to what has been developing."