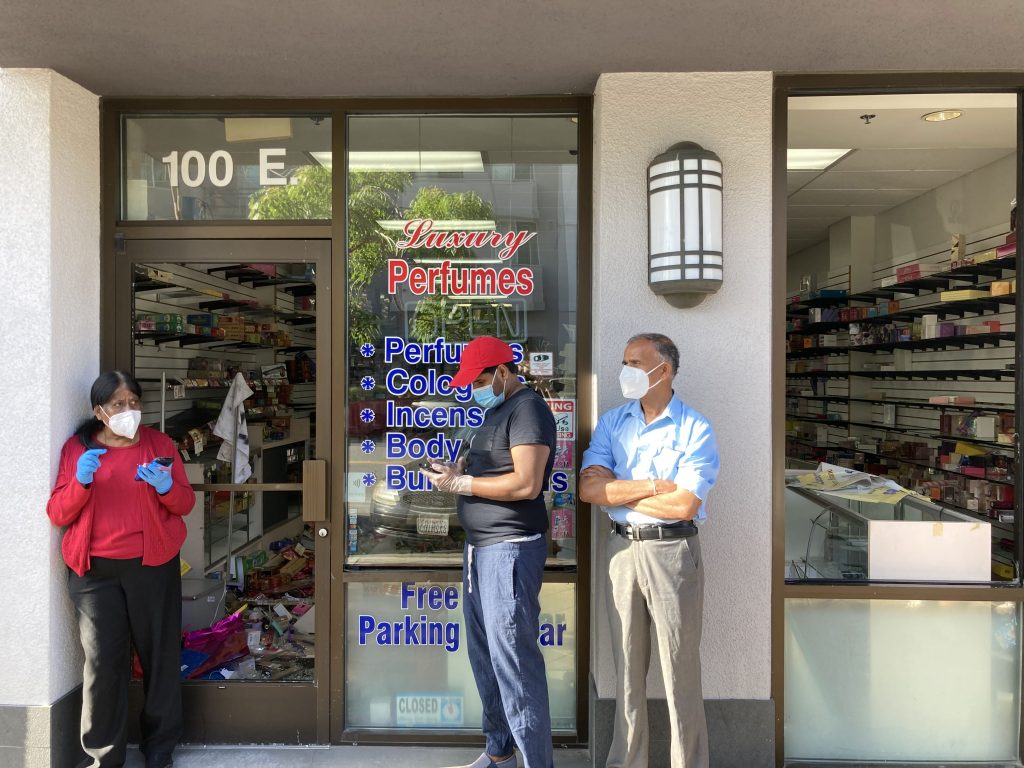 Just a few days ago, many Long Beach businesses rejoiced: After over two months of lockdown orders, they were finally allowed to reopen with safety protocols in place. 
But after a night of both peaceful protests and violent rioting Sunday, many business owners across the city found their bars, restaurants and retail stores in shambles. 
Chandrika Wick, owner of Luxury Perfume on 4th Street, on Monday stood amid the shatters of her family business, the smell of perfume wafting from broken packages, bottles and glass cases inside the store. 
"I heard about it on the news," Wick said of the looting. 
In the morning, the destruction was evident. The store's front window was shattered. Every display case inside the small store had been smashed.
Wick and her family had planned to reopen at the end of the week, after being closed for two months due to the coronavirus lockdown. "Perfume is very expensive and the profit margin is very small," she said. "We need help from the city, some money, to reopen."
The destruction came days after county and city officials announced they had received permission from the state to begin allowing more businesses to reopen. Restaurants could allow diners inside, hair salons could reopen, and days earlier, retail stores were given the OK to allow customers inside. 
All of these businesses have to follow strict safety protocols to stem the spread of the coronavirus, including requiring customers and employees to wear masks and reducing capacity inside their businesses. 
While many businesses were still preparing to reopen, protests over the death of George Floyd at the hands of a white Minneapolis police officer reached Long Beach. 
On Sunday afternoon, workers covered windows with plywood across the city as business owners prepared for the worst. For many, that protection wasn't enough.
Located near the Pike, one of the epicenters of Sunday night's looting, the Auld Dubliner was plundered before owners were able to reopen.  
"Crazy, crazy days: Six weeks closed, preparing to reopen tomorrow —and then we were looted. It really starts to hurt and, if I am being honest, I am feeling conflicted," said owner David Copley. 
"I fully support and back the peaceful protest—overdue I would say, as the systematic persecution of black men needs to stop," he added. "I imagine the organizers are distraught at small groups of hoodlums basically undermining the whole movement."
Sherelle D., a new Long Beach resident who was among the first group of clean-up volunteers to convene at Harvey Milk Park early Monday morning, said she looked forward to going shopping this week, with retail stores just opening up after the coronavirus lockdown.
As an African-American, she said she understands why people are protesting, but objects to the looting that took place. "I get that you're frustrated, but don't take advantage," said Sherelle, who declined to give her last name. "As a black person, you get blamed for it. It angers me."
A block away, Stacie Belizaire, a regular customer of the Jean Machine store in Downtown Long Beach, came by to lend her support. The store, an 18-year-old neighborhood institution, had been completely ransacked.
Having just come off an overnight shift at a local nursing home, Belizaire was still in her scrubs when assessing the damage.
"I've never seen anything like it," the certified nephrology nurse said. "You've got to deal with COVID and you've got to worry about riots?"
The public health crisis, high unemployment, reports of police brutality and the political tension of an upcoming presidential election are all factors that likely lit the fuse in Long Beach and across the nation this past week, said Kraig Kojian, president and CEO of the Downtown Long Beach Alliance. 
"What you have here is an ultimate, perfect storm," Kojian said. "You see those kinds of collisions happening simultaneously, something's got to give."
Kojian acknowledged the immense pressure business owners are under after months of lost revenue, widespread destruction and faced with a future filled of distance requirements and capacity limits. But, he noted, issues of racial disparity and social justice called out by protesters need to be addressed, an effort that has to include business owners.
"I think they have to be cognizant and conscientious that part of what happened last night was a result of social injustice," Kojian said. "Businesses have to be part of the solution."
Long Beach Post columnist Brian Addison contributed to this story.