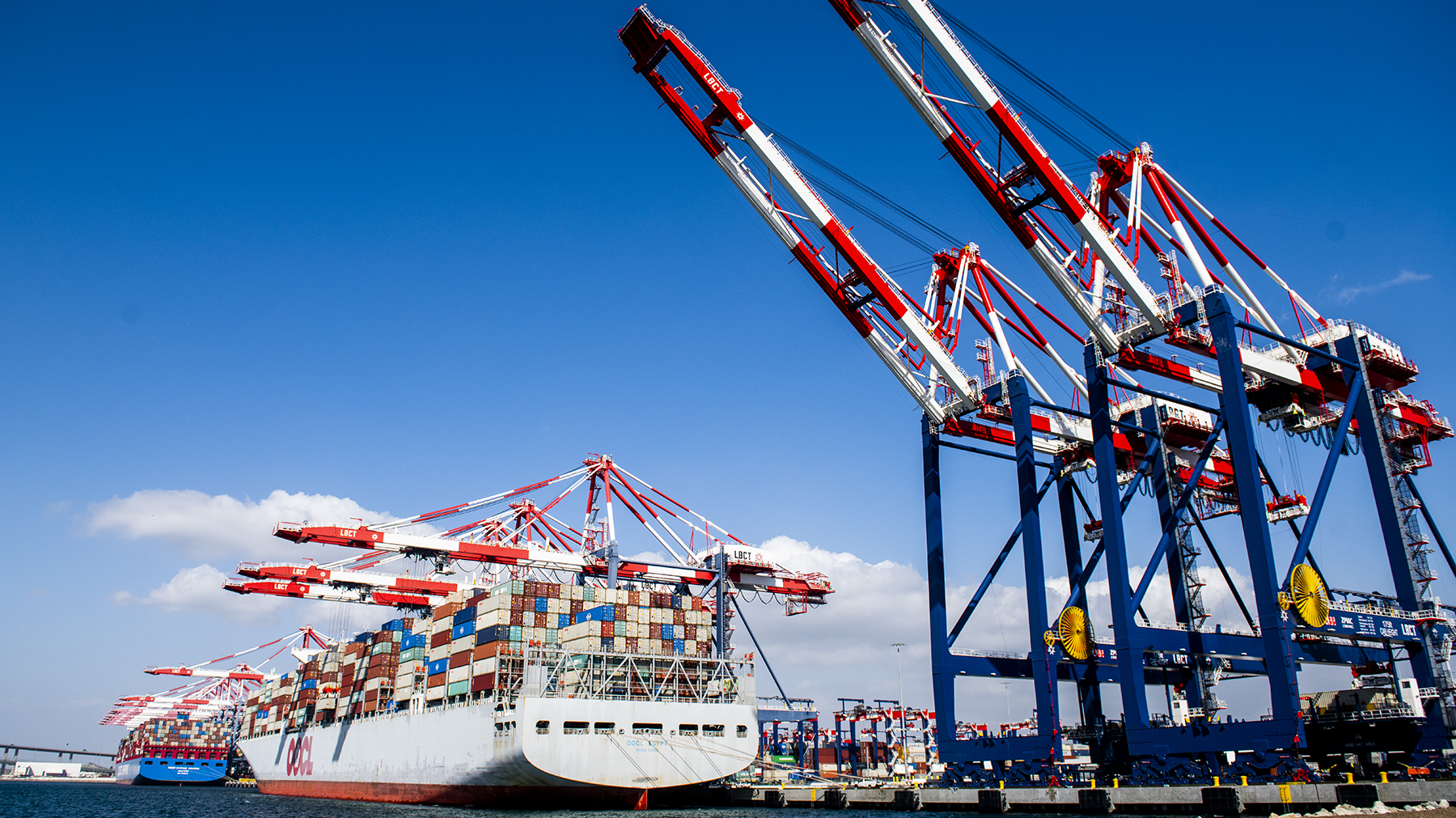 It was a busy year in the world of local business, with ships still stacked up off the coast of Long Beach and Los Angeles, Community Hospital opening (then closing), and some of the city's major leisure and tourism industries restarting after months of pandemic closures.
Here's a look back at the top stories of 2021.
Cargo backlog 
The cargo backlog that began in 2020 escalated into 2021, largely a result of pandemic-fueled online shopping, coupled with an imbalance of supply and demand. This national story cascaded into the daily life of residents, from increased truck traffic to worsened air quality. The ports enacted a number of measures to try and quell the traffic, including the threat of a cargo container fee, a new queuing process and a move to 24-hour operations.
Meanwhile the Port of Long Beach celebrated the completion of its $1.5 billion Middle Harbor project, which allows up to three container ships to be accommodated at the same time with 14 electric ship-to-shore gantry cranes along a 4,200-foot long concrete wharf.
 Labor shortage
Many businesses began to reopen and tried to get back to a "new normal," but they struggled with a labor shortage and in some cases, a dearth of inventory.
Some argued it was due to the government assistance passed in the midst of the pandemic, which resulted in record high unemployment. But when the assistance lapsed in September, businesses—particularly those that employ low-wage workers—still struggled to find help. Meanwhile Long Beach's unemployment rate remained relatively high at 8.5%.
Community Hospital
Officials in January celebrated the reopening of inpatient care at the more than 100-year-old hospital in East Long Beach, followed by the return of emergency service in May.
Just six months later, however, the operators announced they would close acute care due to mounting financial strain and low patient numbers, with plans to turn the facility into an outpatient center for mental and behavioral health.
Relativity Space takes over C-17 facility
In June, rocket manufacturer Relativity Space announced it would sign a 16.5-year lease for a sprawling 93-acre property near Long Beach Airport once used by Boeing to make C-17 cargo planes.
The news came a few months after the City Council approved a master plan for the site and allowed the city to cement its place as a space industry hub.
Carnival Cruise Line restarts
Carnival Cruise Lines, a major economic driver in Long Beach, began cruising again in August after being anchored for 17 months. The Panorama, which can carry 4,000 passengers and 1,400 crew, left port at 75% capacity because of the ongoing pandemic.
The cruise line in December also added a third ship, the Radiance, to its fleet.
Conventions resume
The Long Beach Convention Center, which had been closed for 15 months, hosted a Graphics Pro Expo in mid-August. Later conventions included the  Long Beach Home and Backyard Show and the International Congress of Esthetics and Spa. Attendance at the Advanced Clean Transportation Expo in late August exceeded attendance expectations.
In August alone, conventions were expected to bring in an estimated $6.9 million in economic impact, with three events expected to bring an estimated 10,600 visitors to the city.
Kroger closes two stores
The Kroger Co. announced in February that it would close two of its Long Beach grocery stores in response to the city's recently adopted mandate requiring local grocers to pay employees an extra $4 per hour in "hero pay."
The national grocery chain in April closed one of its Ralphs stores, located at 3380 N. Los Coyotes Diagonal, and one Food 4 Less store, located at 2185 E. South St.
Rising housing costs
The average cost of buying a home in Long Beach soared 21% since the start of the pandemic, and housing costs for renters rose 8-to-10% over the last two years.
The City Council enacted a new inclusionary housing ordinance to try and spur more affordable housing construction, and the city benefitted from federal and state assistance to help pay back rent and other expenses for those who lost their jobs during the pandemic.
Housing legislation
Gov. Gavin Newsom signed two controversial housing bills in September meant to increase the housing stock, with one allowing landowners to subdivide single housing lots to build duplexes (SB 9), and another that allows local governments to streamline permitting for buildings of up to 10 units (SB 10).
Some feared the legislation could lead to the end of single family housing, while others said the state needed to take action to build more housing stock.
Queen Mary financial troubles
This year was not a good year for this city's most famous asset. The ship's operator, Urban Commons, filed for Chapter 11 bankruptcy in January, which set off a series of court actions, financial disclosures and lawsuits, as well as an auction for the company's assets in which no viable companies bid for the lease to the Queen Mary.
The city wound up assuming full control of the ship's operations, and a plan has been floated to turn operations over to the commission that oversees the Port of Long Beach. The Queen Mary, meanwhile, remained closed for all of 2021.