From classy evenings at the opera to grungy nights at a punk rock show, Long Beach offers an eclectic array of activities, all feeding into the melting pot that is the city's vibe and culture and lifestyle.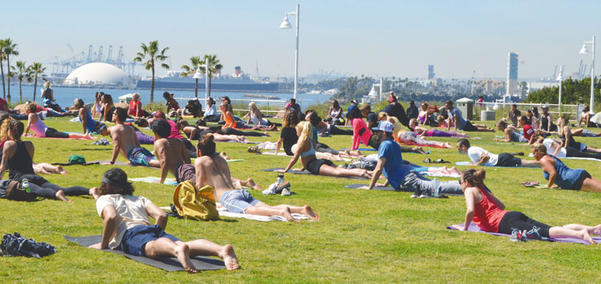 Yoga on the Bluff is offered free of charge to residents and visitors seven days a week from 11 a.m. to noon on the corner of Ocean Boulevard and Junipero Avenue. For more information on instructors and other offerings, visit yogalutionmovement.com. (Photograph by the Business Journal's Larry Duncan)
With six miles of beaches, Long Beach provides residents and visitors scenic views while out for morning runs or leisurely strolls. The city was voted as one of the top 10 most walkable cities in the country and is planning more features to further improve. With separate biking and walking paths along the beach, stretching 3.1 miles from 54th Street in the Peninsula, past the Belmont Veterans Memorial Pier and Long Beach Museum of Art to downtown, there is more than one way to navigate the shores while enjoying the Pacific Ocean views and sunny Southern California weather.
Cycling has become a focus of the Long Beach lifestyle, with a push by Mayor Robert Garcia. Recently, bike-share stations were installed throughout the city where anyone can rent a bicycle for varying periods of time.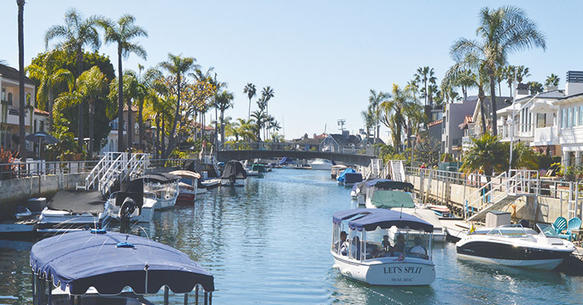 The Naples Island neighborhood of Long Beach is divided by canals, which open into the bay. The concept is similar to "Venice of America" developed by Abbot Kinney. The canals are a popular destination for gondola rides and the annual holiday boat parade, which celebrated its 70th year in December. (Photograph by the Business Journal's Larry Duncan)
Additionally, the city has stretches of bike lanes throughout and is in the process of creating more lanes to make navigating the city easier for cyclists. Bicyclists can traverse Long Beach and surrounding cities with assistance of public transportation, including buses and the Metro Blue Line, which allow travel between the downtown areas of Long Beach and Los Angeles.
Activities to enjoy the shore areas also include Segway and other rentals from Shoreline Village's Wheel Fun Rentals. For those who want to venture into the water, electric boat, kayak, paddleboard and even windsurfing equipment rentals are available as well.
Aside from beachside activities, Long Beach boasts 162 parks, including El Dorado Park, with features such as five lakes, a nature center, a disc golf course, an archery range and a dog park, to name a few. There are also multiple golf courses and 172 estuaries with nature trails and preserved wetlands.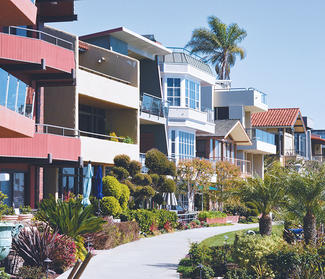 Long Beach offers many residential home options from properties suitable for first-time buyers to executive estates such as those pictured on Naples Island. (Photograph by the Business Journal's Larry Duncan)
The last couple of years have seen rapid growth of a maker community, from handcrafted goods to locally farmed organic foods. Many such items can be purchased at various farmers markets or at small independently owned boutiques and restaurants.
For a night on the town, Long Beach offers a wide array of venues to take in musical and theatrical performances year-round. Theatergoers can enjoy various productions by performing arts groups such as International City Theatre, Musical Theater West, Long Beach Shakespeare Company and many others.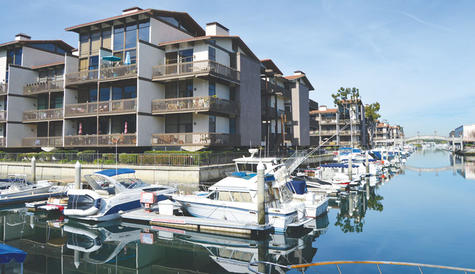 Marina Pacifica condos in Southeast Long Beach offer dock space for residents near dining and shopping locations. (Photographs by the Business Journal's Larry Duncan)
The Long Beach Symphony, Long Beach Opera and Musica Angelica are all local, nonprofit, award-winning music organizations that perform at the Long Beach Performing Arts Center. Many other smaller organizations operate within the city, including Long Beach Ballet and the Khmer Arts Academy for Cambodian dance and performance.
For a complete list of performing and visual arts organizations and events, visit the Arts Council of Long Beach website at www.artslb.org.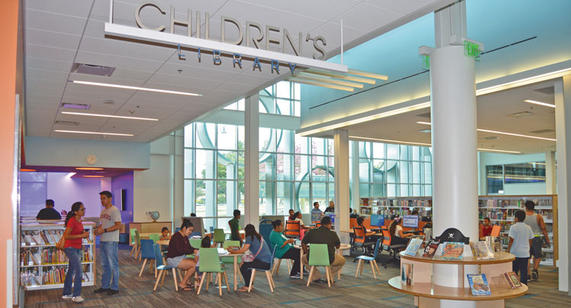 The Michelle Obama Neighborhood Library opened in North Long Beach in September of last year. The library serves about 92,000 people in nearby neighborhoods and includes a story-time theater, a community room and classrooms, and a meeting room. (Photograph by the Business Journal's Larry Duncan)
Other nightlife activities include national and local music acts at venues such as Alex's Bar on East Anaheim Street, known to host local and international punk and metal acts, and DiPiazza's, a pizza joint with a long history as a breakout point for local talent. In the downtown area, music and other performances are held at The Federal Underground, Harvelle's and, the latest venue to hit the scene, At the Top.
Art is also at the center of Long Beach's culture, permeating the everyday lifestyle, from massive murals covering walls and storefronts to district-sponsored events and festivals, such as the East Village Arts District's Second Saturdays when streets are closed to traffic for musicians to entertain customers while they peruse local artisans' wares. Several privately owned art galleries also call Long Beach home and are open to the public, as well as the nonprofit ArtExchange, which exhibits local art and holds community events.
Support For The Arts
By Samantha Mehlinger
Assistant Editor
Since the Percent for the Arts program went by the wayside when the redevelopment agency was dissolved a few years ago, the local arts community has bemoaned its loss. But thanks to a push from Mayor Robert Garcia and a vote by the Long Beach City Council in December 2016, the program has been revived.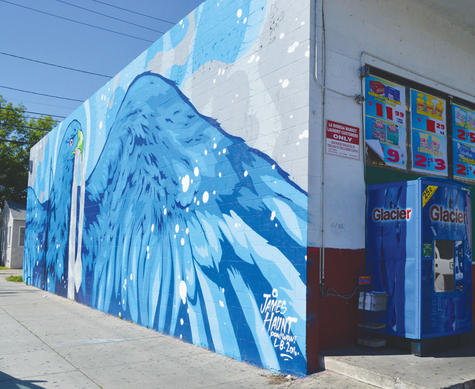 Long Beach has come alive with color in the past two years thanks to the 2015 and 2016 POW! WOW! Long Beach events, through which muralists from all over the world have come to the city to grace its walls with their art. Pictured is artist James Haunt's 2016 mural. (Photograph by the Business Journal's Larry Duncan)
The new Percent for the Arts program will assess a 1% fee (not to exceed $500,000) on capital construction projects that cost more than $100,000. Of funds collected, 40% will be dedicated to public art in the public domain through the Arts Council for Long Beach, 40% will support established arts groups in the city, and 20% will be allocated for small grants for artists and arts institutions to be awarded through the Arts Council.
Benefiting arts groups include local favorites Musical Theatre West, International City Theatre, the Long Beach Opera, Long Beach Symphony, the Museum of Latin American Art and others.
According to Assistant City Manager Tom Modica, the city is currently developing administrative requirements for collecting and accounting for funds for arts projects. They are also determining procedures for the Arts Council to administer the funds. The program will officially kick off when this process is complete, which Modica hopes will be in April.
"We're excited to work with the city manager's office," Griselda Suarez, executive director of the Arts Council for Long Beach told the Business Journal. "We're working every day on making sure that this is a strong policy that supports our artists and provides opportunities for residents to engage in the arts."