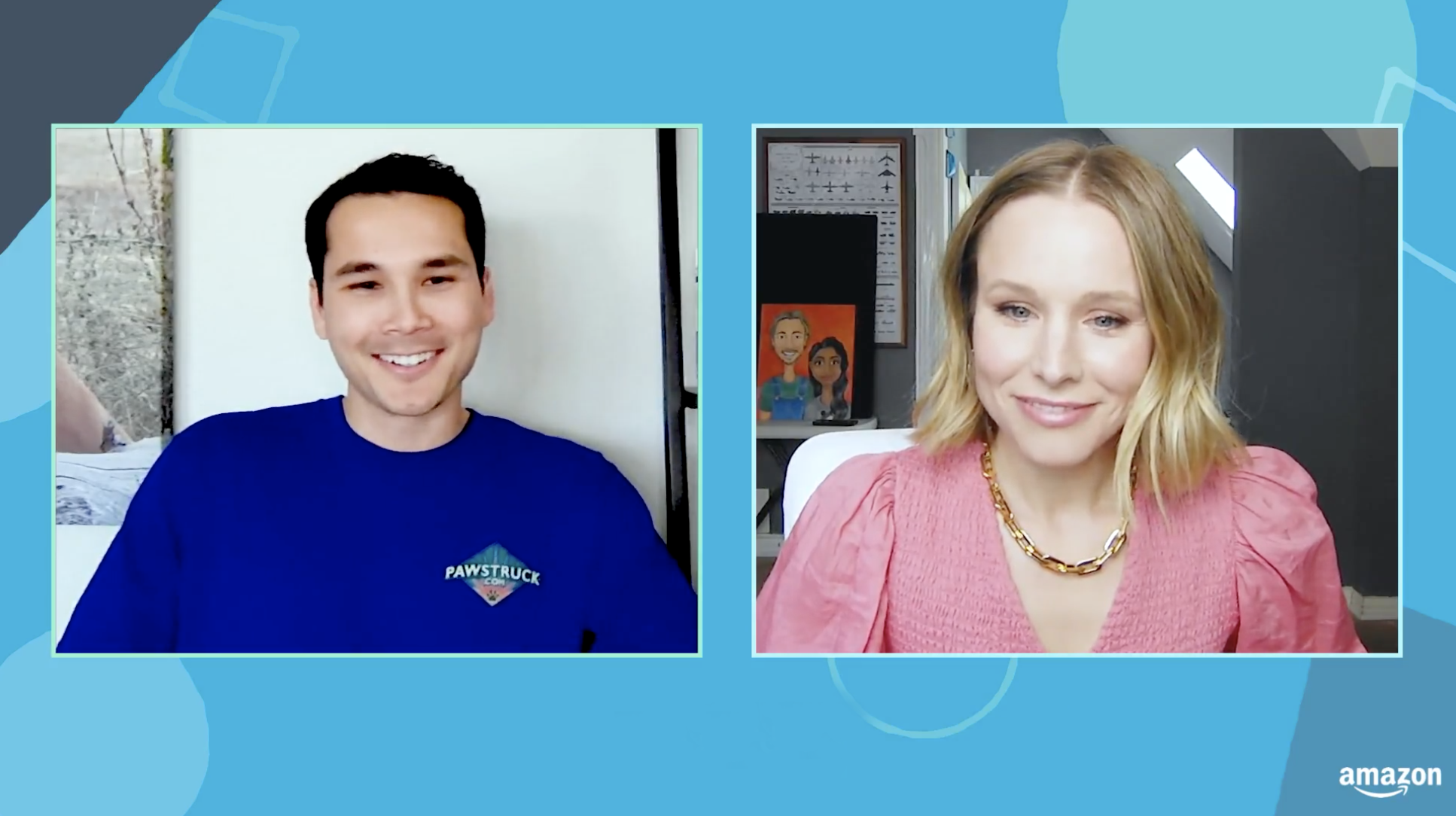 One minute before an interview about his dog products business, Pawstruck founder Kyle Goguen came face-to-face with his guest interviewer: Kristen Bell. The actress and activist, famous for her roles in "Forgetting Sarah Marshall" and "Frozen," personally selected the Long Beach-based company to showcase ahead of Amazon's Prime Day, June 21-22.
"I assumed it was going to be an Amazon executive or something and, truthfully, I wasn't overly excited," Goguen recalled. "Then she hopped on the call, which was unexpected and exciting."
Though he was admittedly caught off guard by the appearance of Bell, Goguen dove right into the interview without pause.
"I'm a big fan of your work," Bell said to him. "I have a lot of dogs and we give [them] Pawstruck."
Goguen recounted the founding of his company for Bell: During his senior year at USC where he studied industrial and systems engineering, Goguen got a dog—Tyson the boxer. Goguen searched for healthy, natural treats and chews for the pup but found the options limited and pricey.
Shortly after graduation in 2014, Goguen, a Seal Beach native, moved to Long Beach and founded his company. After a rocky start, which included a strongly worded cease-and-desist letter over the company's original name—Canoodle Pets—Pawstruck was off and running.
The business model is centered on sourcing the highest-quality ingredients from around the world. While a large subset of products are made in the U.S., Pawstruck gets its free-range, grass-fed beef from South America, lamb ears from New Zealand, antlers from Canada and the list goes on.
"We hand select and we make sure we're working with partners we can trust," Goguen said. "We're providing the quality and safety that we are comfortable giving to our own dogs."
Business has been strong since the get-go and the pandemic actually provided a boost in sales for the company's various products, which include treats and chews, grooming and cleaning, skin care, health and wellness and even monthly subscription boxes.
"A lot of people got dogs during COVID," Goguen said during his interview with Bell, who added that she took on numerous fosters throughout the pandemic.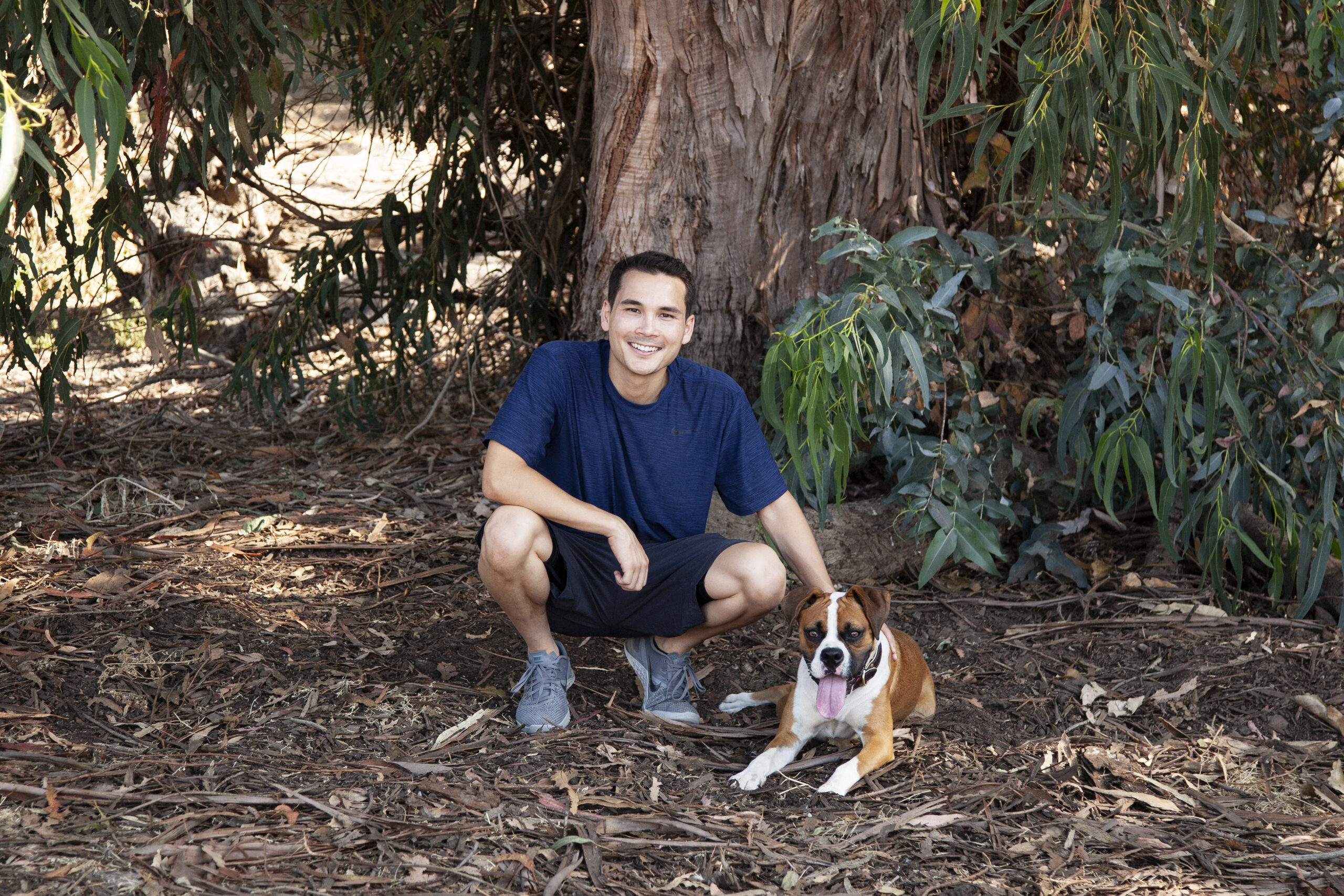 While the e-commerce business never had to shut down due to COVID-19, the virus did alter business operations, Goguen said. Prior to coronavirus, Pawstruck had office space near Long Beach Airport. But with the pandemic forcing people to work from home, Goguen gave up the physical office space.
The combination of growing sales and shifting the company to operating remotely, Goguen has been able to expand his staff with greater ease.
"Our core group of team members is still in Long Beach but we're hiring new people throughout the U.S.," Goguen said. "We've got people in Washington and Georgia and South Carolina—all over the place."
Goguen's staff has increased to 30 and further expansion is in the works, he said. The company has a dozen products in development that will be rolled out over the next year. Goguen also is looking into entering international markets.
The Pawstruck team is made up of mostly women, who were elated to hear of Bell's adoration for the company, Goguen said.
"They were going nuts; they were super excited," he said. "Jokingly asking if they could meet her and saying we should hire her—just fun stuff."
Since 2015, Amazon has hosted Prime Day, a two-day event with deals on millions of products from sellers around the world. Third-party sellers such as Pawstruck represent 60% of Amazon sales, according to Dave Clark, CEO of Amazon's worldwide consumer business.
"COVID-19 has created a lot of challenges for these businesses," Clark said in a promotional video, "and they've shown incredible resilience and creativity."
In 2020, Amazon invested $18 billion in its logistics network, tools, services, programs and staff to assist sellers, Clark said, adding that hundreds of thousands of sellers have teamed up with Amazon since the pandemic began.
Over the past year, third-party sellers have sold 3.7 billion products, according to Keri Cusick, head of Amazon's small business empowerment team. The company has introduced 250 new tools and services over the last year, with plans to invest another $100 million to assist small businesses this year.
Though not all of the company's sales are through its Amazon shop, Goguen said the partnership with the platform has gotten his products more exposure than he could have achieved alone. With 7.5-times normal sales, Prime Day 2020 was Pawstruck's best sales day in the company's history, according to Goguen.
"We're trying to replicate that same success," Goguen told Bell of the June 21 and 22 event. "We have some of our bestsellers up for deals to get some more exposure and into the mouths of more canine customers."