The smell of burning rubber, the sound of roaring engines and thousands of visitors' cheers: it's that time of the year again. Formerly known as the Toyota Grand Prix of Long Beach, the 2019 Acura Grand Prix of Long Beach takes place along the city's waterfront from April 12 to April 14.
Acura has stepped in as the event's new name sponsor, but that's not the only sponsorship change this year. The Laborers' International Union of North America (LIUNA), whose members have long been involved in setting up fencing, barriers and bleachers for the event's audience, has signed on as a Grand Prix co-sponsor for the next three years.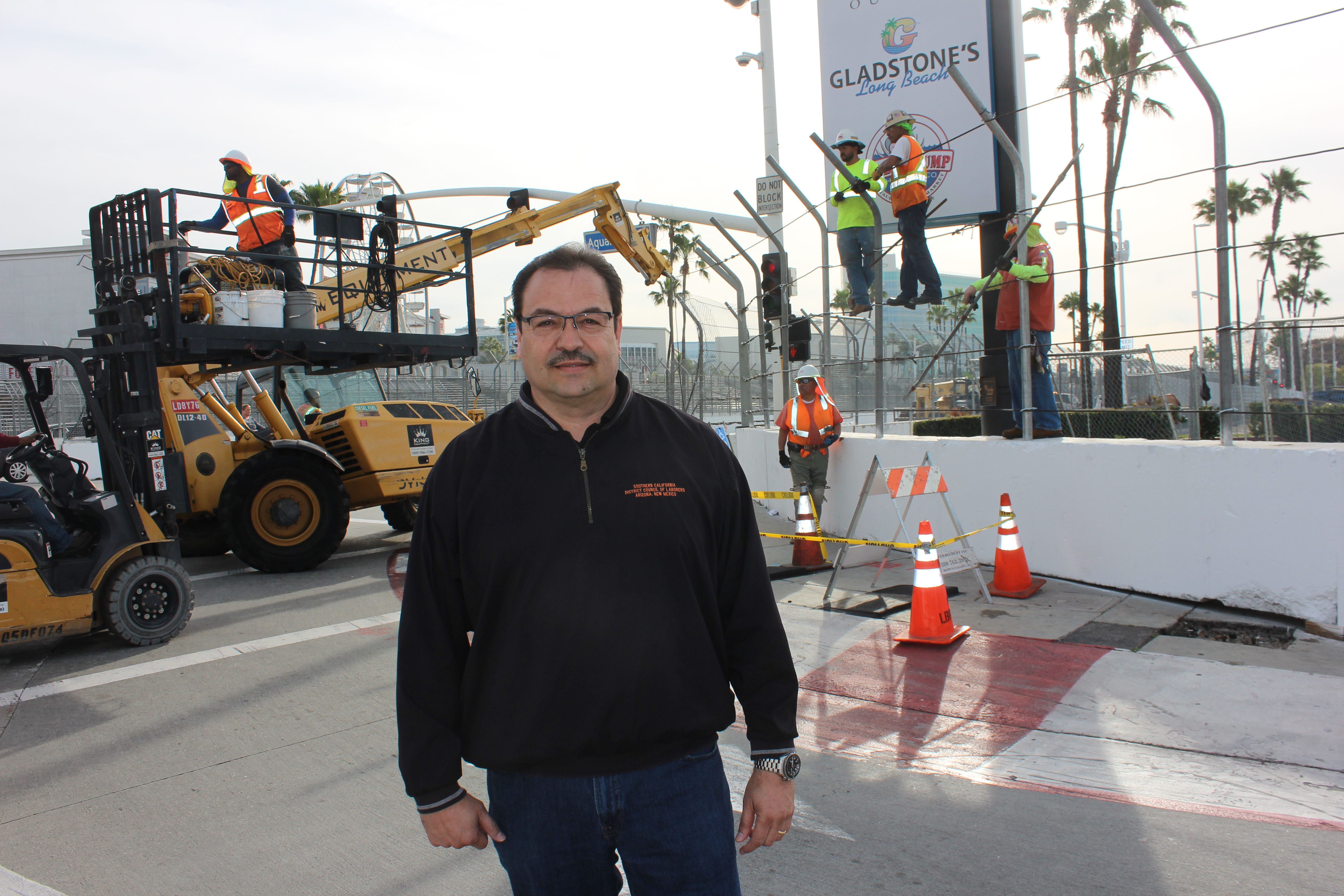 "We have been working with the Grand Prix, building the track, since its inception," Peter Santillan, business manager and secretary-treasurer of LIUNA Local 1309, told the Business Journal. "We thought [the sponsorship] would be a good opportunity to show LIUNA and to show the world what we do as construction workers." Just a week before the event, union members – wearing orange vests and hard hats – were busy putting the finishing touches on the temporary structures along Shoreline Drive.
"It's different every day. Right now, we're doing a lot of the fencing," Tyrone Ash, a new member of the union, said. Ash, who lives in North Long Beach, said he was lucky to be picked for the gig. "It's exciting to know that I will be a part of this," Ash said. The Grand Prix setup is his first job with the union, and the experience has been positive, he said. "So far, it's been good. I learned a lot and I like that it's something that I can pass on to my kids." Ash said he's never been to the Grand Prix, but he'll make sure to come this year.
Fellow LIUNA member Roberto Bañuelos has a Grand Prix legacy to look back on. Bañuelos himself has been part of the team setting up the Grand Prix for over 10 years. "It's pretty cool, because it's for Long Beach, something you do every year," he said. His father, who worked on the Grand Prix construction team for over 30 years, encouraged Bañuelos to apply more than a decade ago. "Because of him, I'm here," Bañuelos reflected. A full-time construction worker, he said working the Grand Prix is a welcome change of pace from his regular engagements. "It's a different kind of work than we usually do. It's more involved, more detailed work," he noted.
For many workers, the Grand Prix setup is also a way to bridge a gap in employment when regular construction slows down during the first months of the year. "It's getting the word out to the country that the opportunities with LIUNA are there. This just happens to be one of them," Santillan pointed out. "This is a little bit of a taste of what we do as construction laborers. This is their introduction that then leads them on to other opportunities in construction."
Santillan said LIUNA had long considered becoming an event sponsor but didn't have the necessary resources until this year. "It was just the right time," he said. Santillan said the union's expertise and training of new workers has helped the Grand Prix go over smoothly year after year. "This is hard work. It's precise work that needs to be done correctly, safely. So that's something that we strive for," he said.