In her two months serving as acting superintendent-president of Long Beach City College (LBCC), Ann-Marie Gabel has been continuing the work of her predecessor through the implementation of the school's recently adopted strategic plan.
In July of last year, it was announced that then-president Eloy Ortiz Oakley was named chancellor of the California Community Colleges' 113-school system. Gabel assumed her role as acting president in December while the search for a permanent replacement began.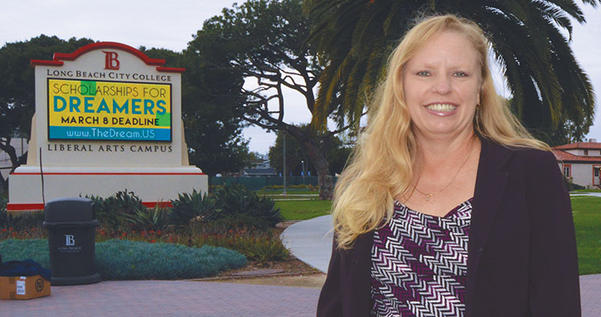 (Photograph of Ann-Marie Gabel by the Business Journal's Larry Duncan)
"I was really more honored and looked at it as a privilege that the board had enough confidence in me to be the acting superintendent-president," Gabel said. "I really deem it as an honor, and I'm really enjoying it."
Gabel earned a bachelor's degree in business administration with an emphasis in accounting from California State University, Fullerton and a master's degree in educational management from University of La Verne. After college, Gabel spent seven years as a CPA auditing K-12 schools and community college districts. From there, she spent seven years as the manager of fiscal affairs for the North Orange County Community College District and two years as the associate vice chancellor of fiscal affairs for the Rancho Santiago Community College District.
In 2007, Gabel accepted the position of vice president of administrative services at LBCC, a position she held for nine and a half years before taking over as acting president. Once a new president is hired, Gabel said she will resume the duties of her previous position, which included most business aspects such as the budget, payroll and the construction program.
Gabel said her first priority upon assuming her new role was to the further advancement and implementation of the school's strategic plan, which was rolled out last fall. To do this, she has been overseeing the application process for grants and awards to help fund various programs.
"We just received notification that the state intends to award $750,000 to us for a Promise Innovation award to help us continue with our Promise Pathways program," Gabel said. "There were only 14 colleges in the state that received an award. So I'm pretty proud of that."
Additionally, Gabel said the administration is working on several innovation awards to receive grant funding geared toward the school's guided pathways initiatives. She explained that applying for these grants is important to offset costs and jumpstart the guided pathways portion of the strategic plan.
"When we say guided pathways, what we want to do is . . . [create] so-called roadmaps for students," Gabel said. "Starting in high school and going all the way through the Cal State Long Beach, what are the courses you need to take in order to get the instruction and degrees for your career of choice. It will just make it a little bit easier for students to determine what classes they need to take in order to meet their educational goal."
The reason for these pathways, according to Gabel, is that community college students are taking longer to complete what used to be a two-year degree. According to a 2014 report by Campaign for College Opportunity, some students are taking more than four years to earn their associate's degree.
Gabel said she will also be sitting in on the final interviews for new faculty members, something she never did in her previous position. She explained that faculty are an investment because they often spend an entire career at the school and that it's an important decision for an acting president to be a part of.
"I'm learning different aspects of the college. I think it's just looking at things through a different lens. I'm enjoying that," Gabel said. "I'm having more interactions with students, which is refreshing."
While Gabel continues her work as acting president, the search for a permanent president continues. There were 31 applicants for the position, which were whittled down to nine candidates for the first-round interviews; however, one person dropped out.
Of the eight candidates, the LBCC Board of Trustees chose the following five finalists: Tod A. Burnett, Ed.D., president of Saddleback College; Otto W.K. Lee, Ed.D., president of Los Angeles Harbor College; Marvin Martinez, president of East Los Angeles College; Melinda Nish, Ed.D., executive advisor to the president at the College of the Marshall Islands; and Reagan F. Romali, Ph.D., President of Harry S Truman, one of the City Colleges of Chicago.
A campus forum to introduce the finalists and have them meet face to face with faculty, staff and students, was scheduled yesterday, Monday, February 27. Those in attendance were to be provided evaluation forms to write comments about the finalists. Those forms will be given to the trustees to help in their decision.
The board will deliberate in closed session today, February 28, after its regularly scheduled meeting. However, Gabel said she does not anticipate they will report out at that time and may require a special meeting. A final decision is expected in late March or early April after all negotiations are finalized, with the expectation that the new president will take over on July 1, according to Gabel.
"I think [the new president] needs to understand community colleges, specifically California community colleges," Gabel said. "A good communicator, a good listener. Someone who truly values the mission of community colleges."
She said lessening the time students spend in community college by continuing the implementation of the strategic plan should be the top priority of the new president, as it is hers. However, until the new president takes the reigns, Gabel said she will continue to work in the best interest of school.
"I hope it makes me a stronger vice president when I go back, and I think it will," Gabel said. "Having other friends throughout the state who have held my position and have done the acting superintendent-president [job], they've expressed that it does make you stronger because you do have a little bit different perspective."