Leadership Long Beach (LLB), a nonprofit organization dedicated to civic engagement, is celebrating its 30th anniversary this year. Since its founding in 1989, LLB has brought together members of the Long Beach community who are passionate about serving their city and fellow residents.
When asked for the definition of a leader, LLB Executive Director Jeff Williams told the Business Journal that he's fond of paraphrasing former mayor and honorary LLB boardmember Beverly O'Neill: "It's not about telling people or directing, it's about inspiring others to make positive change in the community."
LLB offers four programs that teach leadership skills and encourage problem solving in the community: The Institute, Youth Leadership, Executive Leadership Series and Leadership Foundations. The Institute is the organization's flagship program, an intensive 10-month course that takes 30 to 35 applicants a year. "We get many more applications than we can take every year," Williams said. "Sometimes people have to apply a couple years before they get in."
Once accepted into the program, participants join in a curriculum that includes meetings with local leaders, information sessions and tours about the city, and ride-alongs with the police and fire departments. Participants also work in groups to implement projects that positively influence the city. Past projects have included summits on healthy nutrition to prevent childhood onset diabetes, park restorations, the formation of a midnight basketball league and the diversity mural in city hall.
Williams said that the organization tries to select a group that reflects the community of Long Beach itself: diverse in background and geographic location. Ideally, a class would be comprised of an equal mix of individuals from the public, private and nonprofit sectors. "We're very inclusive," Ryan C. Rayburn, senior associate with local real estate company Centennial Advisers and president of the LLB board of directors, said. "We feel that if you're really going to be out there and you're discussing the true problems in our society, everyone deserves to have a seat at the table so that you can get down to the root of it."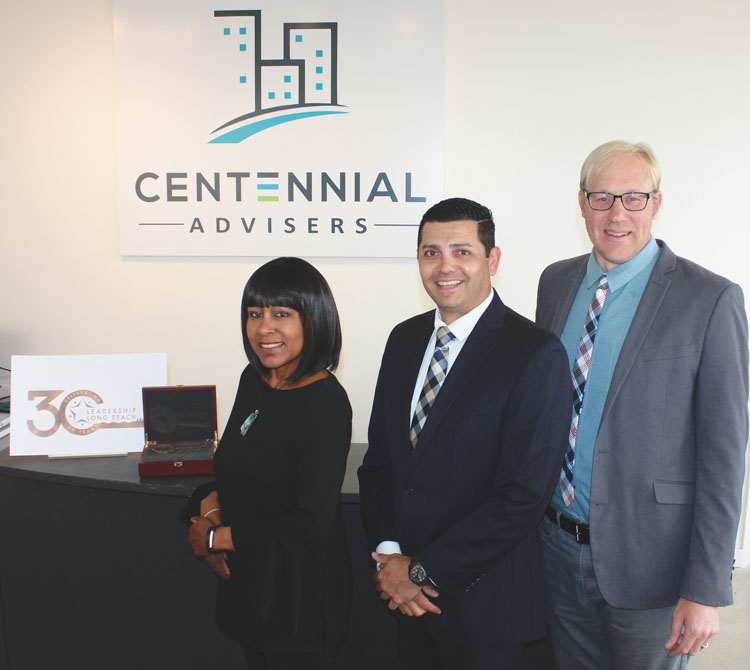 The Youth Leadership program, now in its 20th year, was developed by Institute participants. This seven-month program teaches high school students the skills they need to positively impact their schools, communities and future careers. "It's about them being leaders now," Williams said. The latest iteration of the program has been focused on environmental sustainability and climate change, he noted. There were over 100 applicants to the youth program in 2018, Rayburn said.
The Executive Leadership Series is a six-week program for new members of the Long Beach community who serve as executives of organizations and companies. The program allows its participants to network and engage with city leaders and professionals.
The newest LLB program, Leadership Foundations, provides customized leadership training for organizations and businesses. "Up to this point, the only way to be involved with Leadership Long Beach was to be part of the group," Williams explained. Rather than bringing the community to their program, LLB brings the new initiative to the community. Customized training programs have been created for Pacific Gateway, the city's workforce development agency, and the Economic and Policy Impact Center, a nonprofit advocacy group focused on minority representation.
Celebrating 30 Years
LLB does not typically put on events, Williams said, but 30 years of civic engagement is worth celebrating, not only to honor the leaders that have completed its curriculum but also the endurance of the nonprofit itself. "We're essentially a volunteer organization," he commented. With two full-time employees and one part-time employee, LLB is sustained by volunteers, grants and donations from alumni.
Sponsored by The Streets, an anniversary celebration is to be held at the North Promenade in Downtown Long Beach on June 8. LLB has partnered with Studio One Eleven, RMD Garage, P2S Inc. and Southern California Edison (SCE) to create an art installation that tells the story of the organization. Studio One Eleven is designing a canopy of 1,500 lights representing each LLB program alumni, with SCE providing the power. The goal is to create not just an event space, but art that will last beyond the event and serve as a backdrop for a community gathering place, Williams said.
"It really is going to be a celebration," he continued. "We're not doing tables of 10 in a big room somewhere. This is different. This is about bringing together all the people that have made this happen for 30 years and really celebrating what that means to our city."
Looking to the future, Williams said the organization would like to grow its share of business alumni. The public and nonprofit sectors have been greatly represented, he explained, with many executive directors of nonprofits and over 100 current city employees having graduated from The Institute. "We have all these new businesses coming to town, to Douglas Park and downtown," he said. "Telling them the story [of LLB] and understanding why it would be beneficial for them to be involved with this is a new effort."
Rayburn said that his personal mission since joining the board has been to bring more businesses to the table. "The private sector needs advocates out there sharing their voices and concerns about what they're facing as business owners," he said.