Upon walking into the new digs of architecture firm Retail Design Collaborative (formerly P + R Architects) and subsidiary design group Studio One Eleven, it's clear that the way the space had been described for the past three years – "the old Nordstrom Rack" – is history. The architecture and design firms have completely gutted and reimagined the more than 33,000-square-foot retail space at the corner of The Promenade North and 3rd Street. Looking down from an open terrace to the first floor, the view is what an encyclopedia might include as a photo next to the term "creative office space."
Through the doors of The Promenade North entrance is a contemporary, homey kitchen, with a ping-pong table off to the side. The 3rd Street entrance features a community space with conference rooms and a lobby open for use by local organizations and individuals.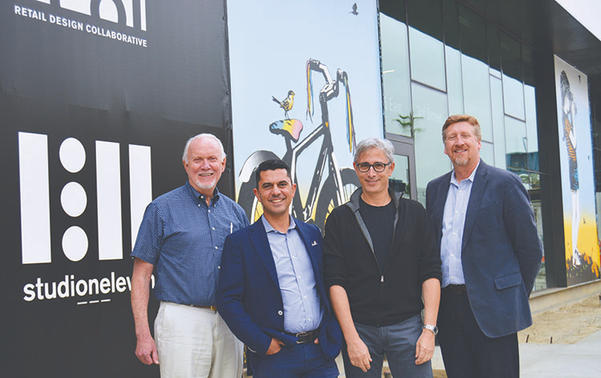 In addition to being tenants of the revamped City Place shopping center with its parent firm Retail Design Collaborative (RDC), Studio One Eleven is working with the center's owner, Shooshani Developers, to redesign and reposition the six-block property. Pictured in front of the architecture firms' new offices are: Steve Ruth, founder, CEO and principal of RDC; Tony Shooshani, managing member of Shooshani Developers; Alan Pullman, founder and senior principal of Studio One Eleven; and Michael Bohn, senior principal of Studio One Eleven. (Photograph by the Business Journal's Larry Duncan)
Just past each entryway, the enormity of the open office environment makes quite the impression. Vibrant murals and plants decorate the walls, and the space vibrates with the hum of work by more than 130 employees scattered among countless desks.
The transformation reflects the mission of Studio One Eleven – which has had, and continues to have, a hand in many major development projects in Long Beach – to breathe new life into the city. It also is a showcase for Retail Design Collaborative's (RDC) take on the ever-evolving retail landscape in the United States.
RDC founder, CEO and Senior Principal Steve Ruth, sat down with the Business Journal and with his colleagues Alan Pullman, founder and senior principal of Studio One Eleven, and Michael Bohn, also senior principal for Studio One Eleven, in the firms' new offices to chat about their role in this changing retail landscape as well as in Downtown Long Beach's revitalization. Tony Shooshani, owner's representative for the City Place shopping center, joined in to discuss their partnership and the evolution of City Place.
The firms moved into the newly renovated space in October from their previous location in a downtown high-rise office building. In addition to being a tenant, Studio One Eleven has been tasked with redesigning all six city blocks of the shopping center. The first phase of the revamped City Place, the half block from Harvey Milk Park to the corner of Long Beach Boulevard and 3rd Street, should be completed in the first quarter of 2017, Shooshani estimated. Around the same time, City Place will get a new, yet to be determined, name.
"For Retail Design Collaborative, it really is [about] looking at a rapidly evolving world in retail, and how do we stay ahead of the curve and help be thought leaders in that process," Ruth said of his architecture firm's mission. "Creating our own story here really is part of the process that the entire country and world is going through right now and how retail is changing and being affected."
Shooshani said when he heard the architects were looking for a ground-level space for a new office, he picked up the phone and asked them to tour the old Nordstrom Rack. "We heard that they were looking for a new location, and my thoughts were that this is a perfect way to repurpose the property and the project, and redirect and reface downtown," he said.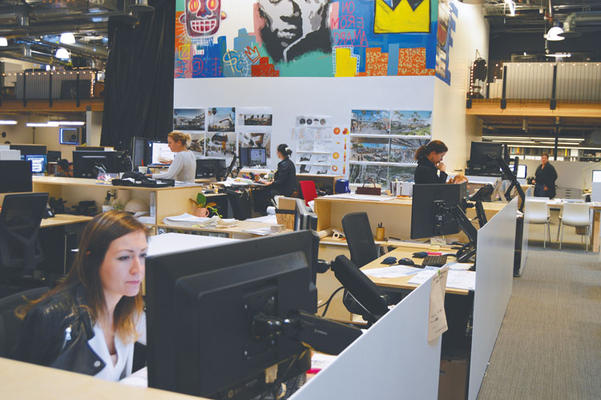 Inside the new creative offices of Retail Design Collaborative and Studio One Eleven at 245 E. 3rd St. (Photograph by the Business Journal's Larry Duncan)
"We toured the project, and I talked about my vision of where I thought retail was going," Shooshani continued. The trend, he said, is away from big-box spaces of 45,000 square feet or more. "We as retailers have to think about how we are going to reposition our properties. And this was a perfect match."
This philosophy aligns with the perspectives of RDC and Studio One Eleven, which believe retail is moving towards a more experiential format with multiple uses. "The trend for many years has been to standardize everything and create a bigger and bigger box," Ruth observed. "I think what it has really led to is a homogenization of the retailers across the country. And that doesn't really serve local communities very well."
Urbanization – a trend towards living in urban environments with amenities within walking and biking distance – is playing into that trend, according to Pullman and Ruth. "You see that more and more. People want to be where the energy is and where they can spend money on experiences," Ruth said.
E-commerce has also played into changes in designing for the retail sector. Now that people can buy many things online from the comfort of their homes, retailers are being impacted, Pullman explained. "Retailers are going out of business or merging, and that's changing the whole landscape," he said. "But we know people want to go out, they want to shop, they want to eat, they want to have an experience."
The appeal of urban centers is one of the reasons the firms decided to lease the space they're in now. "We wanted downtown," Pullman said. "This location perfectly suited us because it's a place where people love to hang out, to live. And it really serves our needs for the future talent we are trying to attract to our firm."
The decision to relocate to City Place was also about impacting the community. "We wanted to find a place where we could make a change by plopping 135 architects, with visitors every day, to bring some activity into an area that was perhaps overlooked for a long time," Bohn explained. With a glance over at Shooshani, he added, "Nordstrom Rack had been empty for about three years, and we heard rumors of a Dollar Tree coming in. And we thought that we might be a better anchor to really start causing some change in this neighborhood."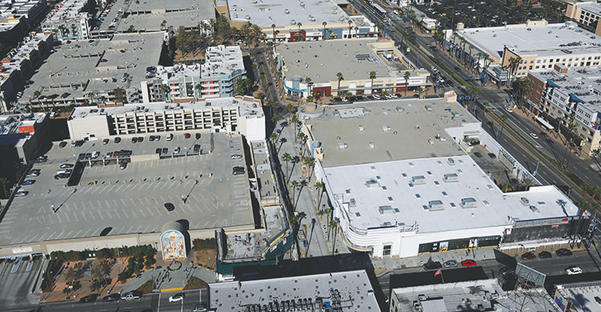 The first phase of renovations at the City Place shopping center in Downtown Long Beach are nearly complete. Pictured at lower right are the offices of architecture firm Retail Design Collaborative and subsidiary Studio One Eleven, which comprise about 33,000 square feet of the newly renovated section of the center. The corners of the building are being left open for restaurants. (Business Journal photograph by John Robinson)
Shooshani acknowledged that he could have placed a discount retailer there but that ultimately it would not have served the needs and desires of the downtown community. "It's not just about making money as a developer and a property owner. It's about giving back to the community you are a part of," he said.
Studio One Eleven and RDC designed their offices so the corners of the property on 3rd Street facing The Promenade North and Long Beach Boulevard could be used for restaurants in order to activate the street outside, Bohn said. Additionally, the parts of their offices that do touch the street are activated by the office's open kitchen – which passersby often mistake for a restaurant, Bohn said with a chuckle – and a community space. The latter, which fronts 3rd Street, is already being used for community gatherings and meetings and will be used in the future perhaps even as pop-up shops for retailers or satellite exhibition space for local museums.
Shooshani has secured a number of new leases for the center, including Table 301, a new restaurant concept by the owners of Signal Hill restaurant Delius; an acai bowl eatery; poke restaurant Poki Cat; Burgerim; and others. During the course of the interview, another signed lease was delivered to him.
The center will not exclusively be filled by restaurants, however. "We have 2,500 to 3,000 apartment units that are going to be built [downtown] in the next three to four years," he said. "[City Place] is going to evolve and change as those communities grow."
"I would imagine a lot of different uses – office, retail, food services," Bohn said of the shopping center's future. Downtown Long Beach, unlike other Southern California cities built up in later decades, has an authenticity quality to it – and it is that quality Studio One Eleven and Shooshani hope to inject into City Place, according to Bohn.
"It's going to be a combination of cool streets," Shooshani said. Parklets – seating areas built over parking spaces to create patios and to slow traffic – are planned along 4th Street and Pine Avenue, he noted.
While City Place is set apart visually – it has its own lighting, sidewalks and façade styles – Studio One Eleven's designs will re-integrate it with the surrounding districts of downtown, Bohn said. The next phase of construction for City Place will be the block of The Promenade North extending past RDC/Studio One Eleven's office to 4th Street.
The last piece of the puzzle will be figuring out what to do with the now-vacant Walmart. That will be up in the air for some time because Walmart still has a five-year lease agreement, and the giant company takes its time with decision-making, Shooshani explained.
"Having other forward-looking firms come here and see this and want to be located in our downtown, that will be the biggest success that we could have," Pullman said. "That's the goal."