(Publisher's note: Mayor Robert Garcia received city council approval to form a task force to explore development opportunities around the Queen Mary. In addition to the historic ship, which celebrated the 44th anniversary of its opening in Long Beach on May 8, the port side of the Queensway Bay includes the terminal for Carnival Cruise Lines, the seasonal departure site for Catalina Express,  the Queen Mary Events Park, the Reef restaurant, the Hotel Maya–a Doubletree by Hilton, and a Residence Inn hotel to the west of the Queensway Bay Bridge. While members of the Queen Mary Land Development Task Force have yet to be announced, the Business Journal wanted to get the creative juices flowing. We asked three local architectural firms what they would propose for the Queen Mary site. Let the debate begin.)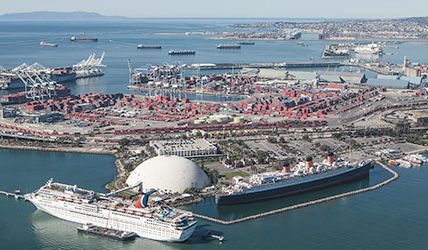 Over the years, there have been many proposals for developing the land surrounding the Queen Mary, from a sea-themed amusement park in partnership with Disney to a roller coaster replicating the Cyclone Racer of the city's past. Yet the property remains underutilized.
Garrison Investment Group, the ship's operator and adjacent land leaseholder, however, has recently begun discussions with city officials to consider development proposals for the 43.38 adjacent acres that include vacant land, parking lots, the Queen Mary Events Park and Sea Walk Village.
Long Beach Mayor Robert Garcia is in the process of putting together a 12-member advisory task force of downtown representatives and experts in tourism, hospitality, design, architecture and historic preservation. The Queen Mary Land Development Task Force will provide feedback and recommendations to the city for developing the parcels as the city and ship operator look to create a timeline and process for drafting a new master development plan.
Unencumbered by cost restrictions or coastal zoning requirements, architects from three Long Beach-based architecture firms shared their thoughts with the Business Journal on possibilities for developing the Queen Mary property.
While the architects had somewhat different perspectives, they all agreed that whatever is built at the site should complement, not take away from, the downtown and waterfront. They also agreed that any proposal should incorporate a way to better connect downtown with the Queen Mary property so they can feed off of each other.
Perkowitz + Ruth Architects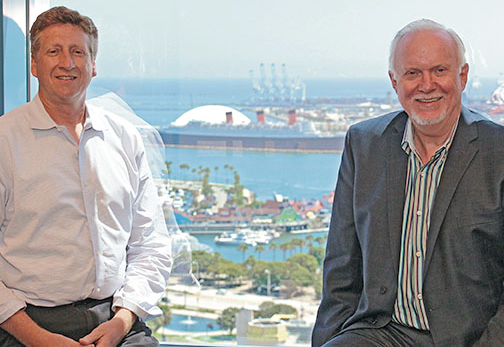 (Steve Ruth, right, AIA, president and CEO of Perkowitz + Ruth, and Michael Bohn, AIA, senior principal and design director for P+R's subsidiary, Studio One Eleven)
Steve Ruth, AIA, president and chief executive officer (CEO) of Perkowitz + Ruth (P+R), which is headquartered in Downtown Long Beach, said his first inclination is to build a "university-type setting," possibly partnering with California State University, Long Beach (CSULB).
"It would really activate that whole area without depleting what's going on in Downtown Long Beach already," said Ruth, who added that he collaborated with Michael Bohn, AIA, senior principal and design director for P+R's subsidiary Studio One Eleven, to develop ideas. "Obviously, it's a specialty type of use so you would need a specialty type of university or college to go there."
Ruth said the location is prime for an educational institution based on ecological issues, such as oceanography or marine biology, noting that the property is at the foot of the Los Angeles River flood channel, a study subject for urban runoff. Such an institution could join forces with the nearby Aquarium of the Pacific, he said.
A good example of what he envisions is the Scripps Institution of Oceanography in San Diego. As a department of the University of California, San Diego (UCSD), the institute is not only a tourist destination with its long pier and Birch Aquarium, which has 60 tanks, it is also renowned for researching marine life.
Ruth added that such an institution in Long Beach could also incorporate studies of maritime and international trade issues since the property is practically on the premises of the Port of Long Beach.
A second thought, he said, is to add uses related to hospitality, such as new resort hotels. However, the challenge would be to not take business away from hotels, restaurants and shops downtown, as downtown is going through its own revitalization.
Ruth said hospitality could be added to the Queen Mary property only if there is a "solution to energizing the downtown area and not depleting it further," adding that one idea is to add a ferry boat that circulates back and forth every 15 to 30 minutes.
"That would be the challenge," he said. "We're really creating a people place, a magnet, and you don't want to defuse that. How do you get people from the hotel across that water mass to actually help with the existing retail, restaurants and everything else we have?"
Environ Architecture, Inc.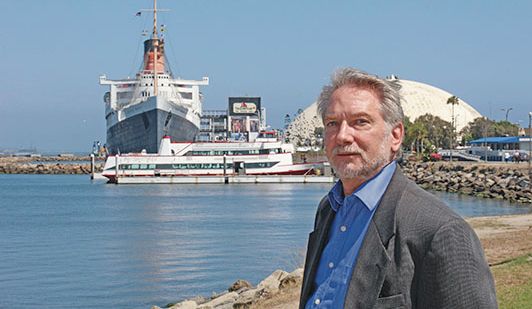 (Alan Burks, AIA, president of Environ Architecture, Inc.)
Alan Burks, AIA, president of Environ Architecture, Inc., also headquartered in Downtown Long Beach, said he doesn't see a need for commercial development at all, adding that he would like to expand the existing park all the way to the ship, to create one large waterfront park.
"I'd rather see it as a public amenity," he said. "[It could be] just a very wonderful, lovely park environment."
Freeing up land, however, would require all of the existing parking at the Queen Mary to be consolidated into parking structures, he added. Burks said such a large public park would come complete with boardwalks, bike paths, jogging paths and possibly even water features.
In addition, he said a new museum could potentially be added as well. Burks said there are already discussions to bring an aircraft carrier, to serve as a museum ship, to Long Beach, possibly at a space near the Queen Mary.
"There's a group that's starting to gather steam and apply to the Navy to get the U.S.S. Kitty Hawk," he said.
Like Ruth, Burks said it's important that whatever is developed not take away from The Pike, which is currently being converted into an outlet mall, and the downtown area, which is roughly a mile away from the Queen Mary.
Another goal of the development should be to find a way to cater more to the thousands of tourists who enter and exit the cruise ship terminal, he said, adding that currently the terminals are a lost economic opportunity since they are so disconnected from the city.
"I feel we don't get any economic benefit from people departing or arriving on the cruise ships because it's way out there out on Pier J, and there are no restaurants," Burks said. "There isn't enough for these people to do."
Burks added that the Ports of Call in San Pedro, for example, "benefits tremendously" from the cruise ship business.
Though moving the terminal landside might not be possible because the tall cruise ships would end up blocking views to the waterfront, one solution would be to move the terminals landside while running shuttles to the cruise ships, which could encourage tourists to spend money at The Pike, Rainbow Harbor and Shoreline Village.
Interstices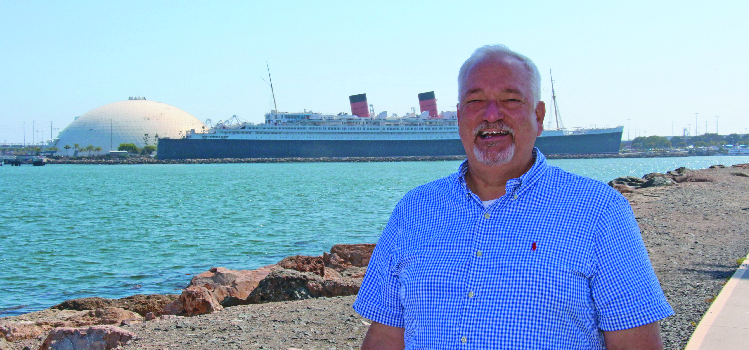 (Jonathan Glasgow, AIA, principal of Interstices)
Jonathan Glasgow, AIA, principal of Long Beach-based Interstices, who provided a response via e-mail, said development of a major project at the site would likely bring various opportunities to provide both physical and symbolic linkages between the Queen Mary site and the rest of Downtown Long Beach.
One suggestion, he said, is to build a new "pedestrian bridge" or "gondola system" between the knoll of the lighthouse and the existing events park located across the channel at the north end of the Queen Mary.
While this could provide an actual way to get over to the site from downtown, it would also act as a "major symbolic gesture that invites access and says, 'this is a part of our city,'" Glasgow said.
Another idea is to complete and complement the existing esplanade around the front of Queensway Bay across the Queensway Bridge and across the entire waterfront along the Maya Hotel, the Harry Bridges Memorial Park and onto the Queen Mary site, he said.
Extending the edge of the southwest side of the Queensway Bridge to create "attractive" pedestrian and bicycle access would also provide a symbolic connecting link, probably at lesser cost than a new bridge, Glasgow said.
"There are many precedents for successful, long-walking routes, including the Champs- Élysées in Paris and the High Line in New York City, but the route needs to be clear, beautiful and worth the effort," he said. "The great distance could become a benefit instead of a detriment to the linkage."
Glasgow added that "context and respect" for quality architecture are important, but "should not be confused with imitation," adding that previous attempts to develop The Pike and other structures downtown have been unsuccessful, particularly the architectural elements that tried to copy historical features, such as the "fake" roller coaster bridge.
"Note that the original Pike development had hired a world-class architect, but the built development did not follow those plans except at the waterfront design," he said. "The result has been unfortunate. As another opportunity, consider that the port structures and views could be considered an aesthetic resource for new development."
Glasgow, who was named 2014 Preservationist of the Year by the Long Beach Heritage Foundation for adaptive reuse projects in downtown, said, "It is very important, in all future development in and around the site, that we foster respect for the historic authenticity of the ship." "Restoration, preservation and reuse should all aim to meet the highest standards. As time goes on, we should work toward removal or relocation of the carnival-type attractions so that the unique, high-quality historic aspects of the ship can be highlighted. This should also help to enhance a sense of pride toward the world-class asset among the people of Long Beach."