In recognition of Long Beach Arts Month, the Business Journal is profiling six local artists – a cross section of the wide array of artistic talent found in the Long Beach area. Many come from other parts of the state and nation, but all have chosen to forge their careers in Long Beach, a city they say has a diverse and growing arts community. The artists profiled here represent many different backgrounds and fields within the arts. They are: Tyler Dilts, novelist; Latonya Kitchen, actor; Ron Leiter, metal sculptor; Julian Sanz, dancer; Katie Stubblefield, painter; and Donovan Vim Crony, filmmaker and illustrator.
Tyler Dilts, Novelist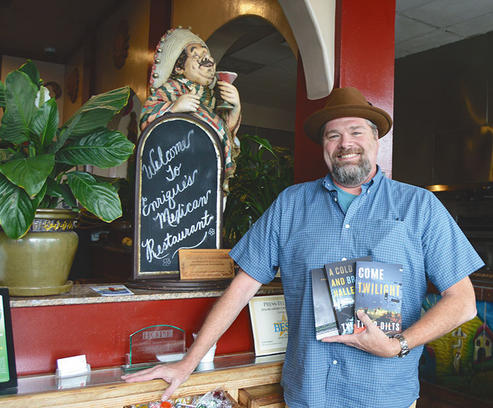 For novelist Tyler Dilts, Long Beach isn't just his home – it's also an inspiration. His mystery novels about a detective named Danny Beckett are all set in the international city, a place he said makes for an indelible backdrop.
In an interview at Enrique's Mexican Restaurant – one of Beckett's favorite places to eat – Dilts said he also draws inspiration for the novels from his own life. Dilts' father was a police officer, and he grew up around cops.
"I knew I could write convincingly about cops – not just about the investigative details but about . . . kind of the subcultures of personality that often wind up in police departments," he said. "I wanted to twist it a little bit because, at least in my experience, it's not as cookie-cutter and black-and-white as you see in most media representations."
Dilts' said his career as a novelist and as a professor at California State University, Long Beach (CSULB) has been "a series of lucky breaks." He originally intended to be an actor, having earned a bachelor's in fine arts in acting from CSULB in the early 1990s.
"I was getting frustrated because I was typecast. I played Lenny in 'Of Mice and Men' several times," Dilts said with a chuckle. A colleague suggested he start writing plays to create roles for himself, which he did.
"I got to enjoy writing more and more, and I wrote some screenplays," Dilts said. "I was a semifinalist for the Academy Awards' Nicholl Fellowship. And I was a finalist for the Sundance Screenwriting Lab."
Dilts decided to pursue a master's in fine arts in creative writing at his alma mater. It was there that, with faculty support, he began writing mysteries. His first Danny Beckett novel, "A King of Infinite Space," was published through Amazon-owned Thomas & Mercer in 2010.
Since then, Dilts has published three more books in the series. The most recent title, "Come Twilight," has been available for a month and has already sold about 3,000 copies. In addition to continuing the series, Dilts is planning other novels, at least one of which will also be set in Long Beach.
"The first place I encountered real writers who treated me like a colleague and took me seriously was in Long Beach," Dilts said. "I am sure that exists in other places, but I really felt it strongly here."
Latonya Kitchen, Actor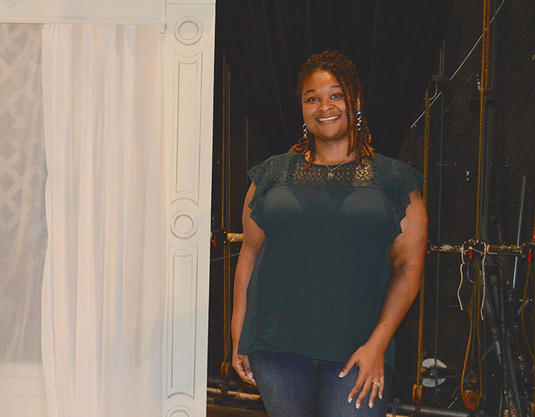 Latonya Kitchen has been acting since she was in the 7th grade, but it wasn't until she moved to Southern California that she got her first professional job onstage.
Although Kitchen had enjoyed entertaining her family as a child – her father was a DJ and he often recorded her singing – she didn't discover acting until she was given a monologue to perform in middle school. "When I learned it and performed it in front of everybody, it was the most exhilarating feeling being up there and doing that piece in front of all of my peers," she recalled. "It was from that point on I just knew that theater was it."
Kitchen performed in middle and high school theater productions, as well as in school and church choirs. She received a scholarship for theatrical studies at Austin Peay State University in Texas but left early for an internship opportunity in Florida. There, she earned a degree in health care administration from University of Phoenix.
Kitchen moved from Orlando, Florida, in 2013 to find opportunities in theater and for a change of pace. "I decided to come out here and see what the theater world has to offer because there's not much going on in Florida but Mickey Mouse," she said. "I was just doing community shows here and there."
The actress is a resident of Carson but has become a part of the Long Beach arts scene with multiple performances at the Long Beach Playhouse since her first role there in "By the Way, Meet Vera Stark" in 2015.
Following that performance, she was cast in the playhouse's production of the Andrew Lloyd Weber musical "Jesus Christ Superstar" as Mary Magdalene, one of the leads. It has been her favorite role to date. "I have sung in different types of environments, but I never did a musical before," she said. "I wouldn't trade that experience for the world."
Kitchen was again cast in a main role at the Long Beach Playhouse in "A Raisin in the Sun." In August, she acted in her first film – an indie flick based on the novel "White Nights, Black Paradise."
Acting is a passion Kitchen happily pursues in her free time. She currently works for UnitedHealthcare. "My love is always for the live stage. And if I can do it and do it for free, I am OK with that," she said.
Ron Leiter, Metal Sculptor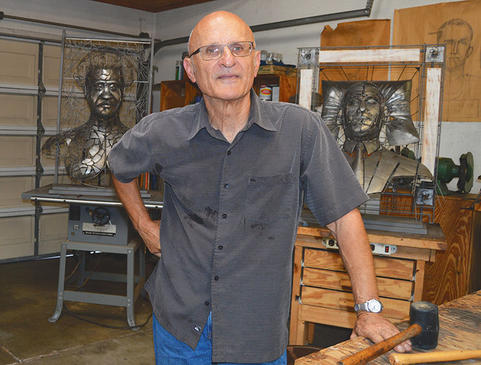 Ron Leiter's studio behind his home in Belmont Heights is full of artwork – steel sculptures crafted with hand and fire, many as representational portraits and others abstractions. He has been a metal sculptor for 40 years and in all that time has kept his art to himself and his wife, perhaps with the exception of visitors to his studio.
But that's about to change. Although Leiter has never sold or publicly displayed his art, he has decided to put it out into the world. Years ago, when he first took hand to steel, he had just been in a bad car accident. He'd studied art on his own time for many years and decided it was time to pursue his interest.
At first, he worked with musical strings, experimenting with piano wire in the hopes that the sound produced by his pieces would cause viewers to linger longer, he said. Those pieces were abstract, but his style has since become more representational, he noted.
"I work in steel almost entirely; the eighth-inch steel rod that can bend easily either from the torch or even from your hands, twisting it this way and that," he said.
Now that Leiter has decided to share his work with the public, he has been looking back on his decades of work and reflecting. "In looking it over, it's clear that what I do is go from one theme to another," he said. "The first theme that I had was the music that I was trying to produce."
Now, many of his pieces are related, he noted. "A lot of the pieces are tied together. If, for instance, I have Abraham, I probably have Isaac some place or other," he said, referring to the Old Testament father and son.
Leiter said he has been inspired by the works of sculptors like Barbara Hepworth, Henry Moore and others. He has taken a few classes in soft metal work but is mostly self-taught. The artist has lived in Long Beach since 1993 with his wife, who is a judge. Prior to retiring and working full time on his art, Leiter ran a garden nursery in Newport Beach.
Long Beach is an ideal city for Leiter as an artist because it takes him away from the hustle and bustle of a big city like Los Angeles, he said.
Julian Sanz, Dancer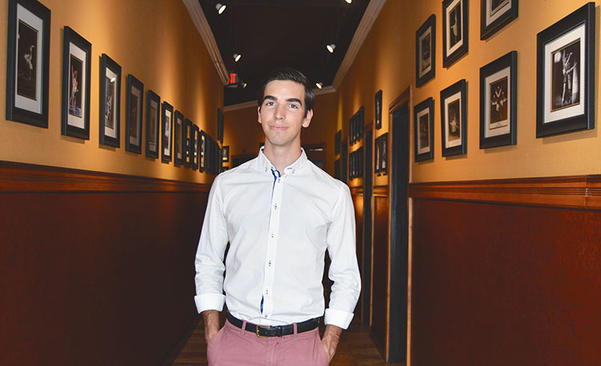 Julian Sanz, a Long Beach native and first-generation American of Spanish decent, has been a dancer since age five when he started taking classes at Long Beach Ballet. Now 23 and a recent graduate of California State University, Long Beach, where he studied electrical and biomedical engineering, Sanz calls himself "the ballet-dancing engineer."
Dancing and engineering are both passions Sanz knew he wanted to pursue from a young age. When he was five, the Long Beach Ballet gave away tickets to members of the Harbor Regional Center, a nonprofit that provides services to people with developmental disabilities and their families. "My sister has Down syndrome, and my dad was part of the Harbor Regional Center at the time," Sanz said.
After seeing a ballet performance, Sanz's sister enrolled in dance classes. "Of course, being the little brother that gets dragged to all the classes to pick her up, I would watch it. And I said, 'I want to do that,'" Sanz recalled. "My dad said, 'Yeah, he is going to quit in two weeks. Let him do it. Let him get it out of his system.' Then here I am, 18 years later."
Sanz has performed in Long Beach Ballet's annual production of "The Nutcracker" nearly every year since he joined the dance company, which is based in California Heights. He has also done guest performances for the San Pedro-based dance studio Dance Peninsula and performed in Disney's Pixar Play Parade at Disney California Adventure Park from 2012 to 2014.
Sanz has appeared in many ballets, including "Aladdin," "Hansel and Gretel," "Sleeping Beauty," "Peter Pan," "Swan Lake" and "Coppelia." "'The Nutcracker' will always have a soft spot in my heart just because I have done it so much," he said. "As an artist and a dancer, it has been a lifelong passion. . . . It's a part of me. I don't define myself without calling myself a dancer."
Equally important to Sanz's identity is his desire to pursue a career in engineering. "I remember even way back in second grade I wanted to be an inventor," he said. "By the time high school ended, I knew for sure that electrical engineering is where I wanted to be because that works with robotics and prosthetics."
He's willing to put his career plans on hold, however, if he gets a role that he recently auditioned for in a 15-month show at Tokyo Disney.
Katie Stubblefield, Painter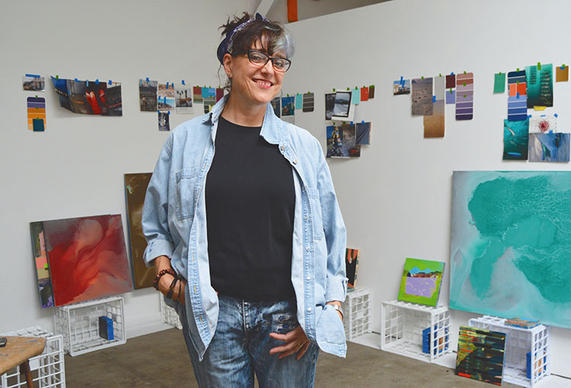 Painter Katie Stubblefield has been called "apocalyptically optimistic," a phrase that reflects her interest in natural disasters and the inspiration she draws from them in her paintings.
A transplant from Tennessee, Stubblefield's first year in Long Beach 25 years ago was marked by disasters. "My first place was down on 6th [Street] on the [west] side of Long Beach Boulevard. It was the year of the riots, the floods, the fires and the earthquake," she recalled.
"During the earthquake . . . my bedroom was in a turret. The turret was shaking – it was coming away from the building," Stubblefield said. "I decided that if I could make it through that first year, I could make it," she added.
"I love entropy. I love when things collapse and turn into something else," she said. "When I make my work, it's kind of a metaphor for that. . . . I start by making a wash of mud of sorts to begin to build a foundation on. Then I build from there and slide more washes on top of that and build more structure until this abstract thing emerges. . . . It's a very organic process."
Since 1990, Stubblefield has shown her work in dozens of group exhibitions. She has had several solo exhibitions of her paintings in Long Beach since 2001, when she graduated with her master's in fine arts in drawing and painting from California State University, Long Beach. She currently has a studio in a converted warehouse in the Zaferia District.
"I find as many different ways to work and make art at the same time as I humanly can," Stubblefield said. "My primary profession is teaching." She has worked with people with developmental disabilities for about 25 years and currently teaches at Coastline Community College in Newport Beach.
Stubblefield works abstractly in her paintings, organically building layers on the canvas. She is currently creating a series of works "anchored in the subject of ironic pain," with disorientation, density and entropy influencing her process. In addition to painting, she also sculpts and creates art installations.
"There are people doing art all over the place, and there are creative people everywhere, but it's like a shelter from the storm," Stubblefield said of Long Beach. "This is a supportive and contemplative place for me to work without the fast pace of Los Angeles."
Donovan Vim Crony, Filmmaker And Illustrator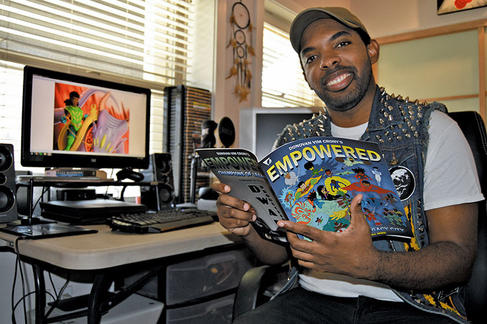 Filmmaker and illustrator Donovan Vim Crony got his start as a self-described punk who, after graduating from the California Institute of the Arts, paid cheap rent to sleep on friends' floors while he developed a name for himself making videos about the rock 'n' roll community.
As a teenager, Vim Crony got into the rock and punk scenes and eventually worked up the courage to bring his camera to live performances. His early works were documentary-style films about bands. In the early days of YouTube, he started up a talk show in which he interviewed musicians. "I didn't have a car, so I would have bands come down and interview them. Really awkward interviews," he said with a laugh.
His online show led to other filmmaking opportunities. One of the bands he interviewed, New Bloods, invited him to Portland to film a music video. "It was my first time flying out to shoot something for an actual record label," he recalled.
Music videos allowed Vim Crony more flexibility in his work, but he still sought an outlet that would allow him to be more creative. "Now I've moved on from music videos because that's also kind of restricting," he said.
In recent years, Vim Crony has branched out into making short films. "I'm doing experimental sci-fi. I'm really into cyberpunk, so really kind of hyper-aesthetic but at the same time kind of slow," he said. Two of his films, "Noise Gate" and the Spanish-language "Xara Yaocihuatl," are available to view online on the Arts Council for Long Beach's website.
In addition to film, Vim Crony is also an illustrator of comics, with a published comic/coloring book called "Empowered: Champions of Legacy City." The all-ages book revolves around superheroes of color, he said, noting that he was inspired to create more diverse representation in the world of comics. His influences include illustrators Akira Kurosawa, Dwayne McDuffie and others.
"I am just trying to tell stories. I am trying to not tell the same stories, especially in the black community where the stories are very much entrenched in trauma and violence," Vim Crony said.
Vim Crony moved to Long Beach in 2008, where he currently works from his home – a studio in Downtown Long Beach. He supports himself solely on his art. "It's becoming a really good place for artists," the Bakersfield transplant said of Long Beach. "We're getting there."