The history of the aviation and aerospace industries in Long Beach began in 1923 with the establishment of the Long Beach Airport. Douglas Aircraft Company opened its manufacturing plant on Lakewood Boulevard in the 1940s, merged with McDonnell Aircraft to become McDonnell Douglas in 1967, and then merged with Boeing in the 1990s.
Today, large commercial and military aircraft production has ceased, with Boeing reducing its presence in Long Beach to office space near its former production sites. However, the city is still home to numerous aviation and aerospace companies including Gulfstream Aerospace Corporation; Shimadzu Precision Instruments Inc.; Rubbercraft; Neill Aircraft Co.; Virgin Orbit, a branch of Sir Richard Branson's Virgin Galactic; and countless general aviation companies operating out of Long Beach airport, which had record-breaking passenger traffic last year.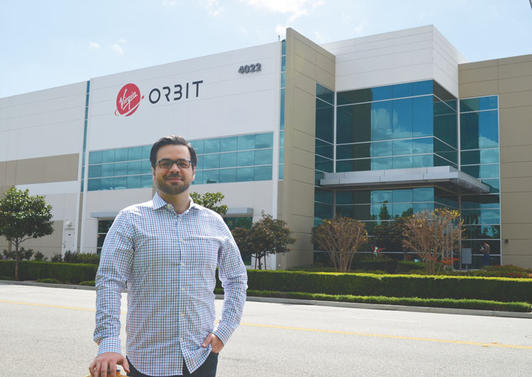 Since opening the doors of its Long Beach headquarters in 2015, Virgin Orbit has increased from around 40 employees to about 400 employees and has plans to become the world leader in rocket launches, according to Vice President of Special Projects William Pomerantz. Virgin Orbit is a branch of Sir Richard Branson's Virgin Galactic and builds a small satellite launch vehicle called LauncherOne. (Photograph by the Business Journal's Pat Flynn)
"One of the reasons we picked Long Beach is because it has a great history of aviation, and it's not lost on us that we are sitting on land where the aircraft that helped win World War II were built," William Pomerantz, vice president of special projects for Virgin Orbit, said. "We're really honored to be part of continuing that legacy of aerospace right here."
Virgin Orbit began operations in Long Beach on March 1, 2015, with around 40 employees and some ideas, Pomerantz said. The company now has around 400 employees at its Long Beach facility, which serves as its headquarters and manufacturing facility. The company designs and manufactures LauncherOne, a small satellite launch vehicle, and parks its Boeing 747 aircraft, Cosmic Girl, at the adjacent Long Beach Airport.
The LauncherOne rocket is 100% American made and almost entirely made in the Long Beach factory, according to Pomerantz. He explained that only a few components come from key suppliers and subcontractors but that nearly every computer board, rocket engine, fuel tank, bolt and fastener is built right in the Long Beach headquarters. Even the few components not made here are integrated into the vehicle in Long Beach, he added.
"So we have raw stock of carbon deposit and metal come to the door and a finished rocket come out the other end," Pomerantz said.
Virgin Orbit has plans to become the world leader (by a large margin) in rocket launches within several years, Pomerantz explained. He said that in 2017 only 90 launches took place worldwide. This year, Pomerantz said the company expects five or six launches. Next year, that number is expected to ramp up to 12 and, in 2020, Virgin Orbit plans to launch 24 rockets. However, no specific dates have been announced.
"We are fully sold out for year one; we're a little more than two-thirds sold out the following year; and we're a little more than half sold out for the year after that," Pomerantz said. "So, the fact that we haven't flown yet and we've already got a backlog that extends a couple years out into the future is a nice thing."

Gulfstream technicians serviced more than 1,300 aircraft in Long Beach and surrounding areas in 2017, according to a company spokesperson. More than 120 new aircraft were delivered by the company last year, with most being completed at its Long Beach facility. (Photograph courtesy of Gulfstream)
NASA and the United States Air Force are among Virgin Orbit clientele. Private companies are also highly active with Virgin Orbit. OneWeb, a startup that raised around $2 billion to launch constellation satellites to provide Internet service all over the world, and Cloud Constellation Corporation, which will provide cloud computing and crypto-secure data in space, have both bought launches, among others.
Mike Ivans, commercial business senior manager at Shimadzu Precision Instruments Inc., said since the company moved from Torrance to Long Beach three years ago to expand and increase its footprint, it has increased business steadily, and 2017 was no different.
Upon moving to Long Beach, Shimadzu expanded from a repair station and original equipment manufacturing, adding metal surface treatment and machining. Ivans said the company searched for a new location for years before the development of Douglas Park began, attracting the company's attention.
Today, Shimadzu's roughly 60 employees produce components and provide aftermarket services for Boeing's commercial aircraft ranging from the 737 to the 787. In addition to Boeing, Shimadzu does business with Honeywell Aerospace, providing accessory gearboxes for several regional aircraft. Ivans said he expects business during 2018 to be on pace with the growth seen in 2017.
"I believe the airlines in general are doing very well at this phase in the cyclical commercial aerospace business. That is driving a lot of growth," Ivans said. "There is a lot of consumer demand for commercial aerospace now. With the airlines doing better financially, there is an opportunity for them to upgrade their fleets to become more efficient with better performance. That is driving the cycle."
Anthelion Helicopters, which operates out of Long Beach Airport, experienced 75% growth in 2017 and shows no signs of slowing, Co-Owner Alex Chaunt said. The helicopter company was founded in Long Beach in June 2014 and offers pilot lessons, charter flights, tours and photography excursions. Some of the continued growth comes in the wake of competitor Los Angeles Helicopters closing its doors in December, Chaunt noted.
At the beginning of the year, Anthelion changed from being a Part 61 flight school to a Part 141 flight school, which means it is accredited by the Federal Aviation Administration (FAA) for promoting and maintaining the highest flight training standards. Chaunt said all companies start as Part 61 but that Anthelion always intended to gain accreditation by the FAA. Because of that goal, Chaunt said the business has always kept to the highest standard when training pilots.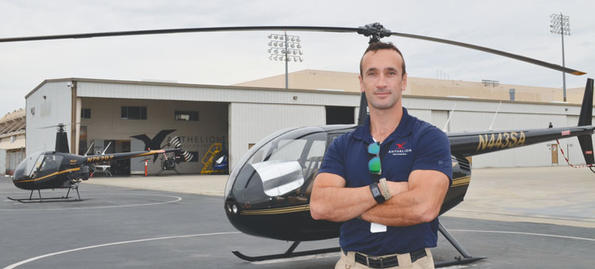 Anthelion Helicopters grew 75% in 2017, according to co-owner Alex Chaunt. The company offers pilot lessons, charter flights, tours and photography excursions. (Photograph by the Business Journal's Pat Flynn)
Anthelion works closely with the Long Beach Area Convention & Visitors Bureau and other groups in the city to become more ingrained in the community, Chaunt explained. He said the noise issues that come with operating at Long Beach Airport are always present but that the company does everything it can to keep noise to a minimum in an effort to be a good neighbor to surrounding residents.
According to Chaunt, Anthelion has already expanded operations down to Oceanside and Carlsbad. For the Long Beach operation, which currently has nine helicopters in its fleet, Chaunt said his focus this year is to buy larger models to accommodate larger tour groups and higher-end charters.
"We just try the best that we can do every single day. Every customer is massively important, whether it's a 15-minute tour or a four-hour charter. Everyone is still going to get treated the same. Every single point one second that those aircraft blades are spinning is important and every customer attraction is totally valuable."
One of the challenges of the helicopter industry right now is a shortage of pilots, Chaunt explained. He said this is a huge concern for the industry's governing bodies over the next five to 10 years, which makes quality training paramount. The shortage's effect on the flight training market is going to be interesting, Chaunt said, adding that people getting into the industry now might find it to be lucrative.
Along with helicopter pilots, plane pilots are in high demand as well, according to Candy Robinson, owner of Long Beach Flying Club and Academy. She said a pilot shortage has been advertised in the industry for years but that this time it's real, with many pilots coming up on retirement.
"Companies are actually having to park airplanes right now because they don't have crews. I think one or two of the small commuter airlines have closed their doors because they can't get the pilots and the training is really rigorous," Robinson said. "If you can't train them quick enough, you're really hurting."
However, for a flight school, a pilot shortage means opportunity for increased business. For Robinson, the shortage played a role in her company's roughly 7% growth last year. She said she expects similar growth this year as the shortage continues.
While the flight school has had much of its growth in international students, Robinson said recently there has been a shift and the company is seeing more growth in trainees from Los Angeles and Orange counties.  She said the company still has its fair share of international students but that the strong hiring at the commuter level has attracted many locals to sign up for training.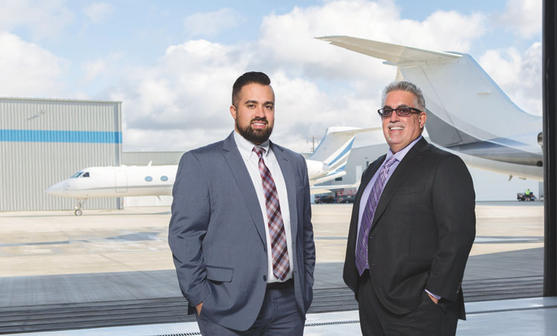 Curt Castagna, president and CEO of Aeroplex/Aerolease Group, and his son Justin are pictured in the company's newest development at Van Nuys Airport. Justin was the project manager for the development, which includes a 40,000-square-foot hangar and 10,000 square feet of attached office space. "In a changing aviation marketplace, Aeroplex is taking a proactive approach in the redevelopment of airport facilities to meet current aircraft specifications and demand," Justin said. "The leadership in project management, development, and airport policy has allowed Aeroplex to excel, being a premier aviation consulting and airport development firm, in Long Beach and beyond." (Photograph courtesy of Bob Beresh)
Ross Aviation, a Long Beach Airport fixed-base operator that took over Toyota's AirFlite in 2016, has seen a decline in business, according to General Manager Greg McQueary. He said that business declined between 3% and 7% last year compared to 2016. However, he noted March has seen an uptick in business.
"The industry is extremely cyclical, but I think nationwide there seems to be a slowdown in corporate jet flights. We're starting to see, not just from us but from our competitors, that the percentages are down quite a bit," McQueary said. "We don't know why but we are definitely concerned about it. I wish I had an answer but I think the whole aviation community is a little concerned and I'm not sure what's driving that."
Last year, the City of Long Beach sent out a request for proposals for the development of 31 acres of land at the airport near the former Boeing C-17 site. Ross responded with a proposal to add a parcel it currently occupies on a month-to-month basis to its lease, which would allow the company to construct a new hangar. The other proposal came from Gulfstream Aerospace Corporation, to expand its presence at Long Beach Airport with new development. Both proposals are currently being negotiated and would require Long Beach City Council approval.
Gulfstream Long Beach technicians serviced more than 1,300 aircraft on site or at other local general aviation airports such as Van Nuys last year. The company also delivered 120 aircraft in 2017, many of which were completed at the Long Beach facility.
"Our West Coast and Asia-Pacific fleets continue to grow, and our facility is a destination spot for those operators who have scheduled and unscheduled maintenance, along with avionics upgrades and refurbishments," Thomas Anderson, vice president and general manager of Gulfstream Long Beach, said. "We will continue to deliver first-class service and support and look for ways to enhance our processes and become even more efficient."
The company's Long Beach facility employs more than 800 people and is the main hub of West Coast operations, dedicated to outfitting the new Gulfstream G650 and G650ER business jets. The outfitting of these aircraft includes exterior paint, and installing seats, carpets, entertainment and communication systems, galley, lavatory fixtures and other furnishings.
Kevin McAchren, president of Airserv, a ground support and ground equipment leasing company at Long Beach Airport, said increased flights at the airport have resulted in growth for his company.
"It actually took almost all this time since the Great Recession that we got into in 2008 to kind of build things back," McAchren said. "We seem to be on an upward trend along with a lot of other folks on the airport and a lot of other aspects of the business on the airport."
This upward trend began only a couple years ago, McAchren explained. He said the current strength of the overall economy is the most likely factor for increased activity, including the nearly 3.8 million commercial passengers travel through the airport.
The Aeroplex/Aerolease Group has felt the effects of the strong economy as well, with a successful previous 12 months, according to President and CEO Curt Castagna. He said the business world is operating their aircraft and that he has seen higher activity levels than last year. However, he noted that Long Beach is not on the same level in terms of general aviation activity as airports such as Van Nuys that are dedicated to those services.
Though there has been some turnover in operations at the airport, Castagna said the new tenants that are coming in are a welcome and positive change.
"We have a couple of corporate aircraft that are based here. That's refreshing. Long Beach hasn't always been a strong base for business aircraft, so it's good to see strong demand for businesses looking to base airplanes," Castagna said. "We can draw a line between some of our activity and the Douglas Park evolution and the activity level there."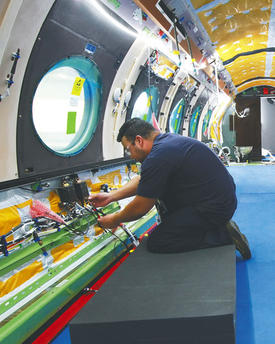 Gulfstream employee Roberto Suncin, an avionics technician, is installing a connector for the Gulfstream Cabin Management System on a G650ER aircraft. The system synchronizes with smartphones and tablets to provide touch-screen control for temperature, lighting, window shades and entertainment options. (Photograph courtesy of Gulfstream)
One new tenant that is in the works is the Spartan School of Aeronautics, which would occupy The Abbey Company's former space at 3205 Lakewood Blvd. The school would bring between 400 and 600 aviation maintenance students to the city, which Castagna said would help with the industry's current challenge of a shortage in trained mechanics and skilled laborers.
Proposed improvements to the commercial airport facilities, including the historic terminal building, may not directly impact general aviation operators, but Castagna said he is looking forward to them. He said the airport is a window into the Long Beach community, and any improvements and investments that can be made only enhance the visitor's experience when first stepping foot in the city.
"I think there are lots of opportunities at Long Beach. I've said it for many years – this airport is an integral part of the economic development tool of Long Beach," Castagna said. "I continue to encourage elected leaders to see the value in linking the airport into the rest [of the] economic development plan with city staff and making sure that we're all on the same page with that."
For Boeing, its Long Beach operations remained stable through 2017 and into 2018, according to Rudy Duran, the Southern California design center director and Long Beach site executive. The facility on the southeast corner of Lakewood Boulevard and Carson Street is home to Boeing Commercial Airplanes' engineering work, as well as Boeing Global Services, including Engineering Modifications and Maintenance. Also, the C-17 Globemaster III Integrated Sustainment team will come to Long Beach by the end of the year.
"We also have work at Long Beach related to our new vertical integration strategy which is designed to strengthen Boeing's internal capabilities and customer knowledge," Duran said. "By the end of 2018, all of our consolidation-related moves will be complete and the site will be operating at close to full capacity."
The near-term outlook for Boeing in Long Beach remains stable, Duran said, noting that the team is delivering great value for customers and shareholders. He explained that the site's various teams are moving forward on multiple projects, including Boeing's supplier transformation efforts and modifications for new cargo aircraft.
Aside from the work being done at its facility, Duran said Boeing continues to be fully engaged with the Long Beach community and Southern California in general. The company has a partnership with California State University, Long Beach, and supports City of Long Beach leadership programs.
"Our teammates are involved in STEM and FIRST robotics outreach with schools in the area, and we actively partner with nonprofits to support those in need," Duran said. "While our footprint in Long Beach has evolved over the years, our commitment to the community remains steadfast: We're all in!"