Environmental activist group Algalita Marine Research and Education is teaming up with the City of Long Beach to educate local students on the dangers and overwhelming presence of plastics pollution along the city's coast and in the ocean.
"The city felt that there was an opportunity to ensure that we were engaging more with local networks here in the community," Erin Rowland, waste diversion and recycling officer for Long Beach Environmental Services Bureau (ESB), said. "We really felt that the work that Algalita is doing related to plastics pollution and some of their student engagement programs they already had were really the next step for us here at the city."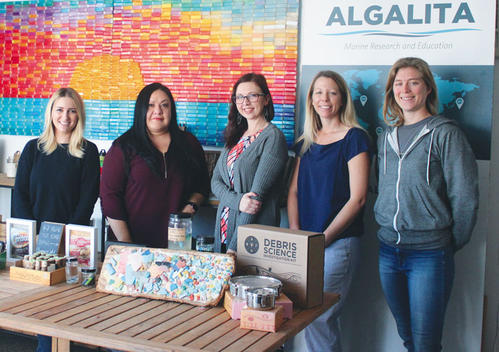 The City of Long Beach is partnering with Algalita Marine Research and Education to expand the nonprofit's efforts to educate local youth about plastics pollution. Pictured from left: Katie Allen, executive director of Algalita; Long Beach Environmental Services Bureau (ESB) Recycling Specialists Elisa Calderon and Leigh Behrens; Erin Rowland, ESB waste diversion and recycling officer; and Anika Ballent, education director for Algaita  (Photograph by the Business Journal's Brandon Richardson)
Founded in 1994 by Long Beach native Charles Moore, Algalita was originally formed as an effort to restore kelp forests off the Southern California coast. However, after sailing through a dense plastic accumulation area in the North Pacific Gyre, Moore shifted his focus to tackling the plastic pollution epidemic. According to Algalita Executive Director Katie Allen, Moore appeared on media outlets such as David Letterman and The Colbert Report, effectively sparking what she calls the "Great Plastics Awakening."
The organization promotes four major program pillars: monitoring and investigating plastic accumulation in the open ocean; its facility at 148 N. Marina Dr., which promotes plastic-smart habits to the community; reaching out to those in the plastic industry, from manufacturers to brand owners; and educating people, especially youth, about plastic pollution through its robust education department.
"We work with youth to really empower them to create action campaigns in their communities globally, and with teachers to educate and engage youth," Allen said. "We do that mainly in Southern California but then in our youth summit we've worked with 24 countries around the world so far."
According to Rowland, the city is partnering with Algalita in the realm of education. As part of the city's residential recycling contract, Waste Management will provide funding to Algalita to reach out to different schools over the next few years and provide teacher kits, classroom presentations and field opportunities to get students to the beaches to gain experience collecting sand and water samples and educate them about plastic pollution.
In addition to funding, ESB staff will work with the schools on campus and in the field, engaging with students and teachers. Rowland explained that while many are familiar with the three Rs – Reduce, Reuse, Recycle  – Algalita's fresh perspective of "Refuse and Rethink" is one the city wants to pursue. In short, this means focusing on prevention rather than cleaning up the aftermath.
"For us it's really important that we really start to be responsible with the material. We have not feared its consequences and that is reflected by it being out in the environment," Allen said. "It's not necessarily taking the power away from the plastics, it's giving the plastics more power and really fearing the consequences that they can potentially bring. So, how do we articulate that to this generation so it is something that they bring forward as they are the future leaders?"
Next month, Algalita will host its seventh annual POPS International Youth Summit (POPS is an acronym for Plastic Ocean Pollution Solutions) at the Ocean Institute in Dana Point. Youth from around the world apply with projects focusing on reducing waste within their communities or other scientifically focused projects for a chance to attend the summit. Rogers Middle School is representing Long Beach at this year's summit, and Allen said she hopes more Long Beach schools will be involved in 2019.
For students who are more industry focused, Algalita is launching an Innovation Forum this summer. The City of Long Beach is sponsoring local students to attend the forum to dig into ideas on how to start innovating and transitioning the waste industry by rethinking plastic manufacturing and recycling. Allen said the partnership with Waste Management and the city will only strengthen Algalita's work to create a more circular plastics economy with the next generation of leaders.
Though the forum is expected to be heavy in regional student participation, there are already several groups slated to attend from other parts of California, as well as from other states. However, in the future, Allen said she would like to have more of a national focus due to the fact that waste collection systems vary widely from state to state and even within states.
According to Rowland, as part of the partnership, ESB is planning cleanup events for students and Long Beach residents utilizing Algalita's focus on education and prevention. During Algalita cleanups, participants are provided a list of specific plastic items, turning the chore into more of a scavenger hunt. Allen explained that this forces the volunteers to pay attention to the various types of plastics polluting local beaches, rather than just picking items up and putting them in a trash bag. By doing this, the hope is people will begin to think about their own habits and how to prevent the pollution in the first place.
"We see the programs as a sort of launching off point . . . to move the message through businesses, schools and residents to work together to see change here so that we have a beautiful beach, and people love coming here, and they're not stepping on microplastics, and we get more people outside to enjoy the city that we are so passionate about," Rowland said.