Home prices and rents continue to increase throughout California, exacerbating the statewide housing crisis. Housing issues impact homelessness throughout the state, which accounts for 24% of homeless persons in the U.S. – nearly 130,000 people, according to a 2018 report by the U.S. Department of Housing and Urban Development. To combat the crises, Gov. Gavin Newsom has called for increased housing development, and many residents are seeking additional housing options that are cheaper and faster to construct. Local firm CRATE Modular believes steel shipping containers could be the answer.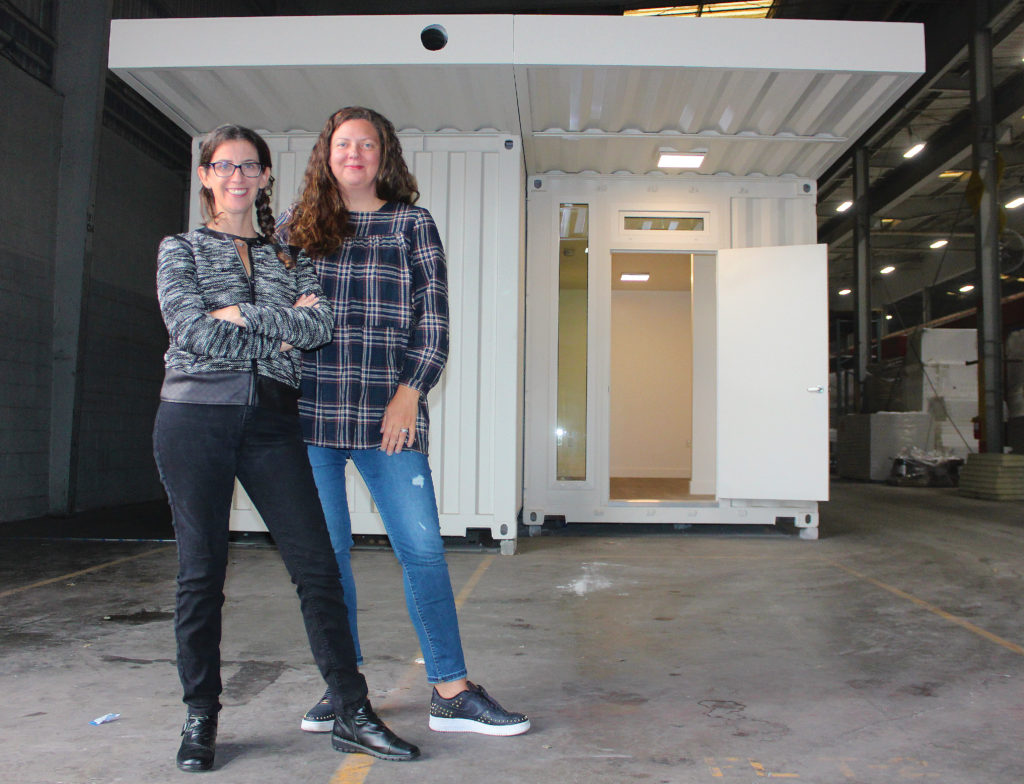 "People are being priced out of these markets, so how can we build a community that works here and lives here? It's this whole idea of sustainability – the product, the people, the community, all of it," CRATE President Lisa Sharpe told the Business Journal. "Homelessness is such a profound issue. [Our company] is about making a difference in our community, getting people off the street and creating market-rate multi-family [housing] for people that just can't afford to live in these markets anymore."
Founded just over one year ago with the acquisition of Growthpoint Structures, CRATE is a women-led and operated development firm specializing in the design and construction of container-based buildings. CRATE operates out of a 110,000-square-foot warehouse and office on the Long Beach-Carson border. The firm has more than 100 employees – most of them residents of Long Beach and Carson – with plans to increase its workforce by 30% in the next six months.
To accommodate its need for a rapid increase of skilled workers, CRATE has partnered with California State University, Long Beach, to attract students from its programs, and will partner with Long Beach City College's (LBCC) welding and metalworking trades program next year. Sharpe said these students will have access to apprenticeships following graduation, which could lead to permanent fulltime jobs once fully certified. Employee retention at CRATE is 98%, Sharpe added.
"People don't leave. It's like we're a big family here," Sharpe said, noting the company's paternity leave policy and its ability to accommodate employee needs. "We want people to be proud of where they work, and I want to support our employees."
Over the last five years, CRATE and its acquired firms have designed and delivered more than 250,000 square feet of container building space, including Potters Lane in Orange County, a 16-unit project for chronically homeless veterans. The project was the first container-based apartment building for chronically homeless veterans in the U.S. From design to occupancy, Potters Lane took nine months to develop at a cost of $6.3 million. CRATE Vice President Amanda Gattenby, who has a background in affordable housing development, said a similar affordable housing project constructed by traditional means usually takes anywhere from 18 months to two years to be completed. The firm has also completed an eight-unit container building in Los Angeles that houses 32 chronically homeless people.
"We're part of the Factory-Built Housing Program, which is overseen by [the California Department of] Housing and Community Development. We have a state approval, which means our factory can build for anywhere in California," Gattenby said, adding the company is also part of a similar federal program. "Our permitting time is very abbreviated – anywhere from 48 hours to five days. We have state inspectors come to the factory."
Container-based housing is ideal for cities such as Long Beach that are nearly fully built out but may have small vacant or underutilized lots available, Sharpe noted. She explained that due to the standardized sizes of containers – eight feet wide by eight feet tall, with lengths of either 20 or 40 feet – they can easily be placed and stacked on sites that may not be desirable to a traditional developer. Because of the ease of container building, smaller properties can be utilized for shelters or affordable housing for homeless rather than sitting vacant or dilapidated, she said.
Once a particular module or container configuration has been approved by the state, the same design is pre-approved, in perpetuity, for future developments, Sharpe said, adding that local entitlements and zoning still apply. Modules are portions of a unit that can be combined in numerous configurations to customize housing, be it multi- or single-family. Currently, CRATE has 11 modules pre-approved by the state, as well as six configurations ranging from studio to two-bedroom units. CRATE also has pre-approval for five multi-family buildings, a 15,000-square-foot homeless shelter and 12 different classroom configurations. As the company's latest endeavor, two accessory dwelling units (ADUs) have been pre-approved by the state.
"Many homeowners are unfamiliar with the building process and starting at the beginning with getting an architect and a soils report and a survey can seem daunting," Gattenby said. "We wanted to offer a turnkey solution with an off-the-shelf, pre-designed, pre-approved item."
Often referred to as granny flats, ADUs have a history of housing elderly parents who want or need to live closer to their children. Sharpe noted ADUs are also ideal for housing a family member who may have been priced out of the housing market, a child who moves back home after college hoping to save money or as a rental income space.
Both of CRATE's pre-approved ADUs include a full bathroom and a kitchen area. A single-container unit is 160 square feet and includes minimal living area, while the 320-square-foot double unit has an expanded kitchen space and additional living space. The single module has a fixed price of $45,000 and the double module is $75,000. These prices do not include the sales tax (only 40% of the local sales tax rate) or delivery costs.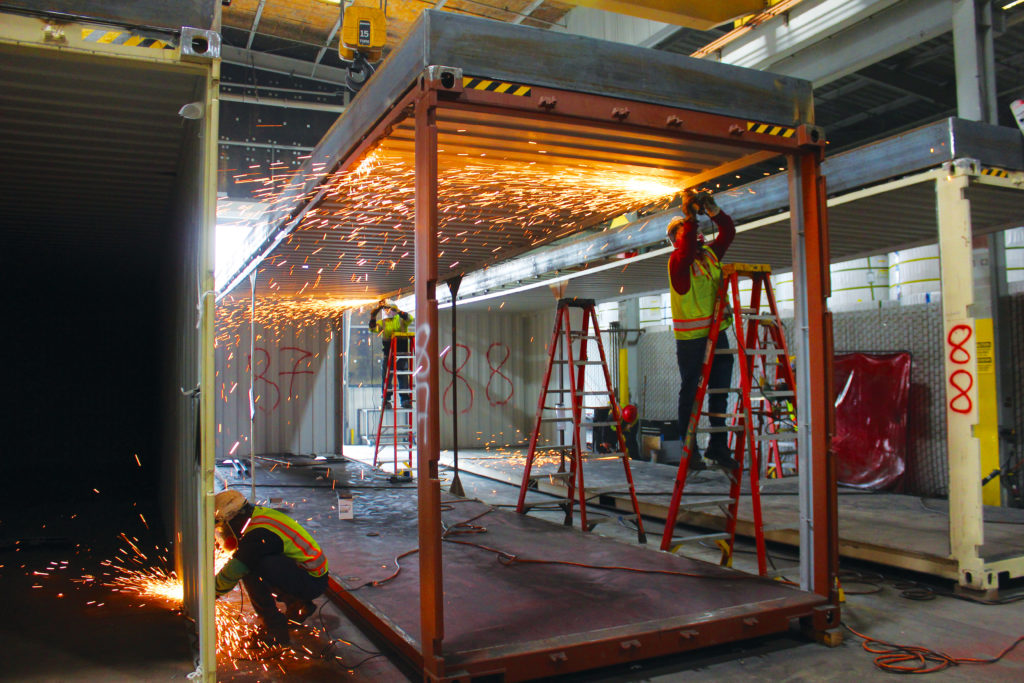 Homeowners must obtain a permit for an ADU from the local municipality, have a slab foundation poured and prepare utilities before CRATE can install one of its pre-approved models. Gattenby noted that an ADU can be constructed in three weeks in CRATE's facility. Due to a string of California legislation, parking requirements have been greatly reduced or eliminated for ADUs, permitting for the structures has become streamlined for homeowners and fees have been reduced. Gattenby said CRATE plans to increase its ADU offerings to additional units, as well as expand its pre-approved portfolio to include retail and restaurant units, similar to SteelCraft in Bixby Knolls.
Regardless of project type, each unit or module is fully constructed in CRATE's facility using containers purchased primarily from Port of Long Beach operators. Containers are modified using several metalworking and welding techniques to create openings, such as those for doors and windows. Plumbing, electrical and mechanical work is also completed in CRATE's facility. During the construction process, each container receives two coats of primer – one to prevent rusting and the other for color. Interior construction includes spray-foam insulation, as well as birch plywood and Corian (a solid surface material made of acrylic polymer and alumina trihydrate) wall finishes. The end result looks like any normal house or apartment.
Once completed, each module is individually transported to the construction site using a semi-truck, just like any container would be transported. "Obviously, the transportation industry is built around containers and our dimensions, so I don't think ever in the history of the company have we had to shut down a local street," Sharpe said. Once onsite, the containers are configured and their utilities are connected. These onsite connections are inspected by the local municipality.
"I'm very passionate about projects with a compassionate component. I see factory-built housing with container modules as being able to really solve the problem of deploying units quickly and creating more units across all [types] – not only permanent supportive housing or emergency shelters, but also market rate," Gattenby said. "Even the ADUs – doubling the density on single-family lots – can help with the housing crisis."