Lakewood Regional Medical Center, a 172-bed community hospital on the Lakewood-Long Beach border, recently hired seven neurosurgeons with varying specialties to broaden its care to better serve Artesia, Bellflower, Cerritos, Downey, Lakewood, Long Beach and Paramount – a service area with more than 850,000 people.
"The number of neurosurgeons . . . in the area is kind of limited. So a lot of patients have been leaving the area for care because of availability," Lakewood Regional CEO John Grah said. "Bringing together [this] group allows us to have multiple specialists that may not normally exist in a smaller community hospital and helps us meet the needs of patients."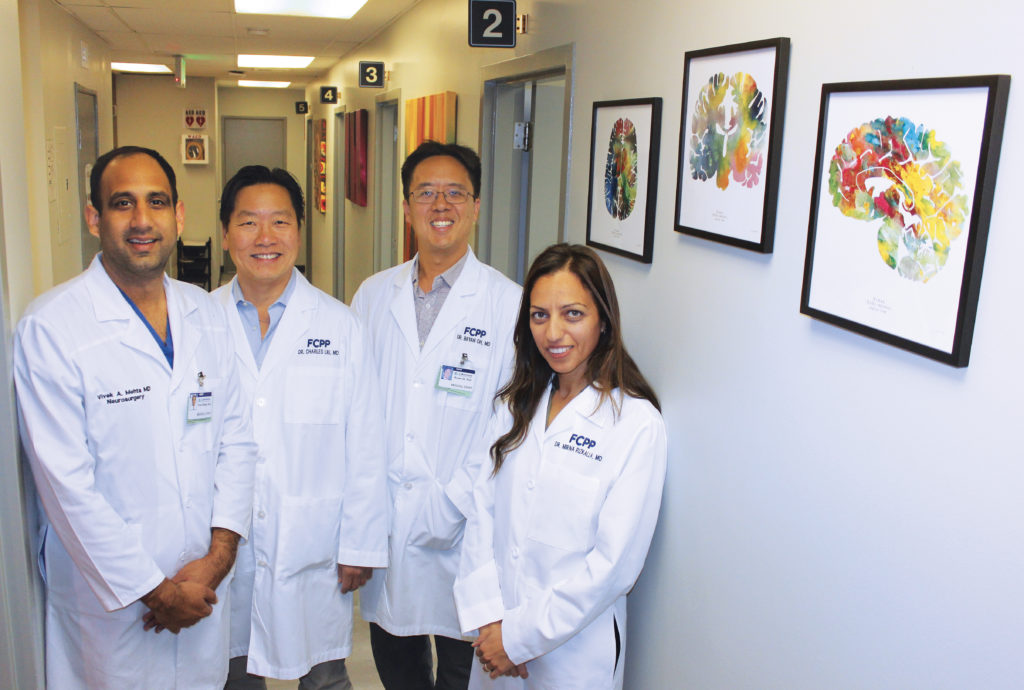 The new 1,521-square-foot clinic, housed in previously vacant office space, is located at 3650 E. South St., Lakewood, and includes five patient rooms, a waiting area, a reception desk and an office. The seven neurosurgeons include: Dr. Brian Lee, who specializes in movement disorders, Parkinson's and epilepsy; Dr. Bryan Oh, lumbar spinal stenosis, cervical spinal stenosis and cervical radiculopathy; Dr. Charles Liu, epilepsy, brain tumors and meningioma; Dr. Darrin Lee, trigeminal neuralgia, Parkinson's and essential tremors; Dr. Jonathan Russin, aneurysms, and brain and spinal arteriovenous malformations; Dr. Joseph Chen, brain tumors, pituitary tumors and spinal tumors; and Dr. Vivek Mehta, brain tumors, brain trauma and hydrocephalus. The space also serves as the office for family medicine and primary care physician Dr. Mirna Rizkalla.
"The community is fantastic. It's great to be in a community where I feel I can make a contribution to the wellbeing of patients . . . by bringing a full breadth of neurosurgical expert care . . . to our general service area," Oh said. "Neurosurgery is a very specialized field. It's very rare in a smaller community [hospital] in the United States to actually have a group that provides a full spectrum of care."
Oh went to medical school at Stanford University and completed his residency and fellowship at the University of Southern California. Previously he has worked at Fountain Valley and Anaheim regional hospitals.
An acute-care facility, other Lakewood Regional services include a primary stroke center, heart care, 24-hour emergency care with online check-in, bloodless medical care and surgery, and a MedPost urgent care facility located directly across the street from the hospital. The hiring of seven neurosurgeons is part of Lakewood Regional's plan to expand neuro and stroke capabilities, according to hospital staff.
The hospital is weeks away from becoming certified in thrombectomy, a procedure to remove a clot from a blood vessel. This recognition means the hospital will be certified as a comprehensive stroke center by DNV GL, an organization that accredits and certifies health care organizations nationwide, allowing the Los Angeles County Emergency Medical Services to transport stroke patients to Lakewood Regional.
"It's more convenient for the patients – they only have to go to one office, and get to know one hospital and one set of folks," Grah said of the expanded services. "Lab tests don't get redone, X-rays don't get redone just because they're seeing a different doctor with a different specialty in different practice. So it really does make the care much more efficient."