On September 19, the Long Beach City Council narrowly voted down a proposal to create an ordinance imposing new safety and workload regulations on Long Beach hotels, with a loophole – unionized hotels would be exempt. Proponents of the ordinance argued that it was about safety for hotel workers, particularly for female room cleaners who, they contended, are more likely to be victims of sexual assault. Opponents of the measure, largely represented by business interests, argued that it was something of a Trojan horse: an attempt to force hotels to unionize disguised as a movement to protect workers from violence.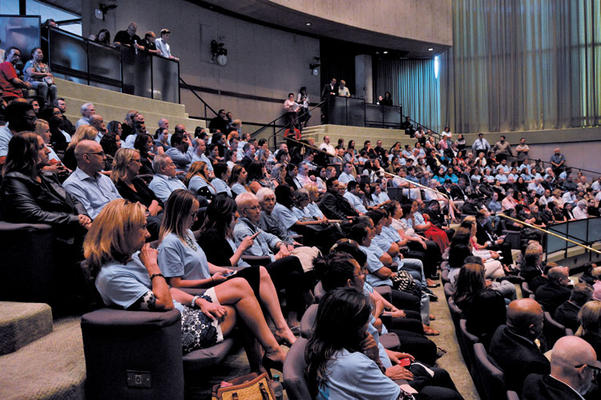 Hundreds of residents, community activists and industry workers gathered at City Hall during the Long Beach City Council's September 19 meeting. Three controversial items were on the agenda: an ordinance creating hotel labor regulations; a sanctuary city policy expanding on state Senate Bill 54; and the Southeast Area Specific Plan. (Photograph by the Business Journal's Larry Duncan)
First District Councilmember Lena Gonzalez was the principal author of the proposal, entitled "Supporting Long Beach Working Women: Hospitality Workload & Safety Ordinance." Her proposal was co-signed by 2nd District Councilmember Jeannine Pearce, a former labor advocate for Los Angeles Alliance for a New Economy (LAANE), an organization that has been advocating for this type of legislation under the name "Claudia's Law." It was also signed off on by 7th District Councilmember Roberto Uranga and Vice Mayor/9th District Councilmember Rex Richardson.
Safety provisions in the ordinance would have required hotels to provide hotel room cleaners with panic buttons, provide notice to employees of any sexual offenders staying as guests, put notices in rooms informing guests about hotel workers' rights to be free from harassment, and other requirements. Workload regulations pertained to limiting the square footage workers would be allowed to clean in a certain period of time and mandating that overtime be voluntary.
Hotels with "a bona fide collective bargaining agreement" that included "equivalent protections" would be exempt, according to the agenda item.
Protests at downtown hotels in the past few years, largely led by the union Unite Here Local 11, have centered around the issues of sexual violence against hotel workers and burdensome workloads.
Sgt. Brad Johnson of the Long Beach Police Department told the Business Journal that there was one battery of a male adult victim reported at a hotel on the 100 block of East Ocean Boulevard on June 16 this year. On July 30, a sexual battery in which a suspect "slapped a female victim's buttocks over her clothing" occurred at a hotel in the 200 block of Bay Street. He also noted that in 2014, a female employee of a hotel reported that a male suspect exposed himself to her.
The council meeting went late into the night as dozens of individuals participated in public commentary for the item. All councilmembers participated in debate over the item and were frequently interrupted by applause and jeering.
Third District Councilmember Suzie Price spoke at length, detailing concerns and questions about the ordinance while affirming her support for the safety of workers.
"Look, I am a prosecutor. I know that most sexual assaults go unreported," she said. She pointed out that the ordinance only applied to hotels with more than 100 rooms. "Do we have any data that says people are more likely to be assaulted if they are working in a hotel with 100 rooms versus working in a hotel with less than 100 rooms?" Police Chief Robert Luna responded that he was unaware of any such data.
Price also said she did not understand the connection between the amount of square footage a hotel worker cleans and that worker's likelihood to be assaulted. Pearce later explained the ordinance was about "inhumane working conditions" related to both workload and safety.
Eighth District Councilmember Austin commented that as a union representative, he appreciated the concern for the issues behind the ordinance. "While I appreciate the advocacy on this issue, I really didn't appreciate the tone, the subtle threats, the direct threats," he said. "I found that to be despicable, but also duly noted."
Austin continued, "The item before us doesn't feel like sound public policy in my opinion. And it is not supported by facts, and there is no record of reported incidents. . . . What is the rush?"
After questioning the city attorney on a number of points, Austin made a substitute motion. "I am going to take a shot at a substitute motion to request the city attorney to draft a resolution of the city council's strong support for safe work environments for all employees in Long Beach's hospitality industry that protects women and encourages the best technology in terms of panic buttons and surveillance in our hospitality industry in all hotels," he said.
Austin continued, "Second, I would like to encourage the hospitality industry to work with the Long Beach Police Department to develop and review their safety plans and protect all guests and employees, to come up with the best safety plan possible.
"Three, I would like the City of Long Beach to support the rights of employees to organize and democratically select a union of their choice and support [the] collective bargaining process in the hospitality industry.
"Four, I would like to encourage the hotels and motels in Long Beach to place a priority on hiring local residents and the diversity of the city to fill jobs.
"And fifth, I would like to resolve that we support these protections for all workers and guests in Long Beach hotels and motels regardless of their size."
Pearce cited data that 91% of sexual assault victims are women and that more than 80% of workers in the local hotel industry are women.
"I have worked with Unite Here for 10 years, not on their payroll but as a partner. . . . I understand this policy more than anybody," Pearce said, referring to the union that has been attempting to unionize multiple Downtown Long Beach hotels for the past few years. The union was a major supporter of the proposed ordinance. Pearce then made a substitute-substitute motion to phase in the workload requirements over time.
Fourth District Councilmember Daryl Supernaw said he supported Austin's motion. "How are we going to have mandatory overtime for our city employees but then we are going to tell the private sector you cannot have mandatory overtime?" he queried. "It's a classic 'do as I say, not as I do.'"
Gonzalez and Pearce rebutted Austin's proposal and encouraged their fellow councilmembers to vote with them. "A resolution over an ordinance basically tells, I think, many of us that this is not something that should be taken seriously," Gonzalez said. "To bifurcate the item, to talk about again the data, the non-reports, I think, is just a slap in the face to many of the victims that have dealt with this."
Ultimately, Pearce's substitute-substitute motion failed to gain the support of the five other councilmembers – Price, Supernaw, 5th District Councilmember Stacy Mungo, 6th District Councilmember Dee Andrews and Austin – who voted against the measure in lieu of Austin's motion to create a resolution supporting safety for hospitality workers.
After the vote, some in the audience stood up and pointed at the council, yelling, "Shame on you," and "We'll be back," with at least one person calling out Austin by name.
LAANE issued a statement following the vote expressing feelings of betrayal and anger. "We look forward to reengaging the council on this crucial issue. Our commitment to these workers and to the community will not fade. We will continue to advocate and organize to ensure hotel workers in the City of Long Beach are able to live and work, free from the fear and burden of sexual assault and inhumane workloads in the workplace," the statement said.
"At the end of the day, if it was truly about public safety, the councilmembers who introduced the item would've reached out to us before introducing anything just to understand our hotels' business model and what they do in terms of public safety," Jeremy Harris, senior vice president of the Long Beach Area Chamber of Commerce, told the Business Journal. "It doesn't take a rocket scientist to understand the true meaning behind this item, and that was to make these onerous regulations on these hotels to force them to go into a collective bargaining agreement. If that wasn't the case, then why did they include the carve-out?"
Harris said that he and chamber staff had previously met with Gonzalez to get her take on the matter and help educate her about the local hotel industry. "That's why it was disheartening when the item came out," he said.
Greg Keebler, general manager of the Hilton Long Beach, told the Business Journal that his hotel already provides panic buttons to workers. "Our hotel several years ago started issuing panic buttons every morning in housekeeping," he said. "Our associates work in the rooms with the cart in front of the door with the door locked. We want to make sure nobody forgets one for the day. That's why we issue them every day." He added, "They are 130 decibels, so they are screeching loud. You can hear them five or six floors away."
Keebler noted that Hilton was recently voted as Forbes' top 100 list of places for women to work. "We've been on that list for years. This speaks to our global commitment to our associates as well as our local commitment," he said.
Kent Peterson, chair of the chamber's board of directors, said the opt-out for unionized hotels was the chamber's biggest issue with the proposal. "It's not local government's job to impose the rule of organized unions on certain industries," he said. "The chamber is not against unions, by any means. We're against the fact that one of the unions tried to get laws made that favor them and almost make it a mandatory requirement for an organization to go out and get unionized in order to avoid those laws."
Peterson said he was "extremely happy" with the councilmembers who voted against the proposal. "All they needed to do was convince one of those five people that this was a good thing to go forward with. And in this case, logic prevailed," he said. Still, he does not believe this is the end of the matter. "This is only one battle. I'm sure it's not the end of it. They're not just going to walk away from it. This has been going on for the better part of the past four years."
His prediction was affirmed by Maria Elena Durazo, general vice president for immigration, civil rights and diversity on the national level for Unite Here, who said the following in an e-mailed statement to the Business Journal: "Councilwoman Lena Gonzalez deserves enormous credit for having the courage to sponsor Claudia's Law, as do Councilmembers Pearce, Uranga and Richardson for supporting the proposed ordinance. It is disappointing that Long Beach City Council has, once again, delayed taking action to protect hotel workers from sexual assault and inhumane workloads in the City's hotels. Long Beach hotel workers and their allies will not forget the councilmembers who voted against Claudia's Law. But the women and men who work in the hotels, and the community supporting them, are not daunted – they're not going away. In fact, we are more committed than ever to organizing. I remain confident that it's only a matter of time before Claudia's Law will be passed."
The Business Journal left numerous messages for Gonzalez and Pearce, who did not return requests for comment.