Despite pessimistic narratives regarding the economy coming out of Washington, D.C., over the last year, economists at the Cal State Long Beach (CSULB) Regional Economic Forum on April 14 said local, regional and national economies are not as disastrous as many Americans think.
"This entire rhetoric about the U.S. economy can be summed up in one word: miserabilism.
Miserabilism is the philosophy of pessimism or trying really hard to make people think things are worse than they actually are," Christopher Thornberg, founder of Beacon Economics LLC, said during the event. "Really, when it comes to the election of Donald Trump, who I might call our Miserabilist in Chief, it really was about painting what I would call the most miserable picture of the U.S. economy."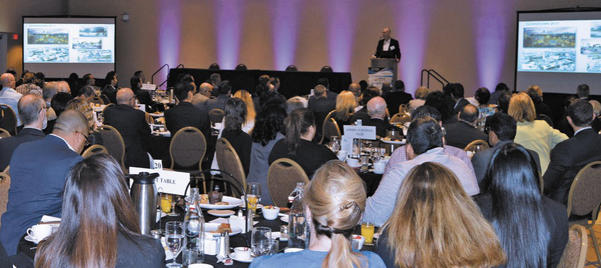 California State University, Long Beach's Office of Economic Research hosted its annual Regional Economic Forum in the Seaside Ballroom at the Long Beach Convention & Entertainment Center on April 14. Speakers included Christopher Thornberg, founder of Beacon Economics LLC; Jennifer Didlo, president for AES Southland; Cliff Ratkovich, president of Ratkovich Properties; and Wade Martin, director of CSULB's Office of Economic Research. (Photograph by the Business Journal's Larry Duncan)
In general, Thornberg noted that the economy is as difficult to forecast as politics and that his predictions last year were based on a Hillary Clinton victory in the presidential election. He said he woke up on November 9 and realized his entire economic forecast had changed; however, after more than 100 days of a Trump presidency, he is still uncertain of how it has changed.
Trump won the election because of an electorate that is angry over economic problems that do not exist, according to Thornberg. He said economic growth remains around 2% to 2.5%, similar to the last few years, but that people are worried because in the past, average growth was around 3.5%. Thornberg explained this is not due to any political policy but rather residual effects of the recession, as well as a slowdown in population growth.
Contradicting common economic complaints, Thornberg claimed that labor markets are tight, inflation and interest rates are low, businesses are investing, the energy sector is too successful for its own good, manufacturing is doing fine and net trade is good.
"Things are fine. The U.S. economy is in a perfectly sustainable trajectory, if a mediocre one," Thornberg said. "That's not to say there aren't true challenges out there. There are. But sadly, the challenges that we need to talk about are not the challenges on the table."
Thornberg said his major concerns are the political gridlock in D.C., state and local government budget stresses, decaying infrastructure, health cost inflation, underfunded pension and entitlement programs, wealth inequality and the underperforming housing market. He explained that the complete disconnect between current political conversations, American citizen mentality and the true economic situation is what worries him most.
Blue-collar workers staying in the workforce longer and women participating in the workforce at a record level is keeping the job market tight, Thornberg said when discussing misinformation about qualms over unemployment, job availability and the idea that labor markets are terrible. To illustrate his point, Thornberg discussed Wisconsin, which was a big win for Trump during the election.
Thornberg said Trump won Wisconsin because people are upset over a bad labor market. However, he noted that last year the state had one of the lowest unemployment rates in the country at 4.1% and one of the highest participation rates at 68%. He pulled no punches when he said people were really upset because they lived in Wisconsin. He explained that state economies in the Midwest are not growing because people are moving away from those areas.
Another discussion that is misguided, according to Thornberg, is the fight for a $15 per hour minimum wage. He said what concerns him more is that 90% of Americans have less net worth now than they did seven years ago and that more and more wealth is being concentrated to the upper echelons of society. A $15 minimum will not solve these issues, Thornberg said; instead, a major reform in tax policy is needed.
When it comes to health care, Thornberg noted that Trump quickly found that throwing 20 million people out of their new health care was not an easy political decision to make. However, Thornberg said who is paying for health care, be it individuals or the government, is not the conversation the country should be having.
"Obamacare was health care insurance reform. But the problem with health care is not who pays, it's what we are paying for," Thornberg said. "And we haven't had health care consumption reform. That's the big issue."
He cited the fact that France, with similar demographics and equivalent health outcomes, paid $5,428 per person on health care in 2015, while the U.S. paid $9,402 per person. Thornberg said excessive lawsuits, overpaid hospitals and doctors, and overconsumption of services lead to this disparity.
Thornberg also zeroed in on the California economy, saying that it's doing great. He said it has slowed down but is still outperforming other states.
"We're doing great folks. Over the past five years, California is the eighth fastest-growing economy," Thornberg said. "We've added one out of six jobs in the country right here in this state."
In Los Angeles County, Thornberg noted many great things happening that will only strengthen the economy, including welcoming the Rams and Chargers football teams to the area, the forthcoming $1 billion "Star Wars" museum by George Lucas and the potential for the Olympic Games to come back.
However, there are three areas of concern in the state, according to Thornberg. First is the fact that city officials are still up against a financial wall, despite revenues being up. He said this is because of out-of-control pensions that are severely underfunded, with unrealistic goals. Next is the state's dependence on capital gains as a major revenue source, which Thornberg says is an extremely volatile source of income that will disappear at the first sign of an economic downturn, leading to another state deficit of more than $20 billion.
Lastly, Thornberg discussed the state's housing issues, which he said is not an affordable housing crisis but rather a housing shortage that is creating affordability issues for every class, not just low-income families.
"If California had a bread shortage, what would we talk about?" Thornberg asked. "We need bread control. Bakers are greedy. We need to tax new loaves. We need to have an affordable loaf mandate. No. You bake more bread. This isn't complicated, but we can't seem to get our heads wrapped around this."
If the state does not keep up with housing demand, eventually it will become "Country Club California," Thornberg said. He explained that high-income earners will continue to buy up all the property, forcing out low-income people until the state is one big country club. He said he prefers a solution based on creating an environment where everyone can live and enjoy California, regardless of income brackets.
Wade Martin, an economist in CSULB's Office of Economic Research, spoke about the Long Beach economy directly, citing a 5.6% unemployment rate citywide, an all-time low. Additionally, he said private wages continue to rise, household incomes are going up and real estate is doing well.
All real estate markets are tight, according to Martin. He said the retail vacancy rate is just over 6% citywide, with industrial space even tighter and office space just above 15%. Residential apartment vacancy rates in West Long Beach are 6%, East Long Beach about 3% and North Long Beach about 4.5%. Also, Martin noted that median single-family home prices have topped $561,000.
"The price of housing has definitely rebounded and is above the pre-recession levels at this time," Martin said. "If you look at defaults and foreclosures, defaults have continued to decline, and that's a positive picture. Foreclosures are still at about twice the pre-recession level."
With regard to business in the city, Martin said a survey conducted by Scott Flexo from the small business monitor at CSULB showed business owners remain optimistic. The survey showed that 56% of small businesses with two to five employees expect growth in 2017, up from 43% in 2016, while 62% of small businesses with five to 50 employees expect growth, up from 51% last year.
The survey also showed an 8-point bump to 19% of larger small businesses that had more willingness to use additional credit or financing, which is a good sign of their views about their businesses' long-term sustainability.
Martin said there are several factors to consider when examining the sustainability of the Long Beach economy, including the strength of the global economy, the strength of the dollar, minimum wage, energy prices, wealth distribution, business and consumer confidence, and political uncertainty.
Other indicators of economic prosperity in Long Beach are the number of public and private investments in developments, including residential and commercial.
Jennifer Didlo, president for AES Southland, oversees power plants in Long Beach, Huntington Beach and Redondo Beach, and she spoke during the forum about the company's proposed $1.3 billion investment in its Alamitos plant in Long Beach.
"Instead of looking like the 1950s facility that it is, it's going to be less visible from a lot of places, it's going to have less of a carbon footprint and it's going to be able to act faster," Didlo said. "We'll be able to act in a couple minutes as opposed to a couple hours. The best part is it's going to have a tremendous amount of socio-economic benefits infused into this community."
Didlo said the modernized facility will cut potable water use by over 60% and completely eliminate the use of ocean water for cooling purposes. She described the project as cleaner, shorter, sleeker and having more curb appeal.
In addition to upgrading the power plant itself, AES plans to build the largest battery energy source in the world at the Long Beach site off of Studebaker Road. The battery energy storage system would replace natural gas generation with up to 300 megawatts of storage capacity to be used during peak usage hours, rather than peaking stations. The company anticipates the new plant to go online in 2020.
Other investments in the city include the new civic center, the recently announced Queen Mary Island, the expansion at the Aquarium of the Pacific, and more than 2,679 residential units that are currently under construction as part of various projects, mostly downtown.
One such project is Broadway Block by Ratkovich Properties at the Acres of Books site downtown. Cliff Ratkovich spoke during the forum and said the company is currently in escrow for the property at 240 Long Beach Blvd. and estimates the two-year build-out will begin January 2018. The project includes 375 residential units, 5,212 square feet of retail space and 5,773 square feet of creative office space.
Overall, the economists and developers agreed that things are looking up for Long Beach and the region in general. However, the uncertainty at the national level with regard to Trump administration policies yet unknown have economists uneasy.
"We need to have the conversation move to the middle. The middle where the word compromise is not a dirty word," Thornberg said. "The middle where we find real solutions to real problems that help the vast majority of Americans, as opposed to only having policies that benefit a few special interests."