In April, the Long Beach City Council approved an ordinance that prohibits the use of expanded polystyrene (EPS) products – commonly known as Styrofoam – in the city. Throughout the ordinance process, some small business owners argued that the success of a restaurant can come down to dollars, even pennies, and that the added expense of alternative products could hurt them. Now that the ordinance is being phased in over the next year, owners are busy researching products and applying for the city's incentive for early adopters of the regulation.
"I think we, as humans, have figured out that we just can't keep taking everything we have and throwing it in a landfill or making it someone else's problem. We have got to be proactive," Charlie Shaw, owner of Avenue 3 Pizza, said. "In the food business, when we have an opportunity to reuse something or [reduce our] imprint, then it's good for everybody. Styrofoam eventually finds its way into the ocean. It's a needless violation of nature and we can do better."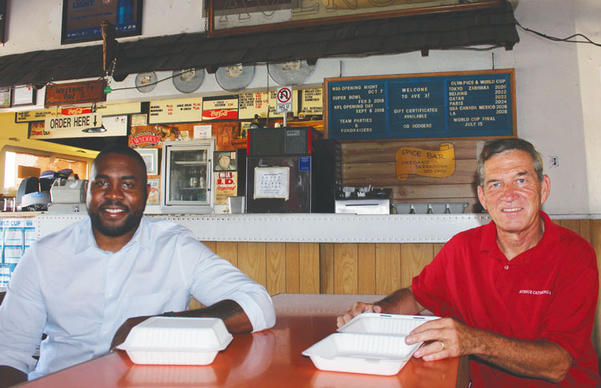 Avenue 3 Pizza owner Charlie Shaw, right, has already began using paper-based to-go containers. He said in the coming years, he will replace all products with more environmentally friendly alternatives. Shaw is pictured in his restaurant with Shawn Smith, a recycling specialist with the Long Beach Environmental Services. (Photograph by the Business Journal's Brandon Richardson)
Long Beach has approximately 2,300 food establishments that will be impacted by the ordinance, according to the Long Beach Environmental Services Bureau (ESB). The city is offering a cash incentive for businesses that abandon EPS products prior to established deadlines. An ESB representative stated that about 30 businesses have applied for the incentive.
"The city has limited funds for a one-time reimbursement for the purchase of compliant products," Diko Melkonian, ESB manager, said. "The City Of Long Beach welcomes the opportunity to assist in the transition away from EPS food and beverage containers to help businesses keep Long Beach litter free."
Businesses that purchased compliant products by July 20 were eligible for a $300 reimbursement. Businesses that purchase alternative products by August 20 or September 20 are eligible for up to $250 or $200 reimbursements, respectively. Funding for the reimbursements is available until September 20 or until funds run out.
Shaw is one of the businesses that applied for a reimbursement. At Avenue 3 Pizza, to-go containers are now compostable and paper-based – much sturdier than EPS, Shaw said. As a small, independent business owner, Shaw explained that he will have to phase in the shift and eventually offset increased expenses by raising his prices slightly. Over the next several years, he plans to transition cups and straws to more environmentally friendly products but must use his existing inventory first.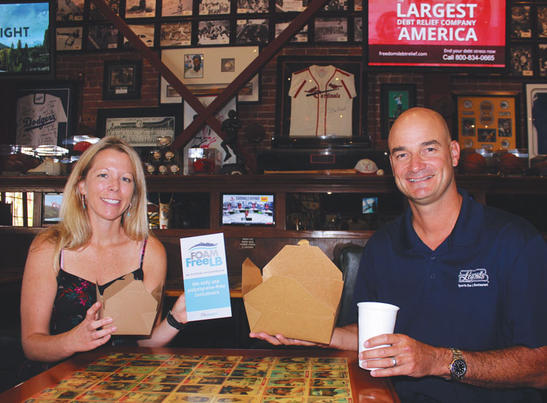 Eric Johnson, co-owner of Long Beach's Legends Restaurant & Sports Bar and The Auld Dubliner, began instating eco-friendly practices around 2008 at the Dubliner. When he and his partner, David Copley, took over Legends in 2012, they quickly transitioned the spot to greener products. Johnson is pictured in Legends with Erin Rowland, waste diversion/recycling officer for the Long Beach Environmental Services Bureau. (Photograph by the Business Journal's Brandon Richardson)
Restaurateurs do everything they can to minimize cost, since profit margins are tight, so pushback on such an ordinance was inevitable, Shaw said. With increasing minimum wage and other regulations at the state level, Shaw explained that restaurants are taking multiple financial hits at once, which can be overwhelming. However, as more businesses begin using alternative products, prices will decrease, alleviating some of the financial burden on owners, he added.
"Let's make this environment better," Shaw said. "Twenty-five years from now we'll be like, 'Why didn't we do it sooner?'"
For businesses that are "foam free," the city is providing small signage to be placed in the restaurant to show their commitment to a cleaner city, as well as a welcome letter and a small supply of paper straws. "Additionally, as businesses apply and receive these kits, we will be promoting them on our social media pages and our website," Erin Rowland, ESB waste diversion/recycling officer, said. "We really want to promote businesses that are able to comply with the ordinance early.
Michael Hebermehl, founder and part owner of Chronic Tacos – Long Beach (PCH) in the Marina Shores retail center, was ahead of the curve when it comes to implementing eco-friendly products. He attributes his shift to a challenge by Mark Bixby, a member of one of Long Beach's founding families who had been an active member of the community before he died in a plane crash in 2011.
"Mark Bixby came in when we just opened [in 2011], and he saw that we were using Styrofoam for the packaging of to-go items," Hebermehl recalled. "He just looked at me and goes, 'Dude, you're right by the ocean, you can't use Styrofoam. That stuff ends up in the ocean and it just doesn't go away. It's not biodegradable.'"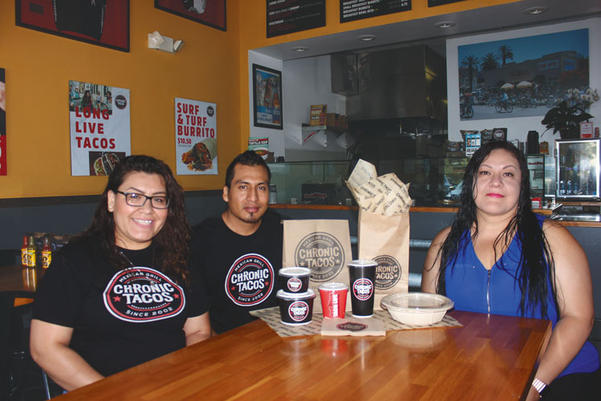 Chronic Tacos – Long Beach (PCH), located in the Marina Shores retail center, began using biodegradable products in 2011, according to founder and partner Michael Hebermehl. The restaurant's shift came seven years prior to the Long Beach City Council adopting an ordinance to remove expanded polystyrene (Styrofoam) products from the city. Pictured from left: Chronic Tacos managers Analy Gonzalez and Armando Lopez; and Elisa Calderon, a recycling specialist with the Long Beach Environmental Services Bureau. (Photograph by the Business Journal's Brandon Richardson)
Hebermehl transitioned all to-go products to biodegradable alternatives at his Chronic Tacos franchise as quickly as possible. The following year, parent company Chronic Tacos Enterprises was purchased by a Canadian company that began converting the entire brand to be more eco-friendly. Stores transitioned from using tin containers to plastic, and ultimately to paper products. To-go containers and bags, utensils, cups, napkins, and the paper used to wrap burritos are all now biodegradable. Straws are next on the list to be replaced, Hebermehl added.
"I understand from a business point of view on your profit and loss statements – yeah, Styrofoam saves you a lot of money. It's cheap. But it's terrible for the environment," Hebermehl said. "It's terrible for our city because it just ends up on the street and gets into the ocean. So I was pleasantly surprised to see Long Beach mandating this idea. It's amazing."
The municipal government was required to stop EPS use at all city-owned facilities and city-permitted events within three months after the ordinance was adopted. Large restaurants – those with 100 or more seats – were next on the list, having to comply within nine months. Restaurants with fewer than 100 seats were given 18 months to comply. Hebermehl said he thinks the tiered approach is fair, but he hopes the city does not lose steam on the issue when it comes time to enforcing the ordinance on small businesses.
"When you have some businesses like ours that have been doing this for years, competing against guys who are using Styrofoam – obviously their costs are way lower than ours so they can charge less for their food," Hebermehl said. "It puts the people that are in compliance at a competitive disadvantage."
Eric Johnson, co-owner of Long Beach's Legends Restaurant & Sports Bar and The Auld Dubliner, began instating eco-friendly practices around 2008 at the Dubliner. In 2012, when he and his partner, David Copley, took over Legends, a transition was quickly made to greener products. A Long Beach native, Johnson explained that he noticed customers becoming more environmentally conscious, which led him to reconsider his own business practices.
"I think personally we were sensitive to it, having grown up on the water and spending a lot of time on the beach," Johnson said. "It was just kind of a real natural thing for us. And, at that time, those products were considerably more expensive."
When Legends began using biodegradable products, Johnson said his take-home container needs were minimal, typically limited to customers who came in and didn't finish their meals. However, with the introduction of delivery services such as Postmates, Uber Eats and DoorDash, takeout service is booming, Johnson explained. Because of increased to-go ordering, he said reducing the use of EPS is more critical than ever.
Johnson said that he typically prefers to allow the free market and customers, rather than the government, to determine business practices. However, in some cases, he said a push in the right direction is needed to benefit the community – and the planet – in the long run.
"Hindsight's always 20/20. If you're looking at landfills, if you're looking at the beaches, if you're looking at the water, you kinda realize there's a better solution," Johnson said. "I always assumed that everybody should know not to throw their trash out on the street because it ends up somewhere – usually in the ocean. There are certain things that are just kind of a no-brainer decision, and for us, this is a no-brainer decision."