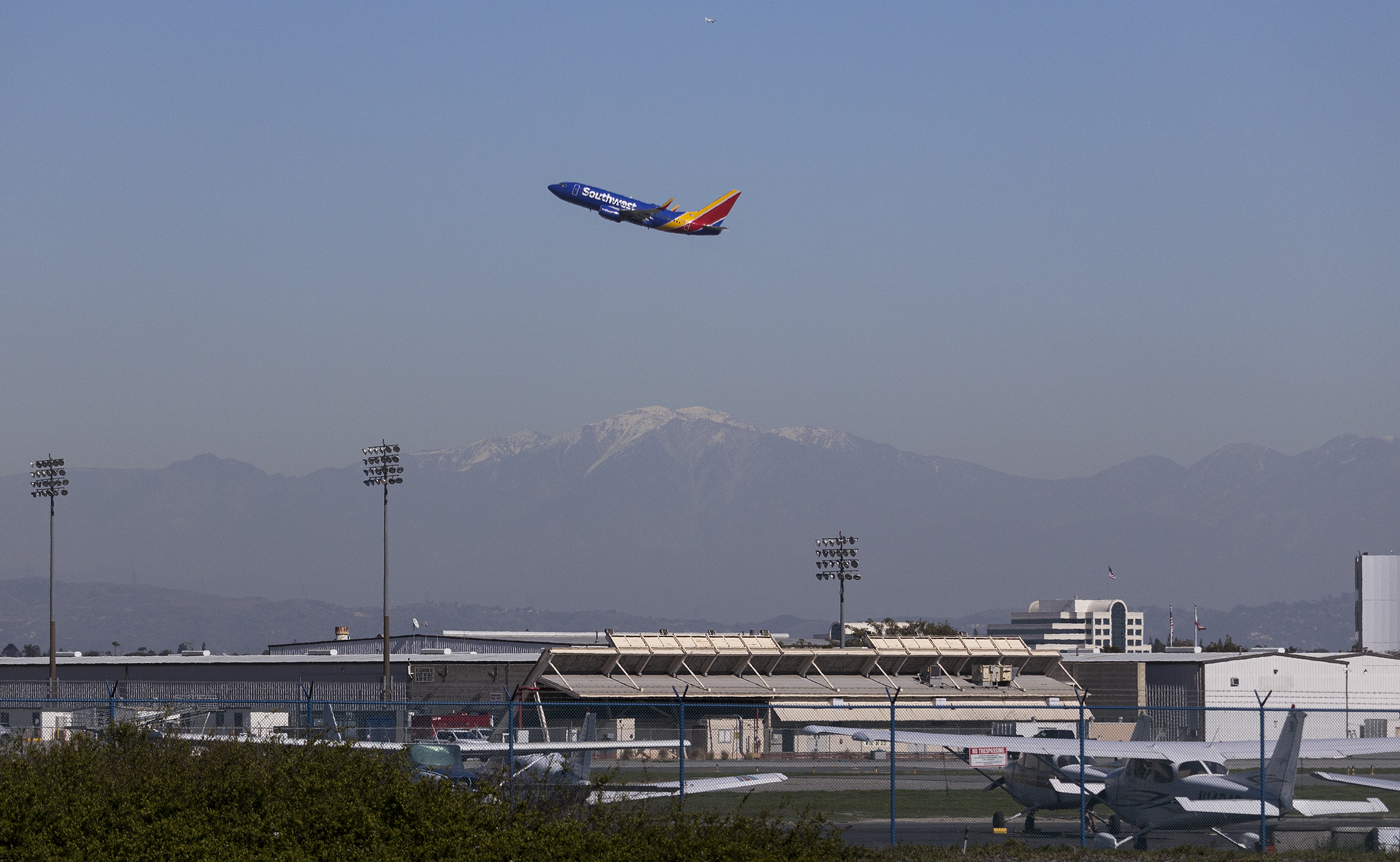 Southwest and American airlines were awarded additional flight slots at Long Beach Airport after Delta Air Lines relinquished them in December, officials announced Friday.
Southwest was awarded two additional slots, while American was granted one. The additional slots take Southwest's allocation up to 37 of the 53 total daily flights allowed at the small municipal airport.
"There's always strong demand for flight slots at the Long Beach Airport," Mayor Robert Garcia said in a statement. "Having them be consistently filled speaks to the strength of our airport and our city as a travel destination."
American has four of the remaining slots, while Delta has nine, Hawaiian Airlines has two, and UPS has one.
Southwest and American were on a waitlist for additional slots, which officials use to reallocate any that are relinquished by other operators. Airlines interested in launching new operations out of Long Beach may also join the waitlist.
Swoop, an "ultra-low-cost" Canadian airline, has expressed interest in coming to Long Beach and will be at the top of the waiting list for the next available flight slot, airport officials said. The list also includes, in order: American, Hawaiian and Southwest.
The WestJet-owned Swoop is based in Calgary and would utilize the U.S. Customs and Border Protection Preclearance program in Canada, which allows passengers to be screened before boarding their U.S.-bound flight, rather than upon arrival. The usage of preclearance means Long Beach could receive the international flights without the need for additional facilities or infrastructure improvements, officials said.
In 2015, JetBlue, which used to be the most prominent operator at Long Beach Airport, formally requested the city begin the process of establishing a customs facility to allow international flights. The request led to heated debates between officials as well as residents, with the City Council ultimately voting down the proposal.
After the council's decision, JetBlue slowly began pulling back on its Long Beach operations. The airline began underutilizing flight slots and relinquished them a handful at a time before finally withdrawing from the city entirely in 2020.
In JetBlue's absence, Southwest quickly established itself as the city's most prominent carrier.
"Airlines and travelers see Long Beach as a preferred gateway to Southern California," Long Beach Airport Director Cynthia Guidry said in a statement. "Our airport is in a strong position to retain and attract airlines that connect our great city to visitors and new, exciting destinations."