After 49 years in the aviation industry, Fred Peña, the now-former manager of airport operations and facilities at Long Beach Airport (LGB), retired. Several months shy of his 68th birthday, Peña's last work day at the airport was May 31. The following morning, he and his wife, Kimberly, boarded Hawaiian Airlines' inaugural flight from LGB to Honolulu.
"This has come full circle for me because my first-ever plane ride was from Honolulu to Lihue on the island of Kauai on Hawaiian Airlines," Peña said while sitting in his boxed-up office on his final work day. "To be able to go back to Honolulu on Hawaiian Airlines, it just . . . there are a lot of emotions for me. I can't describe the feeling."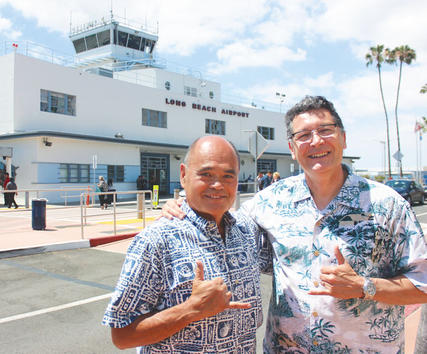 After 49 years in the aviation industry, Fred Peña, left, retired from Long Beach Airport, where he worked from 1982 to 1995 and again from 2002 to May 31, 2018, in various capacities. Peña is pictured in front of the historic terminal building with Airport Director Jess Romo on his last day of work. (Photograph by the Business Journal's Brandon Richardson)
Jet fuel is in Peña's blood. His dad worked for Philippine Airlines before becoming a manager with Japan Airlines in Honolulu, where Peña is originally from. He said that, when he was a kid in the early 1950s, he loved going to work with his dad, standing by the fence and watching the planes arrive and depart. That is when he first caught the aviation bug, he reminisced.
After graduating from Damien Memorial High School in Honolulu, Peña attended Leeward Community College for a few years. In May 1969, while still attending college, Peña began working part time with Canadian Pacific Air Lines. This is when his real fascination with the industry set in and he never looked back.
Around 1980, Peña began working for Alaska Airlines in Burbank as a supervisor at both Burbank and Ontario airports. At the time, the airline was just making its way into Southern California, he explained, looking for underserved airports away from Los Angeles International Airport. This expansion ultimately led the airline to begin operating at LGB, where Peña was assigned as station manager in the summer of 1982.
From ticketing to baggage to catering, as station manager for Alaska, Peña oversaw it all at LGB. Much of the work was done by his own team; however, certain operations were conducted by vendors. Peña noted that ramp baggage handling was done by Airserv, which still operates at the airport today under President Kevin McAchren.
"I was a station manager here in Long Beach from 1982 to about 1995," Peña said. "We had to close the station here in Long Beach in the mid-1990s and I transferred to Orange County at John Wayne Airport. That is where I closed out my [22-year] career with Alaska – I had the itch to try something new. I started with Long Beach Airport in June 2002."
Then-Airport Manager Chris Kunze reached out to Peña directly when the superintendent of operations position was opening up at LGB. After several years, he received a promotion to manager of facilities and building services. And finally, in December 2016, Peña was promoted to the last position he'd hold – manager of airport operations and facilities. For the last year and a half, he oversaw all facility maintenance and all operations at the airport – from safety and security to engineering to custodial staff.
Looking back at nearly 30 years at LGB, Peña explained that the best part was the people. "Everyone says 'the people,' but it's very true," he said. "I met a lot of nice colleagues and the passengers are always very nice here. And being part of the team on the development side and seeing improvements to the facilities to make the customer experience a lot better was great."
During his time at LGB, Peña saw the airport grow and evolve. He noted that when he first started there was a single terminal building, which stood where TSA and passenger screening are now. Years later, he was on site for the groundbreaking of the new terminal that allowed the airport to support more airlines. During his tenure at the airport, he witnessed many changes. He saw the construction of the parking structures. He was there for improvements to runways and the terminals. He even saw the introduction of LGB's famous (or, to some, infamous) noise ordinance in 1995, as Alaska took part in lawsuits against the city throughout the 12-year process of raising a proposed daily flight cap from 15 to 41 commercial flights.
"I think I've forgotten most of the memorable stories from working here," Peña said with a chuckle. "The Virgin Orbit 747 that is out here now, that is really unique and I think it was fun to help them get on the field and make a home for them," he said, referring to the Boeing 747 to be used as a flying launchpad for Virgin Orbit's satellite rocket. "To continue the aerospace legacy that Long Beach has with Virgin Orbit . . . we are going into space from Long Beach. It's just quite a thing to see for me."
One of the most memorable and interesting missions he was tasked with during his time at LGB was hosting Air Force One shortly after President Barack Obama was elected, Peña recalled. He said it was a challenging but exciting undertaking to work through all the logistics and extra measures necessary to accommodate a presidential visit. But, through relationships with airport tenants and other entities, all the required space and equipment came together, and the experience was a success.
Peña developed several good working relationships that turned into lifelong friendships. One such friendship was with Randy Berg, who was hired as manager of airport operations and facilities when Alaska first transferred Peña to LGB. In 1984, a blimp operator was hired to do work at the Los Angeles Olympics, Peña recalled. He explained that the operator, an Italian man with a heavy accent, was having trouble finding a place to park his blimp. After being booted from the military base in Los Alamitos, the operator decided to try his luck with Berg at LGB. Berg called a meeting the following day with the appropriate airport staff and city officials, but not before telling Peña about the situation.
"That night, Randy and I were having a 'debriefing' session – at the time, there was a nice lounge on the second floor of the terminal and we had reserved seats in the afternoon. I gave him an Italian 'phrase of welcome' and he wrote it down on an index card," Peña laughed. "The following day when he had their meeting, the pilot walked into the office and Randy threw out the phrase. The pilot asked him if he knew what it meant and Randy, with all these city people around him, said he thought he was saying hello and welcoming him. But no. I'll have to let you use your imagination from there, but the room cracked up. In the end, the airport was able to put the airship on the field and we all became very good friends with the pilot after that."
A while after that, Peña flew into LGB from a meeting in Seattle. Berg, along with the chief of security, met him on the tarmac and called him over to their car. When Peña stuck his head into the passenger window, he said Berg grabbed his neck tie, rolled the window up and proceeded to have the chief of security drive briskly up the tarmac – a silly revenge prank that still put a smile on Peña's face more than three decades later.
Falling into retirement head on, the couple's week-long trip to Honolulu from Long Beach is the first of many trips they plan to take. While Honolulu is one possibility for the couple to retire to, Peña said they are going to use their newfound freedom to travel the world. Tokyo, South and Central America and Europe are at the top of the list, Peña noted. He added that he has always wanted to take Kimberly and their two sons, Scott, 22, and Spencer, 29, to the Philippines, where his parents immigrated from.
"I'm a lifelong aviation nut, so even though I'm retiring, that doesn't mean that I'll be a stranger to airports," Peña said. "Besides the travel portion, I've always admired the volunteers that come out here and help the travelers. That is something I might be interested in doing. So, you may still see me around."