Art institutions across Long Beach offer a variety of educational programs for local youth. These institutions represent the vocal, theatrical and visual arts, fields that provide students with skills vital to their overall education, according to local arts leaders.
One of those institutions is International City Theatre, which Artistic Director and Producer caryn desai – who taught college courses for 20 years – said is rooted in education. "We started on a college campus in '85, so education is in our DNA," she said.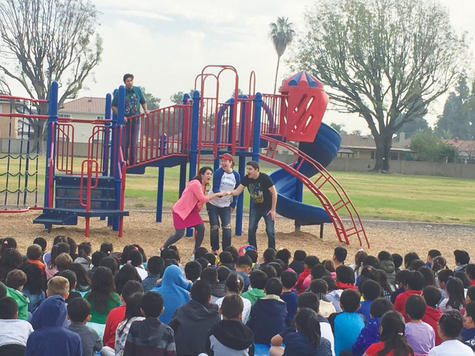 Actors from the Long Beach Opera present "The Playground King" at an elementary school playground. Pictured from left: Bernardo Bermudez, Katherine Giaquinto, Sarah Reynolds and Arnold Geis. The opera, which has an anti-bullying message, is presented to local elementary schools through the organization's Opera@School program. (Photograph courtesy of Long Beach Opera)
One of International City Theatre's (ICT) most popular educational programs is Performing Arts Classroom Teaching (PACT), which is an in-school, curriculum-based program that teaches theater to third graders. The classes are once a week for a duration of three weeks in each classroom. "The [Long Beach] school district asked me to create it 17 years ago, and it's tied to their curriculum," desai said.
ICT sends a form to all schools in each city district to request the program in their classrooms, according to desai. Although the program is not a part of an existing course, it is tied to the third grade curriculum. Desai noted that during this past school year, the PACT program reached 480 classrooms.
Elements of the required curriculum, such as learning new vocabulary, are interwoven into the program, according to desai. Students have an opportunity to write and perform a play as well as participate in the "Be the Critic" exercise where they learn to form critical opinions of the performances.
"It's important that we understand how words affect others, and theater is a great way to educate [people] and create a more harmonious society," desai said. "When you bring people together to hear somebody else's story, it creates empathy."
Madison Mooney, executive director of the Long Beach Playhouse, also stressed the importance of arts education. She said that schools should introduce the idea of STEAM instead of STEM into curriculums. STEM is a focus on science, technology, engineering and mathematics that most school curriculums have as a part of their core studies. STEAM incorporates the arts into that core curriculum, according to Mooney.
The Long Beach Playhouse currently offers a summer youth conservatory for ages 7 to 17 with theatrical classes in acting, singing, dancing and music. Each person, depending on age and ability, is put into a group to take certain classes. Students perform a show at the end of the program for friends and family.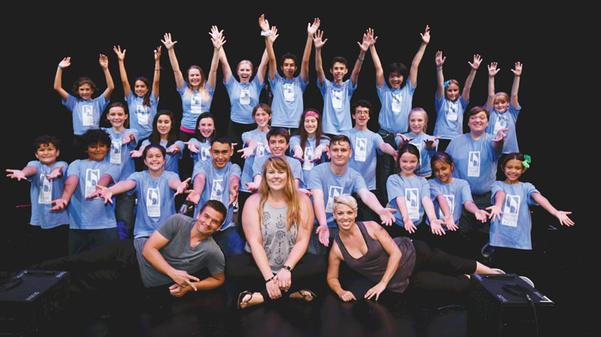 Members of Musical Theatre West pose with the participants of the theater's Summer Youth Conservatory 2018. Pictured from left, front row: Bobby Brater, accompanist; Madeline Wall, education and outreach intern; and Tro Shaw, summer camp instructor and choreographer. The three-week camp for the theatrical arts is open to ages 8 to 18. (Photograph courtesy of Musical Theatre West)
"If a kid attends a camp for theater, it doesn't mean they would have to be a famous actor. They can use those skills for so many different parts of their lives and in their futures, like in public speaking and just being comfortable in their bodies," Mooney said.
Musical Theatre West (MTW) also provides youth programs in theater arts. The theater presents special matinee performances for students and works with schools on their theater productions. It also has a program for young people who want a career in theater and a summer theater camp for kids ages 8 to 18.
Musical Theatre West's council of youth ambassadors works with young people who want to learn about the business of theater from working professionals. The group meets bi-weekly on Thursdays. The theater group also works with Woodrow Wilson Classical High School, which requires students to take classes in visual or performing arts. Through the partnership, Musical Theatre West works with theater teacher Paula Riley to provide a choreographer and set designer for the school's fall productions. The goal of the partnership is to help the school's musical theater department grow and reach their goals, according to Watts.
"We're not simply trying to engage with students who are already in love with musical theater, we're trying to cultivate that love also," MTW Education and Outreach Director Ted Watts told the Business Journal.  "It's really important to go out and expose students who might not have any awareness of that career possibility [in the performing arts] . . . and it helps with so many different professional and life skills, like all of the arts do in their own way."
Arts education not only helps youth with life skills, but also teaches them that the arts are a part of culture and history, according to Long Beach Opera Director of Development Jennifer Rivera. "We think opera is a particularly effective tool for teaching children multiple facets of the arts since it's so intersectional in that there are singers, instrumentalists, acting, movement and story," Rivera said. "The programs we present are very engaging and participatory, and it allows kids to put themselves in the scene to understand what's going on."
The Long Beach Opera works with both the Los Angeles and Long Beach school districts to bring opera to school stages. A grant from the Miller Foundation, a philanthropic organization benefiting the youth of Long Beach for over 50 years, allows for the opera's educational programs to reach more schools in the Long Beach area.
One such program provides elementary school performances of "Monkey See, Monkey Do," an opera performed in Spanish and English with Mexican folk music. "Monkey See, Monkey Do" is important as a bilingual production because of the number of Spanish-as-first-language speakers in some of the schools the opera works with in Long Beach, according to Rivera.
The educational performances the Long Beach Opera offers dispel the stereotype that opera is elitist, according to Rivera. "One of the most important aspects of any arts organization is the opportunity for young people to be able to experience something [in the arts] before they have an opportunity to form an opinion about it," she said.
For the same reason, the Long Beach Camerata Singers have a program for ages 6 to 11 called Camerata Kinder Konzerts. President of the Long Beach Camerata Singers Board of Directors, Jan Hower, stressed the importance of having this program reach children before they enter the "eye-rolling stage" and become dismissive of the vocal arts.
Kinder Konzerts is a one-of-a-kind program because it has focused heavily on the vocal arts for youth since its inception in 2015, according to Hower. The program engages elements of singing, conducting, note reading, rhythms and tempos in the context of a historical composer, music piece or era of music. Each production employs the chorus's professional singers. The organization is also developing a program for ages 3 to 6 that would be a less structured production with a more basic storyline led by volunteers, Hower said.
A recent production called "Meet Mr. Bach" focused on German composer Johann Sebastian Bach of the Baroque era. The Camerata Christmas Kinder Konzert is the next upcoming production that is set for the holidays this year.
"Before we had instruments, before we even spoke, people sang," Hower said. "It's the most fundamental art form that children learn first."
Although the Camerata Singers want to expand to in-school programs, Hower said the current budget, funded primarily by grants and support from organizations, does not allow it.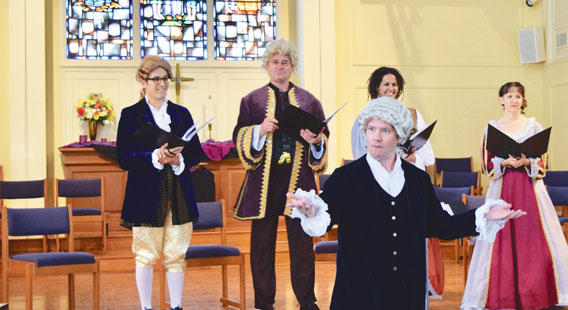 Performers from the Long Beach Camerata Singers present "Meet Mr. Bach" as a part of the organization's Kinder Konzerts series at a local church. Pictured from left, back row: Trinidad Cano, David Bunker, Denean Dyson and Jeannette Anastasia. Front row: Mark Waters. Kinder Konzerts are interactive performances about a certain era, composer or piece of music for ages 6 to 11. "Meet Mr. Bach" was the first show they developed for the series and revolves around the music of composer Johann Sebastian Bach. (Image courtesy of the Long Beach Camerata Singers)
Hower also acknowledged the support of volunteers in making productions come to fruition. "We're a small organization and the only reason we can do what we do is because we have over 65 volunteers who volunteer their time every week," she said. "We have about 7,500 volunteer hours per year that our singers put in to make our concerts possible."
Hower also discussed the significance of guidance from vocal arts teachers for the youth. "Music teachers seem to have such a strong impact on young minds and young hearts," she said. "The arts last a lifetime, and appreciation of the arts is something people use everyday – it's something that feeds their soul and contributes to their quality of life."
Likewise, Ron Nelson, executive director of the Long Beach Museum of Art, spoke about his personal experience in seeing how the arts in education have a positive impact in a person's life. Rapper Vince Staples, who grew up in North Long Beach, met with Nelson while he was filming a public service announcement for the U.S. Food and Drug Administration's tobacco-free campaign, Fresh Empire, at the museum in 2017. Staples revealed to Nelson that the reason he was compelled to film and speak about the arts at the museum was because of his experience at the Long Beach Museum of Art's fifth grade KidsVisions program as a student. The KidsVisions program offers about 6,500 fifth grade students the opportunity to explore the museum free of cost for field trips.
Nelson expressed his joy in realizing that an arts education program was instrumental in Staples' life from childhood to his current success as a well-known musician.
"I'm thinking, 'We have one; it worked,'" Nelson said. "And if we could do that again and again and empower young people with the arts, that's huge."