The Long Beach Bar Association (LBBA) will end its first 100 years the way it began, with a gathering in a hotel.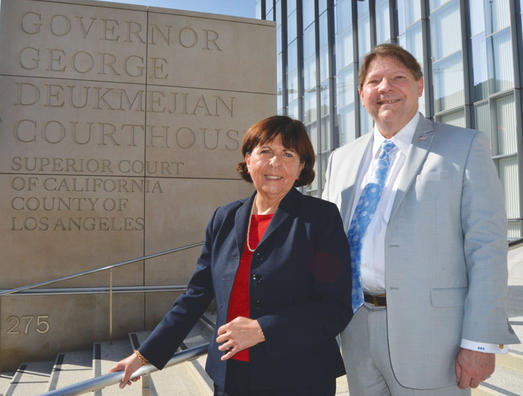 Pamela Swindells and David Haberbush are serving as co-presidents during the Long Beach Bar Association's Centennial Year. The group's Centennial Gala is set for October 26 at the Long Beach Hilton. (Photograph by the Business Journal's Larry Duncan)
The association started out in 1917 as a small group of male lawyers coming together in the parlor of the Hotel Schuyler. Now, it will celebrate its centennial with a gala on October 26, with California Chief Justice Tani G. Cantil-Sakauye as the keynote speaker.
In the past century, LBBA has grown into an organization of 450 diverse members that provides opportunities for mentorship and community outreach.
"If we didn't have it, I wouldn't know many lawyers or have much collegiality with them in the Long Beach community," Co-president David Haberbush said. "This affords me the opportunity to get to know them and work alongside them." Haberbush is a bankruptcy attorney at Haberbush & Associates.
In 1993, the association formed the Long Beach Bar Foundation, a nonprofit organization that performs community service. One of its initiatives, Shortstop, aims to intercept first-time youth offenders to keep them out of the criminal justice system, according to the association. Members can also work with youth by volunteering in moot court programs through area high schools.
"The kids are very serious when we see them," Co-president Pamela Swindells said. "I learned how smart these kids are and how interested they are to learn. That makes it a privilege to be able to go into the schools." Swindells' practice, Kaiser & Swindells, handles workplace issues, including wrongful termination and sexual harassment.
The association also founded the Long Beach Legal Aid Association in 1955, a program that provides legal services to those who cannot afford to pay a lawyer. It became part of the Los Angeles Legal Aid Foundation in 2001, according to information from the LBBA.
In addition, LBBA provides aid in the form of scholarships for exceptional high school seniors. This past May, the association dispensed $55,000 to more than a dozen local students and set up an endowment of an equal amount to guarantee the program's survival, according to information from the association.
But the bar association has not made it through 100 years without a few growing pains.
In the 1950s and early 1960s, it functioned more like a social club, Haberbush said, with less focus on community service and legal education and more on promoting camaraderie among its primarily male membership.
"Some of the forms of entertainment included fan dances and belly dances," he said. "One of our first groups of female lawyers stormed out of an event, and as the history goes, that's how the Women Lawyers of Long Beach came into existence," he said.
Other early forms of entertainment included illegal gambling, which resulted in a raid, but nothing came of it since it was so "embarrassing" given the status of the members present, Haberbush said.
More recently, the entertainment has kept to musical performances and skits, as well as discussions with political candidates and distinguished members of the legal community. Topics have varied from the fluoridation of water to court procedures, according to the association.
In keeping with the future, the association's co-presidents said they would like to expand outreach among pre-law students and young lawyers.
"We'd like the younger lawyers to understand the benefits the association can give them," Swindells said. "They don't socialize as much as our generation used to. They're more technologically connected."
But the legal community's youngest members can help the association as well by keeping it relevant and "vibrant," Haberbush said.
Tickets to the Centennial Gala, to be held at the Long Beach Hilton, 701 W. Ocean Blvd., are $150 and include self-parking. RSVP to the LBBA office at 562/988-6444 or erin@longbeachbar.org. For more information about the gala or the association, visit: www.longbeachbar.org.