The Long Beach Camerata Singers' 2015-2016 season marks the group's 50th anniversary, which it is celebrating with a gala on October 22 and a special performance on October 25. The October 22 event at the Virginia Country Club also honors former Mayor of Long Beach Beverly O'Neill for her contribution to the arts.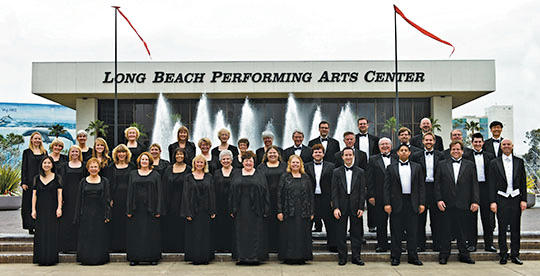 (Pictured are members of the Long Beach Camerata Singers.)
"It's our very first inaugural award for leadership in the arts in Long Beach," Rob Istad, artistic director of the choral group, told the Business Journal. Mayor Robert Garcia is presenting the award. "We're thrilled to acknowledge her contributions to the artistic community in Long Beach."
The celebratory performance on the 25th features a piece by local composer Jenni Brandon that was commissioned to commemorate the group's anniversary season. The event also includes performances of Beethoven's "Choral Fantasy in C Minor" and "Triptych" by Grammy winner Tarik O'Regan.
In addition to a season full of performances held at the Long Beach City College Auditorium, each year the Camerata Singers host the Long Beach Bach Festival, which includes free educational, social and children's events for the community. "There is something extraordinary that happens when over 90 singers lift their voices together in harmony. I think that's a remarkable gift," Istad said. "And Camerata wants to present that to our community."
For ticket information and more, visit www.longbeachcameratasingers.org.