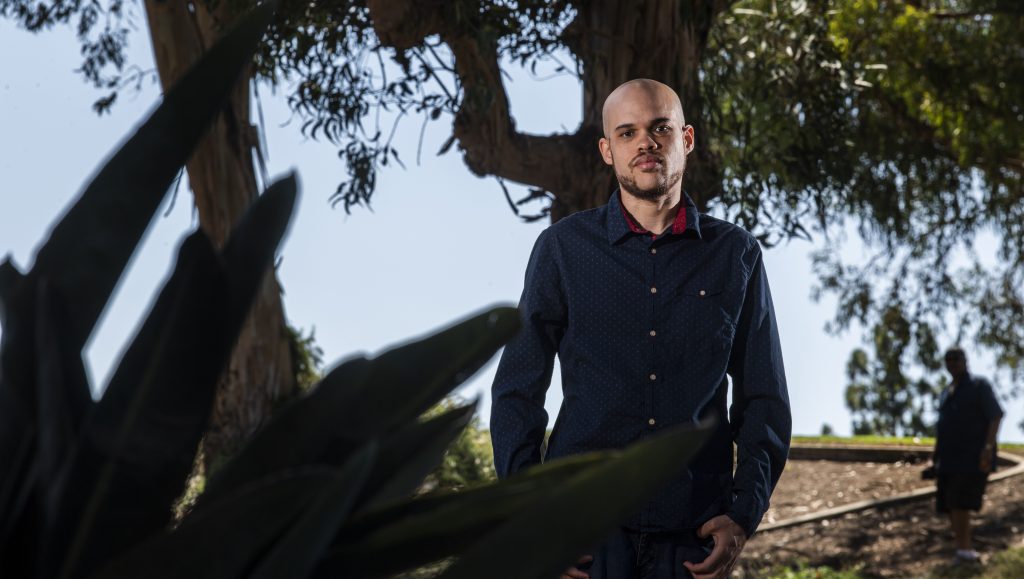 Editor's note: In this story, entrepreneur Brian Delahoussaye, describing the discrimination he has faced as a Black man in the cannabis industry, uses a racial slur in a quote that we have chosen to include unedited.
When city leaders laid the groundwork for legalizing cannabis two years ago, they wanted to make sure that those who were able to open cannabis businesses reflected the city's diversity.  
But since the inception of the local Cannabis Equity Program, just one of 50 qualifying applicants for the program has entered the industry as a business owner. 
That has spurred frustration among those who have sought assistance, who say the program hasn't done much more than help with paperwork. The real need—the up-front cost of opening a shop—has proven elusive for many who are low-income. 
"There wasn't really anything more than showing us how to apply," said Brian Delahoussaye, 35, who has several years experience in the industry. "I'm sure that's great if you have funds to apply."
Entering the cannabis industry as a business owner can cost upward of $1 million for construction, rent, building modifications and equipment.  
"It's a strange crux, because you're not supposed to have any money to be in the program, but you need money to make it work," said Delahoussaye, referring to the income and asset limitations set forth in the qualification requirements of the city's equity program.
In a letter to the mayor and city council in February, Acting City Manager Tom Modica, whose office houses the city's cannabis oversight staff, acknowledged this inherent conflict. 
According to Modica's letter, the program was set up to make "legal cannabis business ownership and employment opportunities more accessible to low-income individuals and communities negatively impacted by the prior criminalization of cannabis."
In the letter, cannabis program staff noted that, "in speaking with prospective applicants, the primary reason for the discrepancy between interest in the program and actual business license applications received, is the substantial amount of capital necessary to start a cannabis business."
This is where Delahoussaye's dream of owning a legal cannabis business in the city of Long Beach hit a roadblock. 
Working in the grey area that existed prior to the full legalization of all cannabis uses in the state of California had paid for his bachelor's and master's degrees. But when legalization arrived, so did the additional costs of licensing, owning or renting property in areas zoned for cannabis and modifying a business location to meet stringent state and local standards. Delahoussaye and his partners were priced out.
This process of financial exclusion disproportionately affected Black entrepreneurs like himself, Delahoussaye explained. "We're locked out of this industry in a major, major way," he said. 
Even prior to legalization, Delahoussaye said his skin color significantly affected his experience in the industry. Some of the things he had to deal with, he said, "I wouldn't wish that on anybody." 
Those experiences of racial discrimination, paired with a distrust developed over years of observing how cut-throat the industry can be, came back to haunt Delahoussaye when he realized that there was no direct financial assistance from the city and that he would have to find an investor to make his dream of business ownership a reality.
"When the social equity program started, there's probably a phone call I could have made," he said. "But I had to deal with the idea that this person would rob me and potentially call me a nigger while they rob me."
Edgar Cruz, 27, is another equity applicant who has become increasingly disillusioned with the city's efforts. As he tells it, the program does little to address the underlying racial inequity that has led to an underrepresentation of African Americans and other people of color among owners of legal cannabis businesses in Long Beach and beyond. 
"At the end of the day, they want us working for them, not running a business," Cruz said. The program, he argued, doesn't give Black applicants a leg up in that battle. "It's not working, point blank. But that doesn't mean it can't work in the future."
By organizing cannabis applicants, Cruz hopes to create more representation for equity applicants and help them claim a seat at the table. "The only thing that's going to change this is policy change and people coming together to have one voice," he said. 
Long Beach Cannabis Program Manager Ajay Kolluri said his office is aware of the challenges the program faces, but to some extent, their hands are tied. 
"We have this focus on promoting opportunities in an industry, when the industry itself has so many barriers to entry," Kolluri explained. "And many of those barriers are not within the control of the city."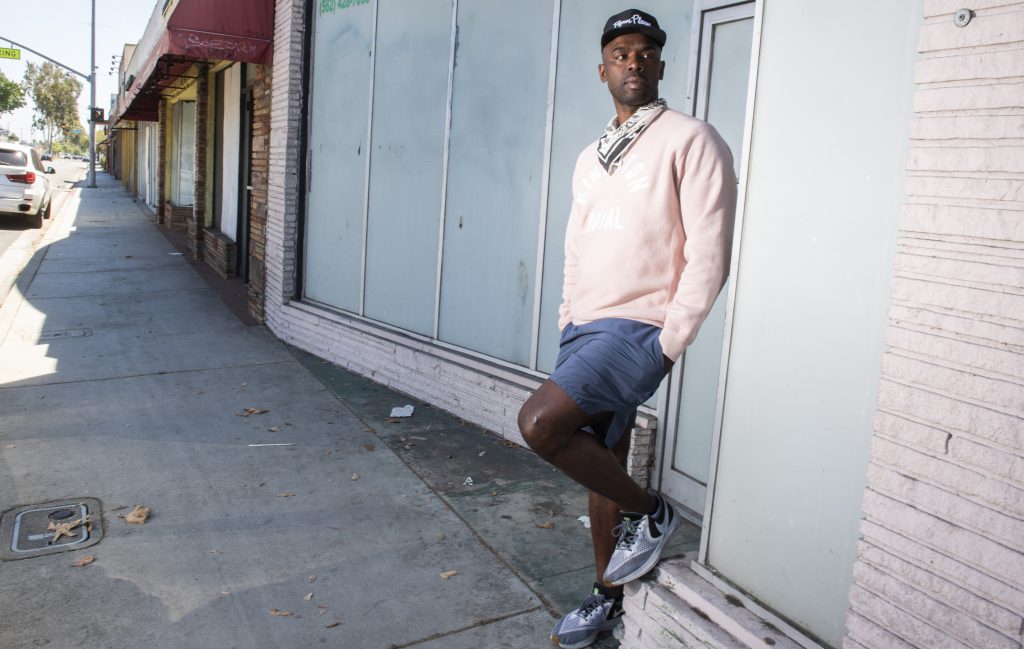 While the city offers fee waivers to applicants, it has no control over real estate prices and other factors that may prohibit applicants from starting a business. "That is the fundamental issue of cannabis equity. It's not an issue that is easy to address and it's not an issue that we have a solution for," Kolluri said. 
Fee waivers were also the only aspect of the ownership portion of the cannabis program received funding for until recently, Kolluri explained. The majority of funding for the program went into workforce development, preparing applicants to work in the cannabis industry rather than owning their own business right away. 
"This isn't a program, the way it's designed right now, to create a specific number of licensed businesses," Kolluri said. 
This year, the city received an additional $2.7 million in grants to amp up its equity efforts. 
One requirement for receiving the grant is the tracking of demographic information on business ownership in the city, something Long Beach has not done so far. Anecdotally, Kolluri said he was not aware of any Black-owned dispensaries, for example. Data collected to comply with state grant requirements could provide a more definitive picture of racial inequity in the industry in the future.
One Black equity applicant hoping to secure a portion of that funding is Ron Brandon. A veteran of the industry, Brandon has devised his own plan for helping other equity applicants get started. 
Non-equity cannabis businesses in the city of Long Beach are required to provide support to equity applicants, a function many of them neglect, according to various applicants interviewed for this article. 
Brandon is planning to provide this service on a private level, a project he is hoping to receive some support for through city funds. For a fee, cannabis entrepreneurs could utilize his network of cultivators, manufacturers and distributors to build their own cannabis brand. 
Like Douhassey, Brandon's involvement in the cannabis industry changed after the full legalization of cannabis in California. He had long worked in the field and developed an expertise in setting up indoor growing operations for the medical marijuana market. 
On his first official gig helping to set up a grow in Long Beach in 2013, Brandon was arrested by the Long Beach Department and charged with illegal cultivation. 
"I remember one of the officers telling me: 'This is Long Beach, this is a non-tolerant jurisdiction,'" he recounted. "If it wasn't for that, I may have been able to get a license."
Unable to obtain a license to cultivate cannabis in the early stages of legalization, Brandon went into cannabis consulting and became an advocate for racial diversity in the industry in his new chosen home, the San Francisco Bay Area. 
At the time, he said, Northern California was more accepting of the industry. Now that Southern California has embraced cannabis as well, Brandon saw it as an opportunity to right the wrongs of the past.
"When the social equity program, I felt that this was my opportunity to be validated," he said. "I felt like it was something that was owed to me."
With his new project, the incubator for cannabis businesses in Long Beach and Southern California, Brandon hopes to offer that same opportunity to other entrepreneurs. "If you have the ability to reach out and help others, especially other people of color, it's my duty to do so."