Business-to-business (B2B) e-commerce sales are expected to grow from $780 billion in 2015 to $1.1 trillion in 2020 in the United States, according to the Los Angeles County Center for International Trade Development (CITD). Globally, B2B e-commerce sales are expected to total $6.7 trillion in 2020, more than double the total of business-to-customer sales.
In light of these trends, Long Beach City College (LBCC) has partnered with CITD to create the new B2B E-commerce for Advanced Manufacturing (BEAM) program through the Small Business Development Center (SBDC).
"What we're trying to do is assist our manufacturers, and that also includes branded manufacturers, in utilizing e-commerce for B2B sales in cross-border trade," Leah Goold-Haws, director of Global Trade & Logistics at LBCC, said.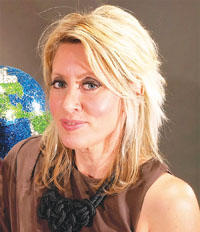 Leah Goold-Haws
Elements of the program include building marketing strategies for overseas customers, payment solutions in the rapidly changing industry, building necessary supply and distribution relationships, and legal information such as customer rights, data protection and issues unique to e-commerce sales.
One key service provided through BEAM is an analysis of a business's e-commerce platform to provide an assessment of the existing site. A program representative would then review the assessment with the business owner to help them better understand areas of weakness that should be addressed.
BEAM also includes curated course content developed by e-commerce experts, which are presented in online modules that business owners can utilize at their leisure, also free of charge.
"That's the opportunity to take a deep dive into those areas of weakness and understand what they need to do to upgrade their e-commerce site for foreign market entry," Goold-Haws said. "Alongside of that, we will have access to e-commerce consultants. So if at any time a company hits an obstacle or has a question or anything else, we will make those services available."
Participants of the program gain access to the Global To Global website, a collaboration with the U.S. Department of Commerce. The site offers businesses access to resources such as interviews with other manufacturers currently operating in cross-border e-commerce, blog posts, event listings, as well as service providers, tools and resources.
The program has also partnered with the Global Retail Insights Network (GRIN), which hosts leadership labs worldwide. Labs convene e-commerce leaders alongside small business owners to allow them to ask questions and get a deeper look at areas of interest. BEAM participants will be eligible to attend two leadership labs as they move through the program.
Additionally, participants have an opportunity for assistance in accessing State Trade Export Promotion grant funding up to $3,000, according to Goold-Haws. These monies can be used for export trade activities, such as translating websites and marketing materials and sending samples overseas.
"For right now, this is our initial phase, and we are opening this up to the business community free of charge. We will be rolling out additional course content in year two (2018), and there will likely be a fee associated with that," Goold-Haws said. "And then there are add-on services that are fee based. For example, if a business wanted a more robust market research report on market entry into France, we could certainly provide that. It's a fee-based service, but it is an offering that would augment this program."
To celebrate the kickoff of the BEAM program, Getting to Global is hosting an interactive two-hour conference featuring guest speaker Carl Miller, managing director of GRIN and executive producer of the Getting to Global series. The event is scheduled for October 24 beginning at 8:30 a.m. in the Port of Long Beach interim administrative offices at 4801 Airport Plaza Dr. To register for the event, visit www.nvite.com/GettingtoGlobal/692z39.
For more information about e-commerce and the BEAM program, call 562/938-3240 or visit www.citdlb.org.