Jane Netherton, who has been involved with the Long Beach Community Foundation (LBCF) since it was founded, is stepping down from her role as board chair this year and handing over the reins to Gary DeLong, a former city councilmember and owner of a telecommunications management firm in Long Beach.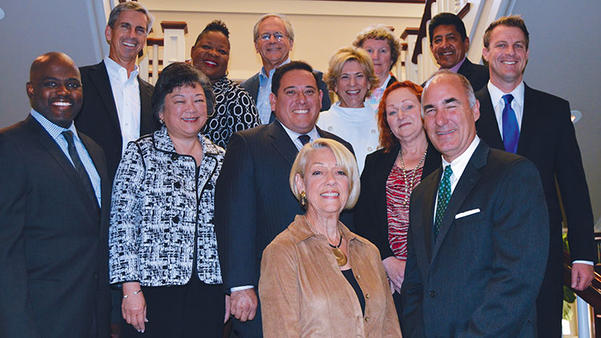 Pictured is the leadership of the Long Beach Community Foundation (LBCF), which is celebrating its 20th year in 2017. From left are: Tony Gales, CPA, Rossi LLP; Robert Stemler (2017 LBCF Board Vice Chair), attorney, Keesal Young & Logan; Annette Kashiwabara (2017 LBCF Board Secretary), executive director, Assistance League of Long Beach; Michele Dobson, attorney, Offices of Michele A. Dobson; Frank Newell, retired attorney, Newell, Curtis, Nelson & Burnight; Mark Guillen, director of civic engagement, Molina Healthcare, Inc.; Jane Netherton (2014-2016 LBCF Board Chair), chair emeritus, International City Bank; Judy Ross, former executive director, The Nonprofit Partnership; Judy Vander Lans, retired, L.A. Superior Court judge; Donita Joseph (2017 LBCF Board CFO), CPA and partner, Windes, Inc.; Gary DeLong (2017 LBCF Board Chair), former councilmember; Randal Hernandez, consultant; and Steve Keesal, financial advisor, Oppenheimer & Co. (Photograph by the Business Journal's Larry Duncan)
"It has been an amazing 16 years that I have been on the board and have been involved. I will miss the involvement, I really will," Netherton told the Business Journal in an interview with DeLong and LBCF CEO Marcelle Epley. "When you are that involved in an organization, it's like raising a child." Although Netherton is stepping down after having reached the board term limit, she said she would remain active on a few of the foundation's committees.
The Long Beach Community Foundation is a 501(c)3 nonprofit that serves as a vehicle for individuals, organizations and businesses to manage their charitable assets and make a difference through philanthropic giving. It is set up as a collection of funds, and is managed as an endowed pool of assets. A fee of about 1% is charged to fund holders, which pays for the foundation's small staff of two full-time and one-part time employee, and also funds end-of-year grants distributed to local nonprofit organizations.
LBCF has benefited from Netherton's leadership and continues to grow due to its strong financial footing, efficient staff and dedicated board, according to DeLong and Epley. In 2015, the foundation exceeded $25 million in total assets. The foundation also broke its record for grant giving in 2015, distributing more than $2 million to local nonprofits and schools.
In addition to increasing its assets each year, the foundation consistently ends each year under budget due to efficient management of expenses, DeLong noted.
"Jane was fortunate to have inherited an organization that would be well managed by Jean Bixby Smith and Jim Worsham, but she has clearly made it bigger and better," DeLong said, referencing past board chairs of the foundation. "It was going well, but under Jane's leadership it has clearly gone to a new level."
Epley said that Netherton has been very hands-on as board chair, attending meetings with her and talking to her by phone on a daily basis. "The old cliché is you get out of something what you put in to it," Netherton said.
Epley said that Netherton is largely behind LBCF's National Philanthropy Day activities, which she expanded upon when she became board chair. Each year, the organization chooses a local nonprofit to benefit from a one-day volunteer project funded by the foundation.
Last year, the foundation brought 50 volunteers to Long Beach's Precious Lamb Preschool, which provides early education to children from homeless and underserved families. Volunteers revitalized the preschool's playground and transformed an old storage room in to a quiet refuge where children, parents and teachers meet and talk privately.
Netherton would like to see the foundation's assets reach $35 million. The path to that growth may be slow and steady because of the foundation's efficiency, she noted. The foundation might receive millions of dollars in one year, but most of it goes towards its intended charitable purpose – which is exactly how the community foundation should be operating, she explained.
"My priority is to keep the train headed in the direction it's headed in," DeLong said. "We are going to grow our revenues even faster than before. We are going to increase our impact on the community," he explained. "So we are going to do all the things we have already been doing. We are just going to do it bigger and better than we have before. This is not an organization that needs to be fixed."
Ideally, DeLong would like to double the organization's asset base, increase its staff and contribute even more to the local community. "Clearly that's the path we're on," he said.
In recent years, marketing efforts have familiarized the Long Beach community with the foundation so that it is no longer one of the city's "best kept secrets," according to Epley.
"More people are interested in having donor advised funds with us," DeLong said. "More agencies are saying, 'We trust you, we'd like to put our assets with you and for you to help us manage them.' We're resonating with the community on a regular basis and that's how we're growing, just because we're doing a great job."
DeLong added, "Long Beach has a deep pool of philanthropic individuals in our community, and we need to continue to explain to them why it makes sense to do their charitable giving through the Community Foundation."