The modern workplace is in constant flux. Many companies are leveraging technological advances and research on efficient workplace design in the interest of increased productivity and employee satisfaction, changing the physical spaces that sit behind the shiny glass facades and industrial brick walls of downtowns nationwide. Trends toward denser offices, open floor plans and more collaborative environments are taking hold in business districts across the country, including Downtown Long Beach.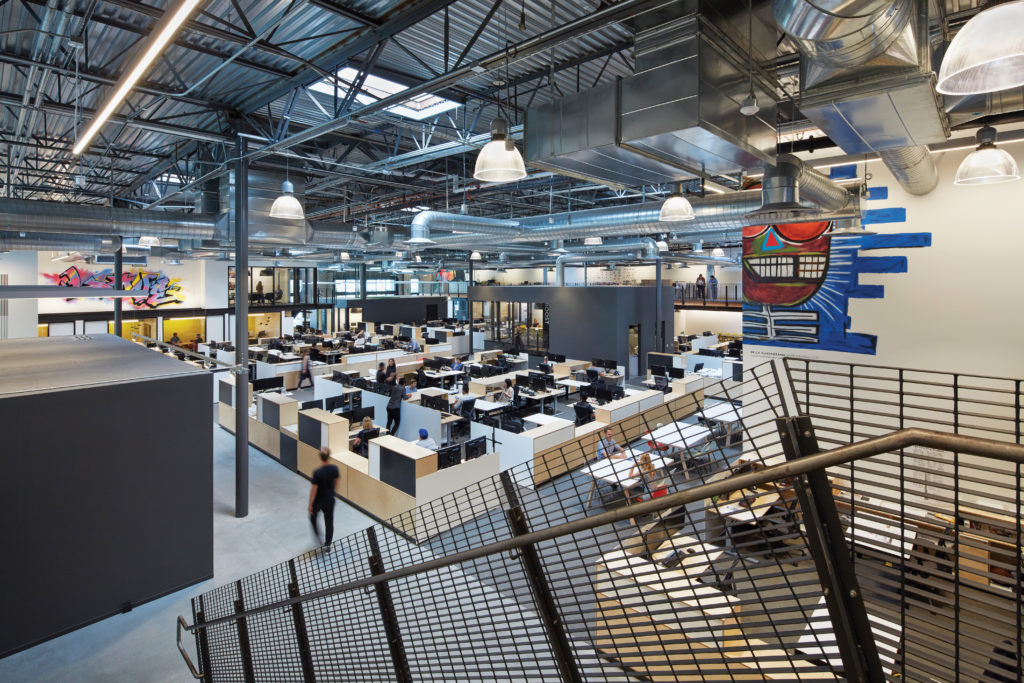 Long Beach-based accounting firm Windes is currently in the process of remodeling its Irvine office space to accommodate current workplace trends, with a similar redesign of its Downtown Long Beach office soon to follow. The new setup will feature workstations and offices that are interspersed throughout the floor, rather than separated by hierarchy in the company's organizational structure. "We wanted to get a better mix of all employees on the floor," Managing Partner John DiCarlo explained.
Instead of private offices restricting the influx of sunlight from the perimeter, as they previously did, some have been moved toward the middle of the floor to allow for meeting spaces along the outside-facing glass front. The remaining private offices on the outer edge of the workspace will be separated from the corridors and common spaces by glass, allowing more light to filter into the core. "We're hoping that people will have an airier, lighter work environment," DiCarlo said.
A 2018 poll by human resources advisory firm Future Workplace showed that the 1,614 North American employees who participated weren't looking for pool tables, kombucha on draft or treadmill desks to spruce up their offices. They were vying for something much simpler: natural light. "You get a little tired of being under a fluorescent light all the time," DiCarlo said, echoing the tenor of the poll's findings. "Having an airier, more naturally lit space seemed like a better alternative than we currently have."
The company's new design also responds to another trend in office design: breaking down barriers between different workstations and allowing space for collaboration. In doing so, the designers were faced with a common challenge: how to enable collaboration without enhancing distractions.
Open office plans have been shown to reduce productivity in some circumstances, DiCarlo pointed out, which is why Windes' new floorplan still features partitions between different workspaces. But instead of five-foot tall cubicle walls, workspaces will now be separated by lower partitions with glass panels at the top. "You'll have sound protection, but you'll [also] have more light, more ambiance around you," he explained. "This is taking what, we hope, is the best of both worlds."
Where new office designs aim to respond to employee's needs and desires, they are aided by technology. Windes' new office layout features smaller training rooms and significantly fewer filing cabinets, as more workers use laptops and other mobile devices to participate in work training remotely and files become digitized, opening up more space for freestanding workspaces. The trend toward working remotely and the decreased demand for storage space has also driven another trend: offices are becoming denser.
Jerome Chang, founder and architect of SoCal-based coworking company BLANKSPACES, said some of the country's largest companies have cut their square foot-per-employee ratio in half in recent years. "They're allocating about half, 150 to 160 square feet per employee, because they know not everybody is going to be there at the same time. People share desks, they rotate around, they jump in, they jump out," Chang explained.
Some shared offices, like those operated by BLANKSPACES, go even further in their pursuit of density, by allocating approximately 70 square feet per seat. "Most people, when they see that, say: how can that be? Your packing away people like sardines, that can't be good," Chang noted. "But because of the way people use spaces, how often they come, what time they come, it's very plausible." Chang's company has been contracted to operate the city-owned Shaun Lumachi Center, which is scheduled to open next month.
Just one block over, on the revitalized Promenade, architecture and design firm Retail Design Collaborative and partner company Studio One Eleven have created a work environment that aims to not only implement trends in workplace design, but set them. Three years ago, the group took over a massive space left behind by retailer Nordstrom Rack and turned it into a mixed-use complex that combines community spaces, dining and the open floor office that houses both company's operations.
As a company focused on architecture, landscaping and urban design, Studio One Eleven's workspace design reflects a conscious effort to create something of benefit to those working inside the building as well as the local community overall, Senior Principal Michael Bohn explained. "What we wanted to avoid was having desks along the sidewalk," he noted. Instead, the building's pedestrian-facing side is occupied by the Portuguese Bend restaurant and distillery, Studio One Eleven's Spit 'n' Argue community space, named after the historic debate space near Rainbow Pier, health food store Natural Cultures, and AMMATOLI mediterranean bites.
"It creates a more dynamic, varied and engaging environment," Bohn said about the mix of retail and office space. Being located within the retail-reach downtown area also helps promote the company's greater values, he noted, allowing employees to walk to lunch and bike to meetings at city hall. "It just helps promote that whole idea of living a healthier lifestyle," Bohn said.
Beyond the row of retail businesses, at the core of the former Nordstrom Rack, lies an office that exemplifies many of the trends associated with the modern workspace: an open office plan, employees on all levels of the company's hierarchy seated together under high ceilings, hardly any partitions. But what about the distractions, the noise? Studio One Eleven is using an innovative technique called sound masking to mitigate the negative effects of an open office plan. Every 15 feet, speakers emit the sound of an air vent, in an effort to drown out unwanted noise and echoes. "It's been really, really successful," Bohn said.
The company's modern office concept has drawn new investment into the area and has made it more attractive to prospective employees, Bohn noted. "It's been a great recruiting tool," he said. "It does show that open offices, like ours, or collaborative work environments are definitely a trend that hasn't slowed down."